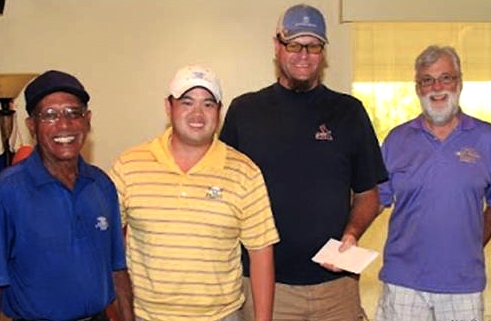 Rotary Sunrise raised $25,000 at its Golf Scramble, The event raised $25,000 for the Ron Magnuson Scholarship Fund and many Sunrise Rotary charities.
The event took place Sunday under sunny skies at the Mahogany Run Golf Course.
"We had perfect weather and a perfect day. Everyone had a great time," Rotary President Fred Warden said. "The community, as always, really came out in support. We especially appreciate the continued generous support of AT&T".
The fundraiser supports four local students at the University of the Virgin Islands and two students enrolled in the International Baccalaureate program at The International Academy of the Virgin Islands. All are on full scholarships.
This year's total pushed the funds raised to more than $200,00 in the seven years of the event.
Top prize winners were the low-net team of Robert Collins, Wishburn Hunt, Robert King and Frank Jackson. Low gross winners were the team of Jonathan Chen, Russ Seigler, Wilfred Smith and Dutch Waters.
The men's long-drive prize went to Dexter Freeman, and closet-to-the-pin went to Frank Jackson. Women's long-drive winner was Sonia LeBlanc and closet-to-the pin was won by Heather MacLeod.
The tournament's top sponsors were AT&T and Glacial Energy, Innovative and St. Thomas Radiology.
Anyone interested in Rotary Sunrise can attend a meeting, held at 7:15 a.m. Tuesdays at Windward Passage Hotel.