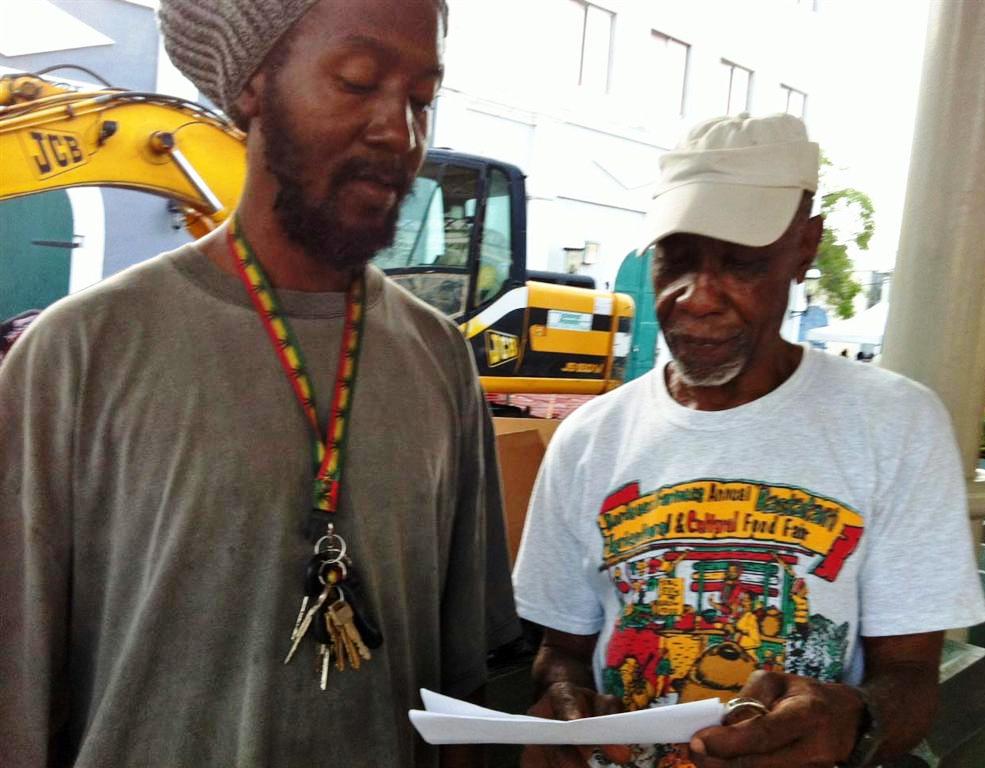 A new paved road proposed to serve the Bordeaux area at the island's west end is being met with a cautious optimism by the area's farmers.
Gov. John deJongh Jr. announced that the government recently signed a $705,709 contract with a global consulting firm to develop plans to convert Route 318, mainly used by west end farmers, from a stretch of dirt road to a 2.3 mile thoroughfare. The road runs west from Fortuna Road in Estate Hope.
"The Bordeaux Bay project will improve access to west end farming and residential communities on St. Thomas, better serving those areas and the needs of their residents," deJongh said.
The consulting firm Parsons Brinckerhoff will develop right-of-way and environmental documents, plans and specifications for the project, as well as applications for all necessary permits, according to a statement from the governor.
Once the design phase is completed in May 2013, a contractor will be hired to begin construction, deJongh said.
That's all well and good, the Bordeaux farmers say, but they have several concerns, not the least of which is that they have not been consulted about the project. The dirt road in question, Route 318, has been subject of improvement proposals in the past.
"It is our desire to see the global consulting firm engage the west end community and dialogue with us before the plan is completed and construction begins," said Sheri Meyers, St. Thomas West End Alliance president. "While it may sound like a good idea, it is not the cure all that will service our needs in the event of a natural disaster."
"The initial idea for an alternative route provided immediate relief from Black Point Hill giving two options to get out of the western end of St. Thomas," Meyers said. "Though we appreciate any assistance by this administration that will enhance the quality of life for the people in the west, we hope that this plan will be properly executed and funding be made available to see it materialize. We are aware that preliminary road work was done on this road by previous administrations."
Speaking as a west end citizen and a board member of the West End Alliance, Benita Martin-Samuel said, "This is not the first time the issue has come up. The problem is: Will they do a sustainable job?"
"I'm not a civil engineer," said Samuel, a We Grow Food stalwart. "But I've seen what happens. I don't even believe it needs to be all concrete. I just think we need to take time to make sure they plan it correctly with the environment in mind."
Farmers Charlie Leonard and Earl "Zimba" Bedford looked over the governor's release early last Saturday at Market Square where they were selling their produce. Leonard was initially happy. "We farmers use the road because we have four-wheel drive. It's steep. I use it to fetch water from the tank behind Massac Nursing home."
"Years ago I remember something was supposed to be done about it," Leonard said. "It would be a good thing, giving us another route in and out of Bordeaux,"
Bedford, president of We Grow Food, was ladling out fragrant lentil soup. "It would be a good thing for the farmers," he said. "That road has mashed up a lot of cars. And we would need street lights on it."
Department of Public Works Commissioner Darryl Smalls said Thursday that the community will "absolutely be involved."
"Any federal highway project requires community involvement," he said. "As soon as we have the kickoff meeting and complete the preliminary studies, we will meet with the stakeholders, the Bordeaux community."