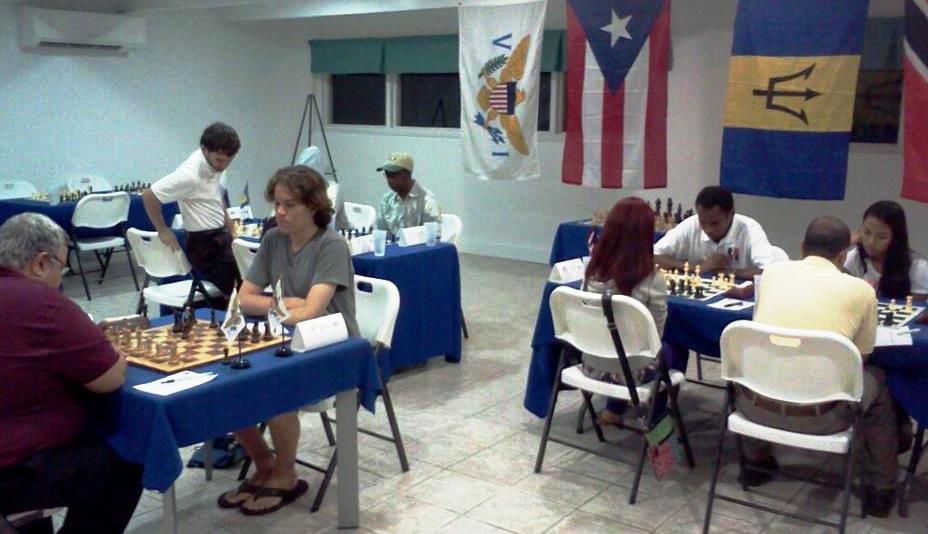 The USVI Invitational 2012 Chess Tournament concluded Sunday with an awards ceremony after five days and nine rounds of intense chess.
William Van Rensselaer, a 16-year-old senior at Antilles School on St. Thomas, took first place, beating out Trevor Flower of Trinidad and Tobago by half a point.
Most of the games, played in the conference room at The Palms at Pelican Cove on St. Croix, last at least four hours with an hour break in between, so players put in challenging nine hour days.
"It's tiring," Van Rensselaer said. "At the end of the day, you're mentally worn out and pretty much just want to sleep."
The U.S. Virgin Islands Chess Federation hosted the tournament, which comprised 10 players from four Caribbean Federations – two from Puerto Rico, one from Trinidad and Tobago, one from Barbados and six representing the home territory.
Van Rensselaer said that having the international chess tournament on St. Croix was a major accomplishment for the local federation. "It makes you better known to other federations when they come to visit you and play in your tournaments," he said.
This is the first international chess tournament held in the Virgin Islands, and Margaret Murphy, USVICF president, said the main purpose of the tournament was to get World Chess Federation ratings for local members and to prepare the team for the Olympiad in Istanbul, Turkey.
The team representing the territory at the games in Turkey will consist of one chief of delegation and five players: Van Rensselaer, Jorge Massana, Reece Creswell, Anthony Mongiello and Michael Smith.
Approximately 1,600 chess players from over 160 federations will be competing at the World Chess Olympiad in Turkey, and Van Rensselaer said that a couple of the players visiting the territory at the recent tournament will be representing their federations. "So we will see them again," he said.
"We're usually at the lower end of the ranking," Van Rensselaer said. "We think we are a lot more prepared this time than we have been in past years."