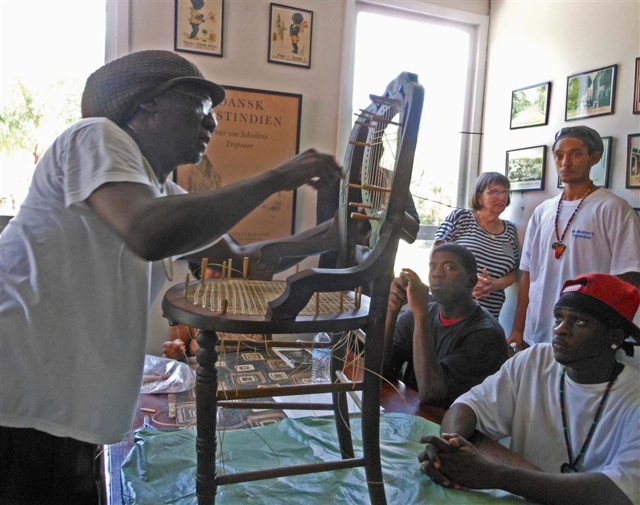 All eyes were on Kenneth Richards Monday afternoon as he hoisted a beautifully preserved mahogany chair onto the table in the Historical Trust Museum boardroom for his first demonstration on the art of caning.
As Richards demonstrates the physical tools needed for the precise art, he stresses the most important tool of all.
"Patience," he intones, as he addresses the small chamber filled with an audience ranging from scattered seniors to a visiting Danish couple, to four members of My Brother's Workshop, the local not-for-profit which provides learning skills for disadvantaged young men.
"Patience," Richards repeats, "You cannot make mistakes. If you don't do it right the first time, it will come back to haunt you."
Richards is an affable fellow, patient, of course, and eager to share his knowledge. You'd think he'd teaching the art for years, but this is his first formal class.
Pamela Montegut, museum executive director, initiated the caning project.
"We saw a need to recognize traditional arts, lost arts you could say," she says, "while at the same time, we knew there are people who are looking for a skill, a respectable trade they can learn. So, if we can match up someone with, for instance, learning the caning trade, we have hit the ball out of the park."
With the aid of her summer intern, Larise Joasil, they discovered Richards, who is more than happy to share his knowledge.
"You count the holes in the back," Richards says, as he begins."If there is an odd number of holes, you put this peg in the center hole, or if the number is even, put the peg in one the holes nearest the center."
He glances at the youngsters who are following his every move.
"Never too tight. It's like stringing a banjo. It's a very slow process," he says, turning turns the chair to the back, and applying a damp cloth to the strand. "You have to keep it moist," he says as he deftly loops a strand around the peg, "but you cannot have it too wet, or it will become discolored. You must always have the shiny side up, and you must always examine the length for imperfections."
Richards pulls the straw taut, then ties it off, leaving the end dangling for now. Step one completed. Next he will wind the strands across, step two.
"Here, you try it," Richards says to Josiah Hodge, who hasn't taken his eyes off the procedure. Hodge takes a strand and winds it across the back of the chair, applying just the right amount of tension, to Richards' satisfaction. Within a few minutes Hodge has completed four or five rows.
"Wow," he says. "I didn't know if I could do that!"
Step three is the intricate weaving, the fine art of the process which follows the stringing of the rattan. Richards deftly winds the rattan across the cross hatch in a beautiful weave. The audience is hooked, more or less awestruck at what they have witnessed in a relatively short time.
Questions abound. "Can you make another weave?' "How long with it last?"
Answer: "A well-made and cared for chair will last forever."
Richards has been at this for a long time.
"When I was a youngster," he says, "my grandfather introduced me to the concept, and I caught on. Then, during my formative years, I worked with my uncle Hubert Raimer at his shop in the Sub Base. He guided me through the process, gave me the books and the chance to own my craft."
"It was a lot of work, studying materials, trying to be professional. I'd been working 10 years for my uncle, and when he retired a few years ago, I got into it on my own."
"I have to say, I put all the praise on my uncle," Richards says. "If it wasn't for him, I might not be here today. He was a stickler for perfection. 'Do it right the first time!' When I told him what I was doing today, he was impressed. He asked 'Did you mention my name?' I love him dearly. Anything to do with woodworking, he's the best."
Richards' simply loves his craft. "It goes with me," he says. "Whenever I go to the beach, to a ball game, wherever, I take the chair I'm working on. I can take my trade anywhere. All I need is a good seat and a good shade. And," he smiles, "the kids always come to ask me what I'm doing."
Richards' skill has not gone unnoticed. His intricately woven chairs and settees occupy pride of place in Government House and the West Indian Company, work he did during the Turnbull administration.
"Most people don't appreciate the hours and hours it takes to make these pieces like the ones at Government House," Richards says. Though, he confides, "I've watched people when they do appreciate the work, listened to them. I stand back and tell myself 'shut your mouth,' and gloat while I watch them in their liking of a piece."
He says with pride, "I know the pieces will become part of our history."
Richards can be reached at 1-340-677-1210