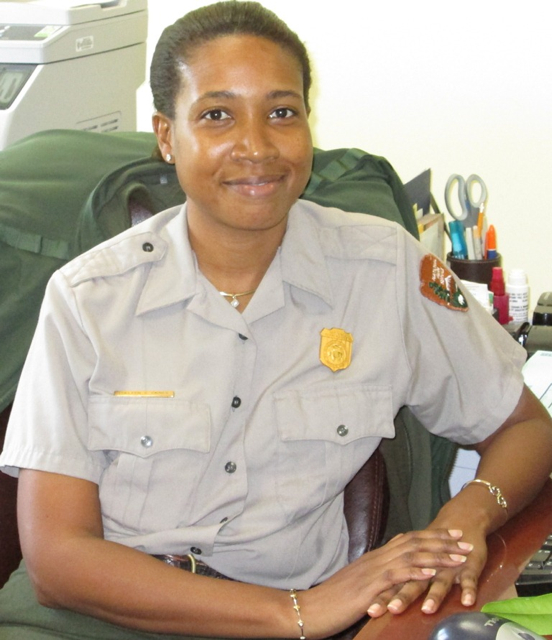 With a big smile and a calm demeanor, Colleen Caines keeps things organized in the V.I. National Park superintendent's office. She's the superintendent's secretary and recently started assisting the chief of the Interpretive Division with public relations duties.
"And she looks out for the staff," Acting Superintendent Mike Anderson said.
Caines joined the Park Service in 1998 as a member of the fee collection team. According to Caines, it was "random" that she got the job in the first place. A neighbor told her the park was hiring fee collectors on an emergency basis. She worked a couple of months, didn't make the cut on the next go round, but was called back.
In 1999, she became the superintendent's secretary. Since then she has seen four permanently-appointed superintendents come and go. The last, Mark Hardgrove, retired in early August.
"Colleen is the spirit, heart and soul of the NPS management team at V.I. National Park. She has moved up in the organization taking on more and more responsibility, quietly. She sets the tone for the superintendent's office and having her as my work partner made work exciting, fun and rewarding," Hardgrove said.
He continued that Caines "walks through town representing the NPS in a way that others can not. She has friends in every sector of the community and is well respected and contacted by many of them to find their way through the NPS maze."
An early riser, Caines treks over to St. John from her home on the western end of St. Thomas. She catches the 5:30 a.m. ferry from Red Hook, St. Thomas, which allows her to bypass the St. Thomas traffic jams.
"I'm a morning person," she said.
This gives her quiet time to get out the park's morning newsletter, a daily missive to the employees that includes things like the weather, safety tips, whether cruise ship visitors are expected, report due-dates, and anything else that's going on that day in the park.
She answers the superintendent's email, routes visitor questions to the Interpretive Division, handles requests from the regional office, and does other office duties such as compiling minutes from squad meetings.
Since she works 6 a.m. to 2:30 p.m., it also allows her to pick up her daughter from school. She and husband of 10 years, Casmus Caines, have two girls. Cassidy is 6 and Cadence, 3.
Her family is a top priority and she enjoys spending time with her children.
"To experience their learning, exploring and growing," she said.
Her husband gets Cassidy off to school in the morning and her mother does babysitting duties for Cadence.
"I have a good support system," she said.
Caines, 36, holds a bachelor's degree in business administration from the University of the Virgin Islands. She graduated from Eudora Kean High School.
Caines sees that the park works hard to get people from the Virgin Islands on staff. She said the turnover of people who transfer from the mainland is high, so it's a better bet to hire people who will stick around.
She clearly loves her job, and said she enjoys working with the park staff and interacting with all the departments. However, she said she misses connecting with visitors like she did when she worked for the fee program.
The job does have some challenges.
"The challenge is to get a lot done in a limited amount of time," she said.
She finds it an interesting job, with the chance to meet Park Service movers and shakers like director Jon Jarvis and his predecessors.
As for the future, she said she'll still be living on St. Thomas.
"Hopefully, I'll be able to give back more to the park. I really enjoy working here," she said.