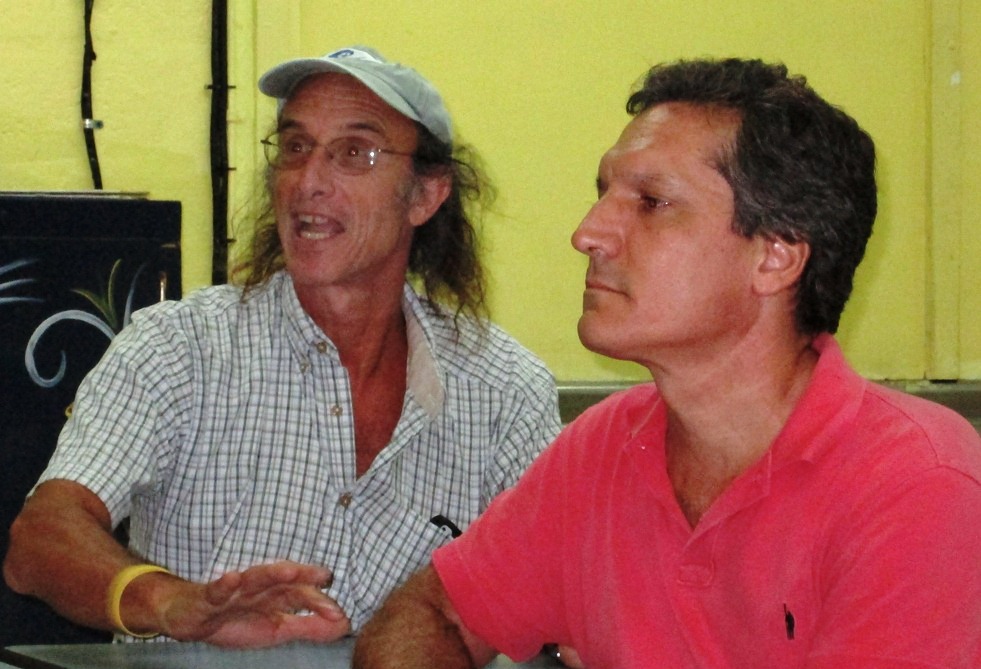 Never shy about speaking out when it comes to environmental issues, a handful of St. John residents told the Coastal Zone Management Division of the Planning and Natural Resources Department what changes they'd like to see when it comes to revamping the territory's CZM Act.
"Score it," said St. John resident David Silverman. "Someone building on a flat piece of land doesn't have as high a score as one on a slope."
Silverman was referring to the fact that building on steep slopes has more of an environmental impact than building on flat land.
He was one of eight people who attended the meeting held at Julius E. Sprauve School called by the CZM Division as part of its plan to update the 1978 CZM Act. It hasn't been substantially changed since then.
Jean Pierre Oriol, who serves as the CZM program director, pointed out that the fees the department charges for permits are very low. This prompted St. John resident Pam Gaffin to suggest charging a percentage of the building cost instead of standardized fees.
Gaffin also suggested that stop work orders be publicized so if she hears a bulldozer going when it's not supposed to, she can report it. However, CZM attorney Winston Brathwaite said that the department legally can't make the details public until the case is closed, but said that just announcing that a stop work order was in place without the details might be a solution.
Silverman suggested that improvements to CZM's website might help get the word out.
Guts were another topic of discussion, and Oriol said there are no specific portions of the CZM Act relating to them. Gaffin was quick to point out that development that impacts guts has far reaching consequences for those that live below since the water they normally carry to the ocean can be redirected.
"We need to look at the terrain," she said.
Gaffin also noted that on St. John, some vacation villas are so huge that concrete covers almost the entire lot. This leaves nowhere for water to run off.
"We have private residences larger than hotels and are, in fact, hotels. That's a loophole," Gaffin said.
She also suggested that the height of buildings be determined in feet rather than by stories to prevent another loophole. That loophole resulted in structures with what are termed lofts that are not considered another story.
"We've had some spectacular examples of cheating," Gaffin said.
Oriol told those at the meeting that while he's heard from many people that they'd like to see the CZM Act cover more than just the land along the coast, it was unlikely to happen because the funding isn't there.
"It would be an unfunded mandate," he said.
Oriol said the territory is one of 33 CZM programs mostly funded by the National Oceanic and Atmospheric Administration. The funding is based on the miles of shoreline, and the territory doesn't have that much compared to other places. He also said it's difficult for CZM to come up with its matching share.
The meetings move to the DPNR conference room at Cyril E. King Airport on St. Thomas on Monday and to the Education Department's Curriculum Center at Kingshill, St. Croix, on Aug. 1. Both begin at 6 p.m.