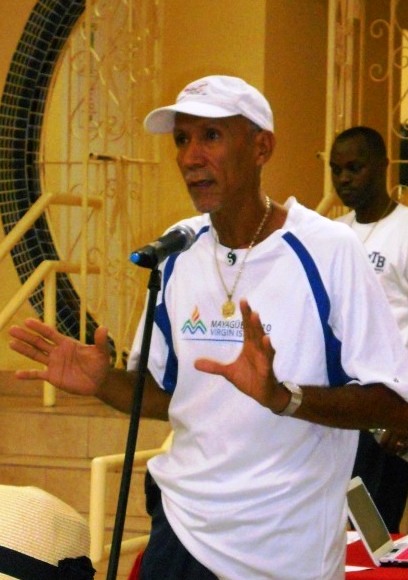 Everything from safety concerns to the need for clean neighborhoods was addressed Thursday night as more than 100 residents from the Upstreet and Hospital Ground communities met at the Winston Raymo Recreation Center to discuss possible solutions to issues affecting their community.
Gov. John deJongh Jr. and several other government officials and civil servants answered questions posed by community members about things such as tree maintenance, increased policing, jobs and lack of trash bins.
Community members were not shy about their qualms with lack of government intervention as they stepped up to the microphone to ask questions like "Why do I hear gunshots every night and day?"
Others voiced their agreement and openly discussed their needs from the government.
"Tonight is more about listening to you and finding out, quite frankly, things we aren't doing," said deJongh. "These are very difficult times for us in the Virgin Islands. People are uncertain about the future, about what's happening."
Representatives heard out community members, answering questions and offering tangible solutions. Several officials promised solutions to problems by next week, while others discussed ways to work with multiple government departments to find solutions to more complex issues.
"We're talking to people and reacting to whatever those issues might be," deJongh said. "We have the ability to react. We can try to make sure we're responsive, to hear what concerns people. We're not disconnected. We want to do it for a number of reasons."
The governor promised to focus on issues like sustainability of small businesses, safety, policing and maintenance of roads. These items appeared to be of great concern to the community as attendees noted kids loitering and stealing as well as concerns about road debris which ultimately causes flooding.
"Those are the things I know are real and concern people. I understand the frustration, the fact that we haven't been as responsive as we need to," said deJongh. "When all is said and done, we work for you."
A major concern among attendees was lack of trash bins, making the neighborhoods look messy as trash overflowed onto the ground and remained there for several days. Community members were willing to pay for things like door-to-door trash collection, they said, if it means they will live in a cleaner, healthier neighborhood.
Speakers like Steven Aubain of the V.I. Waste Management Authority were eager for suggestions from the community, noting that they see these issues every day and know what needs to change.
Not only does trash and debris make the neighborhood look unclean, but residents worried about the health effects of having plant debris piled high, creating mosquito havens.
As always, violence and crime were a major concern of community members as they painted pictures of hearing gunshots in the middle of the day and wondering if the bullet is coming for you.
"We're here, but we can't do it alone," said V.I. Police Commissioner Henry White Jr. "If you hear these shots and it's in your neighborhood, let us know. I hope we will continue to operate as a team."
The governor admitted that "as a community, we have a problem."
"We're a small community. People aren't necessarily going to say 'that's my neighbor' or 'that's my friend,'" he said.
Community members offered simple solutions such as pruning trees to maintain roads and lessen debris, planting more trees on top of hills to avoid dirt and debris from sliding down into their neighborhoods, and sending the same police officers to areas so they can learn more about the people and the community.
Resident Michael Farrington captured the thoughts of everyone as they chimed in words of agreement as he addressed government representatives.
"This island is too small for this stuff to be happening," Farrington said, noting that problems shouldn't have to be at their current stage for government intervention. "Whatever you're doing now is not working."