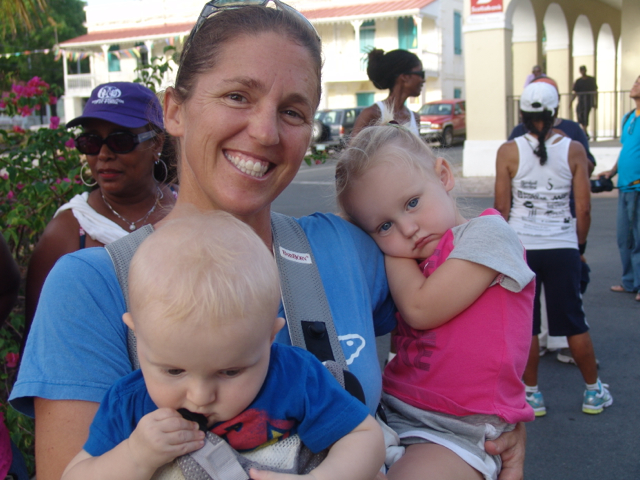 Josie Calhoun may have said it best.
Nine-year-old Josie and her mother, Shannon, were driving to Frederiksted Sunday afternoon to take part in the 28th Annual Women Race, a fundraiser for the St. Croix Women's Coalition that brings public attention to the problem of domestic violence.
"We talked about it in the car and I had to explain what domestic violence was," Shannon said after she and Josie completed the two-mile run. "She couldn't believe there needed to be a coalition to be against that. To her it was, 'Who would do such a thing?'"
According to coalition board member Juana Fuentes-Bowles, Josie will be disappointed to learn that statistics show domestic violence is getting worse, not better, across the U.S., and that's why events like Sunday's race are still needed to help shine a light on the issue and to raise funds to help combat it.
"That's why we have to continue to fight and to educate," Fuentes-Bowles said.
But Fuentes-Bowles took hope hope in Josie's attitude.
"We have to educate the very young, that way someday we'll see it eliminated," she said.
Sunday, hundreds of runners and even more supporters flocked to Frederiksted for the race. For the third year in a row, Ninfa Barnard cruised home alone in first, winning in a time of 11:48. Barnard, a member of the St. Croix Track Club, last month set territory's record for the 800 meter race.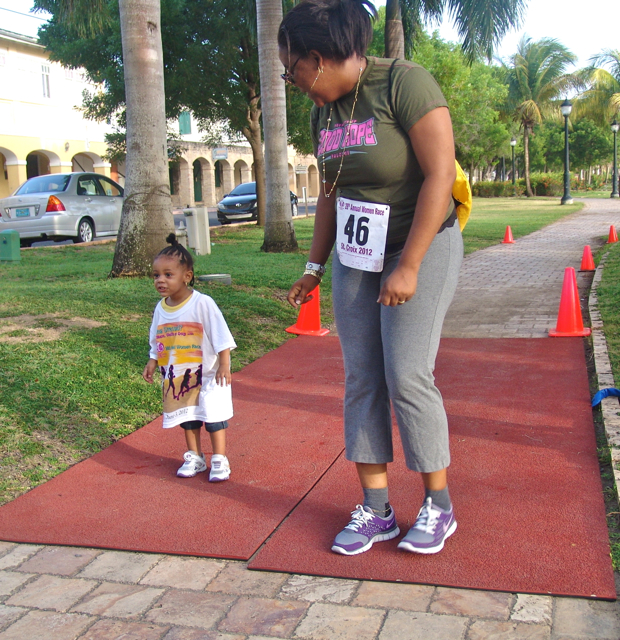 Barnard was trailed by 10-year-old Mikaela Smith, who was running in her sixth Women Race. Mikaela has been running all her life and placed seventh the first time she ran it, at the age of 5. She has now finished second three years in a row, according to her mother, Mireille Smith, who finished third in a time of 18:46.
Mom pretended to be chagrined by being bested by her daughter, but she couldn't hide the pride.
"She's been doing that for years," she said with a smile.
"This is a fun event," she said. "It's not just for your real serious course runners, it's for everybody."
Most of the women taking part didn't win medals or even seem interested in the time it took them to complete the two-mile course through Frederiksted. Many of the mothers pushing their offspring in strollers ended up carrying them or running with the toddlers for the last few hundred feet. Afterwards, they all talked about how important it was to share the race with other women, about the support and camaraderie both on the course and afterwards.
And truly, there was something indefinably different about the Women Race when compared to typical athletic contests, where it's all about the thrill of victory and the agony of defeat. Maybe it was the encouragement and support they showed each other throughout the race, or the smiles of everyone who took part. Or maybe it was the group of runners closing out the evening doing the Electric Slide. You certainly don't see that at the end of most athletic contests.
"I didn't throw up," said one contestant afterwards. "That was my personal goal."
Tajama Ngongba, the women's basketball coach at Radford University in Virginia, happened to have her team on island for a week to train for a tournament in Puerto Rico. When she heard about the race, she decided to join in.
"It's a great atmosphere, all ages and all levels," said Ngongba, who didn't know her time or where she placed, and didn't care. "Everyone's so supportive and so excited."
Then her team caught up with her and, in honor of her finishing the run, made her jump off the pier.
Complete results for the race will be found on the Women's Coalition website, or at the website of the Virgin Islands Pacerunners, the group that organizes competitive runs on the island.