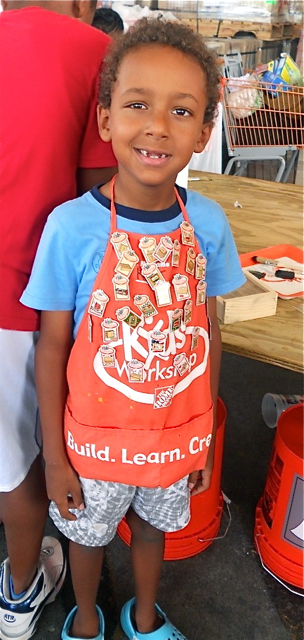 About 75 children dressed in bright orange aprons filtered in and out of the workshop at Home Depot Saturday, as they do the first Saturday of every month, learning to use tools and express their creativity.
Children sat on upside-down orange buckets at wood-slab tables where they built organizers from kits. Though they were all given the same kits, the final products expressed the individuality of the child creating it. Some were symmetrical and others asymmetrical, some were blue with flowers while others sported names and stripes.
"I like it because it's different. It actually gives kids the opportunity to use their hands," said Home Depot employee Nika Ferrari. "At the end, it's just rewarding. It's exciting getting to see what they've created."
At the workshop, children paint and build by learning to use common household tools. Home Depot employee Kissa Smith confirmed that there haven't been any major accidents in the program. With two or more parents and employees per table, the children are heavily supervised.
"The first thing they know is the hammer, so they go for that, but we have to show them to use it," said Smith.
After the kids finish, they receive a pin with a picture of what they built that day as well as a certificate for their hard work. Proud parents helped the accomplished builders attach the pins to their aprons, as big grins proved the kids were just as proud.
Seven year-old Kobe Rhymer, who sported more than 20 pins, said he couldn't choose a favorite activity or even whether he enjoyed painting or building more because they're all his favorites.
"The best part is putting it in my mom's room and we're going to share it," he said with a smile.
"We found out about it from someone else telling us about it and we've been here almost every time since," said Rhymer's family friend, Laura Jones. "When we first started, he was having a hard time with the hammer. Now he's using it so well we have to watch his fingers!" she joked.
Some parents said they brought neighbors and friends' children, allowing other parents an opportunity to run errands or relax.
Cub Scouts parent Dwane Callwood brings his daughter and several other children to the workshop each month. He and other parents save children's projects to show off at the Scout's annual banquet. Callwood remembered times when so many kids showed up that Home Depot employees had to find more supplies.
"The kids reminded me about it yesterday," he said. "They really look forward to this."
Parents admitted their children remind them of the workshops at the beginning of each month, and that they're excited to learn.
"From the time my kids got started in here about four Saturdays ago, they always want to come back," said Geraldine Lima, the mother of three, who displays her children's projects on her desk at work.
"It's a fun environment. They really enjoy it," said Smith as she surveyed the workers, noting a diverse group of kids. "This is somewhere they can be free."
Home Depot hosts several activities for children alongside the workshop. For Fire Safety month in October, they brought out a fire truck and set a specially-designed house on fire. The store also brought out a police officer to fingerprint the children for fun.
The workshop is held at every Home Depot throughout the nation. According to Smith, the St. Thomas Home Depot has hosted the activity ever since the store opened. Children build different useful items each month, such as plant beds, birdhouses and toy race cars.
The Kid's Workshop is held on the first Saturday of every month from 9 a.m to 12 p.m for children ages 5 to 12. Registration is free, and parents are encouraged to stay and supervise. Home Depot provides tools, paint, kits and all other supplies.