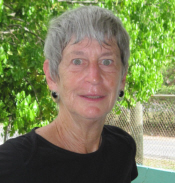 After a long career as a hospital nurse, Jane Cook segued into a school nurse's post. After two years at Julius E. Sprauve School on St. John, she's now tending the students at Guy Benjamin School.
"I love the children, and there's a good community of people who care about them," she said.
With students in kindergarten through sixth grade, she sees kids with the usual childhood problems like asthma, colds, coughs, fevers, and stomach upsets. Cook also has lots of cuts and scrapes to take care of since the school's small playground needs work and is a "disaster waiting to happen."
"My biggest concern is for their safety," she said.
While cuts and scrapes aren't catching, the other illnesses are. However, Cook said she seldom catches what's going around.
"I think I'm pretty much immune. I've met so many bugs in my life," she said.
She'd like to do more health education, but said she doesn't have great teaching skills. However, she is working with a school program that provides fruits and vegetables to the students as snacks.
"It's been marvelous to see the way they respond," she said.
She said she hopes that the program will help the students make a healthy choice when they're faced with either something salty or a piece of fruit.
Now 68, Cook didn't intend to be a nurse. After growing up in Great Neck, New York, she received a bachelor's degree in classics from Brown University in Providence, R.I. After several years in art-related jobs, nursing beckoned so she went off to Cornell Hospital-New York School of Nursing in New York.
She spent much of her career at the Dana Farber Cancer Institute in Boston. While working at the hospital, her late husband, Newell Cook, decided to work in Ukraine, leaving her to hold down the fort in Boston.
The two had visited St. John on vacation, and in 1997 and toward the end of her husband's sojourn to Ukraine, the two decided she would move to St. John to establish a base.
She got a job at Myrah Keating Smith Community Health Center, where she worked for seven years. In 2000, her husband died, but Cook stayed on, leaving for four years to take care of her elderly parents.
Cook returned to St. John three years ago. With no job available at Myrah Keating, she was wondering what to do when a chance encounter with a fellow nurse, who knew about the school nurse opening at Sprauve, let to a slight shift in her career.
She said she likes the school's academic schedule since it allows her to spend summers at her cottage in Nova Scotia. Her parents had moved there after they retired, and she was a frequent visitor. The cottage needed an overhaul, so Cook hired a woman contractor and got the place in shape.
In her spare time, she likes to read, snorkel, go to the beach, and spend time with family scattered around the U.S., especially Austin, Texas, where her daughter Sarah Cook lives.
At 68, she said she has no idea how long she'll work or what she'll do.
"I'll see where time takes me," she said.