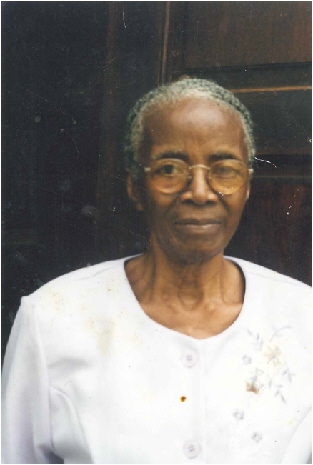 The Potter family sadly informs the public that Margaret Potter, their much loved matriarch, passed away at her home on May 14. She was 83.
On July 1, 1928, Mrs. Potter was born in the city of Santo Domingo in the Dominican Republic, where her parents traveled from Antigua to cut sugar cane. At an early age the family moved back to Antigua where Mrs. Potter went to school and lived most of her formative years. In Antigua, she worked as a school teacher and then as a nurse. She married Cecil A. Potter on July 4, 1951, and had eight children. In 1954 the family moved to Tortola and around 1965 moved to St. Thomas. From the mid 1960s to the early 1980s, Mrs. Potter worked in retail sales at such places as Continental, Tropicana, Fantasia and Woolworth Department Store. In the early 1970s she also managed the Virgin Islands Religious Supply and Book Store on Back Street.
Mrs. Potter loved the church. She was forever an active participant in her relationship with God, worshipping first as a Methodist, then as an Adventist. Her attendance and membership at the Shiloh Seventh-day Adventist Church brought her much happiness and fulfillment, serving there as a deaconess, community service member, teacher's assistant at the school, and as a "Prayer Warrior."
Mrs. Potter is survived by her sister Ione Henry of Connecticut; her daughter Lydia; and her seven sons: St. Clair, Edwardson, Osbert, Ronald, Cecil, Everard and Milton; daughters-in-law: Felicia Thomas-Potter, Evelyn Venner-Potter, Yvonne James-Potter, Dawn Henry and Paulette Venzen-Potter.
Mrs. Potter was also blessed with 26 grandchildren: Monifa, Sharifa, Shakimo, Shakeem, Shawn, Natalie, Emil, Marcus, Edward, Dareem, Dyonna, Dykisha, Kyrah, Ronald Jr., Kyle, Jamal, Khoi, Jawahn, Kamarsha, Keinesha, Syieda, Zia, Dakarai, Jayvyn, Theron, Jevar; and 17 great- grandchildren; adopted daughter, Ina Williams and her family: Amancia Williams, Glorina Williams-Cruz, Sherrel Williams-Maison, and Eronimoe Williams Jr. Special friends include: Leona Gabriel, Olga Richardson and family, Mary Romney, Lola Warrington Eleanor Agard and Pastor John Josiah.
The family expresses their sincere appreciation to Sister Leona Gabriel, Marsha Collins, the La Paz Hospice Care staff, and the Shiloh Seventh-day Adventist church family for their caring efforts to make Mrs. Potter's last days as comfortable as possible.
There will be a first viewing from 5 p.m. to 7 p.m. at the Davis Funeral Home on Wednesday, May 30. A second viewing will begin at 9 a.m. and a funeral services will begin at 10 a.m. on Thursday, May 31, at the Shiloh Seventh-day Adventist Church in TuTu. Burial will be at the Smith Bay Cemetery.
All arrangements are by Davis Funeral Home, 774-1464.