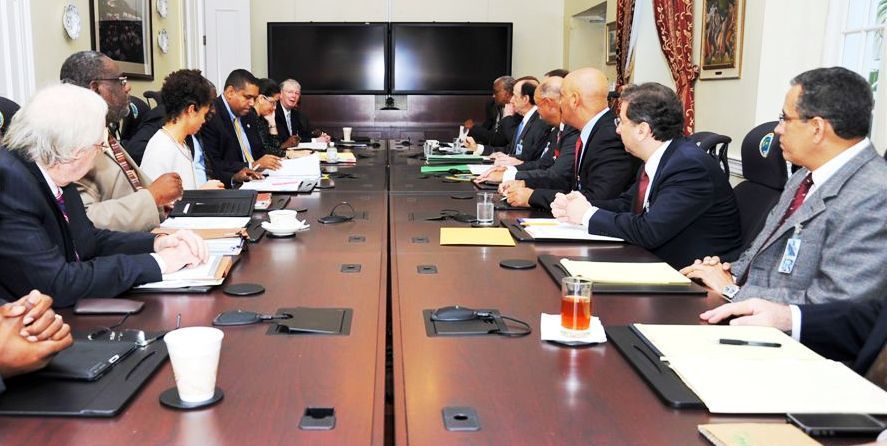 Calling it slanderous, the governor and attorney general of the Virgin Islands are seeking a retraction of a story posted Thursday on right wing blog Daily Caller accusing the two of accepting bribes.
The story, which lacks any named sources, heavily quotes – without attribution or perhaps unwittingly – from court documents filed by now bankrupt former V.I. businessman, Jeffrey Prosser, a practice that has also been used on local blogs.
Specifically, the story is reminiscent of Prosser's RICO (Racketeer Influenced and Corrupt Organizations Act) claims against his major creditors: Rural Telephone Cooperative and related organizations. Prosser's protracted claims were finally and fully dismissed by Bankruptcy Court Judge Judith Fitzgerald in January, ending a years-long, expensive distraction in the bankruptcy matters that have stretched out for nearly seven years.
While Virgin Islands officials are a small part of the rambling, disconnected tale which is directed at the Obama administration and Eric Holder – something the partisan blog takes aim at regularly – was nevertheless the talk of the town on radio shows and emails all day Thursday.
While Gov. John P. deJongh Jr. was meeting with Hovensa, Hess and Petroleos de Venezuela officials, the rumor mill had him and unnamed senators being hauled away in handcuffs and the Legislature building surrounded by federal agents.
One such email that the Source chooses not to attribute, so as not to embarrass the relatively innocent, said, "The entire Senate is under lockdown right now surrounded by black fed cars."
The Daily Caller yarn says the following about its source for the allegations, which include references to a federal grand jury indictment 13 months ago from which no charges arose: "A former high-level elected official vouches for the government source's veracity."
That former official told TheDC, "[The source] was trustworthy … and you could tell [the source] information or [the source] could hear information and [the source] would keep things close to [the source's] chest."
"You could trust [the source] with your life," the former official said.
In a release from Government House, Communications Director Jean P. Greaux Jr. said he had spoken with Matthew Boyle of the Daily Caller prior to the posting and told him that the story was "totally false, outrageous and absurd."
Greaux added that the allegations were slanderous and that Boyle had displayed "reckless disregard for the truth," the grounds for establishing a slander case.