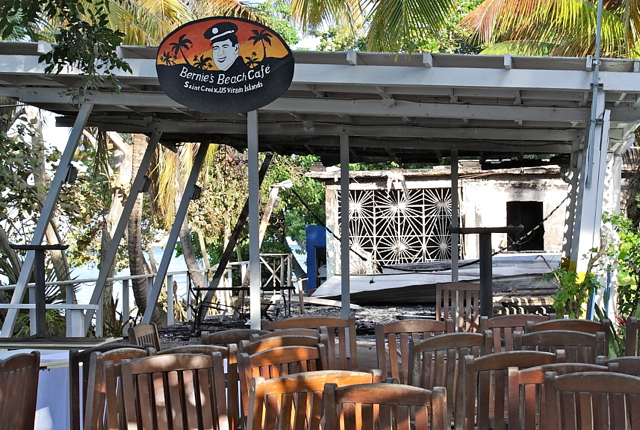 Police and firefighters are investigating a fire that destroyed Bernie's Beach Cafe on Sprat Hall Beach in Frederiksted early Friday morning. No injuries were reported.
Fire Marshal Gregory Williams was not prepared to rule the fire arson Friday morning, but said there will be an active investigation. He expects to report in five to ten days.
Chef owner Keith Weitzman said when he arrived at the restaurant this morning he noticed one of the restaurant's metal doors had been pried open and a 1,000-watt generator was missing. Police confirmed the gate was intact the previous evening and was not damaged by the firefighters.
The fire scorched the restaurant's kitchen and destroyed the bar area. The restaurant will remain closed as Weitzman decides whether or not to rebuild.
Henning Wittmann, a German tourist, first spotted the fire from his yacht anchored near the restaurant at 2:45 a.m. He was unable to contact authorities on his radio, so he rowed his dingy to the beach and called for help at a nearby residence.
This is the third suspicious fire in Frederiksted this month. Coconuts on the Beach and the parade-reviewing stand near Fort Frederik were damaged by fires Jan. 10. Both incidents were ruled arson. No arrests have been made in either case.