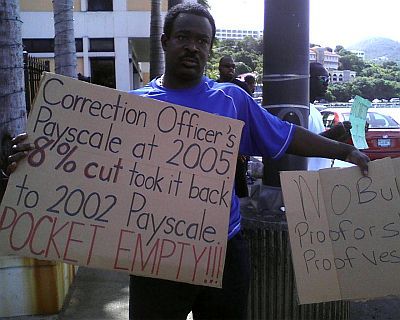 While Bureau of Corrections officials got ready Wednesday to make their budget presentation to the Legislature, officers on St. Thomas staged a protest to show how they feel about local pay cuts and a federal takeover of the Golden Grove Correctional Institute.
Corrections' shop steward Allen Nibbs said pay has always been an issue for the officers. A tight budget stopped officers from receiving step increases negotiated since 2005 and will again hold up what was promised in their new 2010 collective bargaining agreement, Nibbs said.
He also said that the 8-percent pay cut, affecting all government employees, has set the Corrections officers back to their 2002 pay levels. The pay cut was enacted as part of the Economic Stability Act, which was recently signed into law by Gov. John deJongh Jr. to combat the territory's fiscal woes.
Nibbs and other officers also spoke out against some of the bureau's management, but said that they would be backing BOC Director Julius Wilson by protesting the U.S. Justice Department's attempts to get a federal receiver for the Golden Grove Correctional Institute, which the V.I. Justice Department is also fighting in court.
The officers also spoke out Wednesday about poor working conditions at the facilities and a lack of protective equipment.