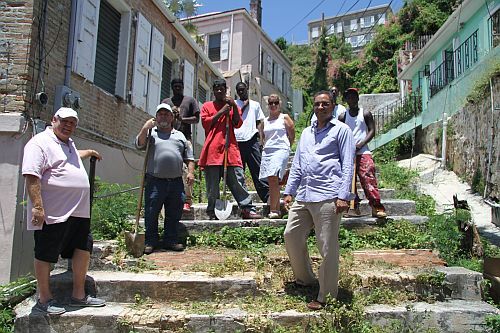 The St. Thomas Historical Trust met Wednesday with local nonprofit My Brother's Workshop to start restoration work on the Bred Gade step streets.
The trust, which plans to restore various step streets around Charlotte Amalie, received approval earlier this year from the V.I. State Historical Preservation Office to begin the restorations on Bred Gade and Store Tvaer. It's expected that more will be restored as the projects are adopted by other not-for-profits and businesses.
The My Brother's Workshop program has volunteered to provide the labor to restore the step street's brickwork on Bred Gade.
The program, under the direction of Scott Bradley, works with young men between the ages of 16 and 24 to build their construction, electrical and plumbing skills so that they can get an entry-level job. The program also teaches life skills, including financial management and resume building.
My Brother's Workshop has been working with the trust for the past few months on researching historical construction methods and building materials, according to a press release from the Historical Trust.
"We're going to strip away all the repairs that have been made over the years, all the concrete, and restore it back to the original brick," Bradley said about the restoration project. "It's a lot of work, but we're going to be doing it in conjunction with the boys, so this will be a lot of their volunteer time, and it's a way of restoring the kids by restoring the old, historical stuff in our community."
Bradley said the project would make it safe for older residents traversing through Bred Gade and will bring some neighborhood pride back to the area.
"This is our way of giving back, of having the kids connect to their own community," Bradley said. "Some of these kids actually live in this community and they'll walk by everyday from now on and say, 'I did that,' or it will remind them of what this is all about."
The Historical Trust began an awareness program about the step streets a year ago and conducted walking tours so residents and visitors could learn about their importance. The trust hopes to restore three to five per year, starting with Bred Gade, which is located north of Main Street and runs from Nye Gade to Lower Murphy Gade, according to the press release.
"What we hope to accomplish here is the restoration of the street as much as we can to the original surfaces; and we're going to work, over time, on additional enhancements to it, which include the railings and lighting," said John Woods, chairman of the Historical Trust's Step Streets Committee.
"They've fallen into disrepair, as many can see, and they're important not just for bringing these communities more together," Woods said, "but also because they are a great resource for our tourism product."