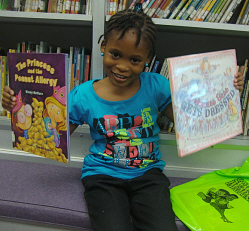 Thousands of books were given away Saturday, and hundreds of youngsters throughout the territory got launched on the road to becoming lifelong readers, at "Book Blow Out" events on St. Croix and St. Thomas.
The events were part of Gov. John deJongh Jr.'s third annual Summer Reading Challenge. Through the program, deJongh challenges island youths from kindergarten through the sixth grade to read at least five books during the summer.
On St. Croix, 8-year-old Jorge Ortiz was on hand early to pick up her books. Jorge, who will be in the third grade at Alfredo Andrews Elementary School in the fall, took part in the program last summer. That year her favorite book was "Farley," the story of a dog.
As she clutched her green bag of new books, she proclaimed, "I love to read."
Another repeat summer reader on hand at Sunny Isle Shopping Center was 7-year-old Sevra Dowdy, who said her all-time favorite book is "Smelly Socks," by Robert Munsch.
The V.I. Library's Bookmobile was also on hand at both events, and 5-year-old Allarie Monsanto was taking advantage of the quiet (and the air conditioning.) But her bag of new books was at her side, because she was lost in a pair of books off the shelf. Allarie, who lives on St. Thomas and was visiting her aunt, was leafing intently through "Princess Bess Gets Dressed" – which she said is her favorite book – and "The Princess and the Peanut Allergy."
Allarie is starting kindergarten in the fall at Calvary Christian Academy. When she gets around to writing her own books – after she's gone to school for a little while, she said – they're going to be about – princesses!
Then she thought about it a little longer, and added, "And dinosaurs. Princesses and dinosaurs. And dragons!"
On St. Thomas, deJongh was on hand to help pass out the books.
"Every year, we organize these events to raise awareness of the benefits of reading and also to ensure that children have the tools necessary to succeed and advance their educational pursuits. I thank the students and their parents for participating in this summer program and encourage all students to make reading a priority every day," de Jongh said.
This year's reading challenge features books written by local authors, including "The Big Roar" by Mim Green and Phillis Gershator for students in kindergarten through second grade, "Hoping for a Hurricane" by Phillis Gershator for students in third and fourth grade, and "Moko Jumbie Dreams" by Alscess Lewis-Brown for students in fifth and sixth grade.
E-books can be downloaded for free at www.virginislandspubliclibraries.org. A link for the governor's summer reading program is viewable on the website's front page. The contest also encourages students to visit their public libraries and sign up for a library card, as well as utilize the community bookmobile in their neighborhood.
As an incentive to participate in the program, students who keep track of their reading and finish a minimum of five books will be invited to a "Fun Day" with the governor at the end of the summer. The events will be held in both districts to recognize student achievement.
Students can also write to the governor throughout the summer to report their progress in the reading program, or to post their comments, which the governor will monitor, at www.readfive.org.