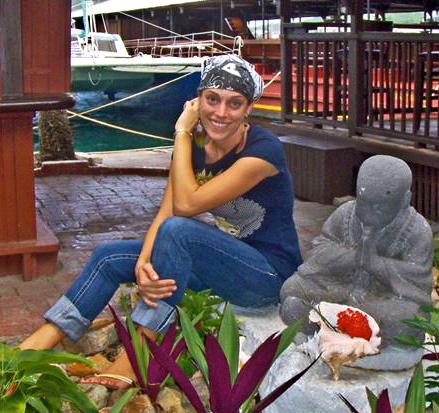 The fish is a given. It's the rice that makes sushi.
Words of wisdom from the 28-year-old restaurant chef Katie Lombardo, owner of Enkai Sushi Bar. And she should know. At this tender age she has already racked up six years in the sushi bar business.
Lombardo moved to the island in 2005 from Rochester, N.Y., to open Shensin sushi bar at Indigo Restaurant at Magens Point at the suggestion of friends in the business.
She quickly developed a local following, and after three years, when the waterfront space became available she took the plunge to jump in on her own.
"When I was 16," Lombardo says, "I decided I wanted to open a restaurant on an island. And," she says with a broad smile, "I have."
Lombardo a restaurant veteran's knowledge, belieing her yearyears, coupled with the youthful spirit of a sprite, a water sprite as it turns out.
"Enkai means ocean," she says, "and it also means party. It's the perfect name."
We spoke on recent morning as Lombardo was preparing the restaurant for lunch, wiping down the prep area with full bleach, removing the glass from the front counter display case, carefully polishing it to a glimmer with that old restaurant standby, vodka.
"It gives the best shine," she confides
"I do basically everything," she says, "I'm even the plumber!"
Lombardo says she's loved sushi since she was a teenager in Rochester.
"Nobody was really into sushi then, but it was something I just took to – it is an art form – and I ended up working in a sushi bar."
Lombardo augmented that experience with three years at the Pennsylvania Culinary Academy, preceded by a year at the Institute for Integrative Nutrition, the leader in holistic nutrition education.
"I always believed that what you put in your body affects everything about you," Lombardo says. "I couldn't pass up that kind of education."
Now, about that rice.
"The first thing anyone who comes to work for me learns is how to make rice," she says. "Rice is what sushi is all about. It has to be perfect."
Lombardo fills a stainless steel quart container with rice, which she pours into a colander and begins a vigorous rinse with water milky with starches. She keeps at it until the water is crystal clear. Perfect.
She fills three rice cookers, in which the rice will cook for 35 to 40 minutes. Then comes the drying and seasoning.
"Each grain must be coated," she says, demurring from revealing any more trade secrets.
Lombardo gets her fish from S & P Seafood, a stone's throw away, and from the local Frenchtown fishermen.
She opens the refrigerator and extracts a beautiful hunk of yellow fin tuna.
"This was caught yesterday" she says, while bringing out an equally appealing cut of wahoo. "The wahoo will go in today's mango seviche," she says. That's for the $15 Bento Box lunch Enkai serves Wednesday through Friday. It includes miso soup, seaweed or squid salad, or the wahoo special this day, a selection of sushi rolls including: Rochester, tempura snapper, spicy mayo, scallion; nigiri, rice covered by jerk tuna, or a crab stick. It's a sampling of the evening's much more elaborate menu.
"Come, see my herb garden," Lombardo says. "My boyfriend Christopher Gagliani built it with pilings he found in the harbor," she says with a certain pride. "He's very supportive."
Located at East Gregorie channel, the entrance to Enkai is expertly landscaped, with a stone Buddha and beautiful hibiscus. The garden bursts with sage, basil, oregano and even a chocolate mint. In another bed is are rows of bright green scallions.
Living on St. Thomas, Lombardo says, has taught her to be flexible.
"I've learned by trial and error," she says. "For instance, the scallions. Sometimes they aren't available or they're too expensive. So, I grow my own."
She says, "I think of Enkai as a little oasis. This is an industrial neighborhood, but once you walk through the garden, it's a different world. You should see it at night, when the tarpon feed under the lights right outside. Amazing."
Larger problems than scallions arrived in 2010 with Hurricane Earl.
"It just shattered the restaurant," Lombardo says. "I lost the roof. I had wind insurance, but no water, being on the waterfront. All the employees pitched right in right away. Everyone helped."
She runs the kitchen under the watchful eye of a replica of Kwan Yin, the goddess of compassion and forgiveness. These beliefs are implicit in Lombardo's attitude about serving food to people "with love."
She designed the restaurant with the help of her family and friends.
"Painting, everything," she says. "I come from a long line of woodworkers, and my father came down to build the tables, and do the rest of the woodwork."
The dining room is handsome and welcoming with local artwork as well as Asian touches. It sits right at the water's edge at Gregorie Channel where it gets a nice breeze.
Local hair stylist Liz Frank is a dedicated fan.
"My boyfriend and I had tempura fried ice cream the other night. It was absolutely amazing, so different," she says. "In fact, we ordered it as an appetizer before dinner. And, you can say I never eat sushi anywhere else but Enkai. Never."
Enkai is open Tuesday through Saturday. Phone 774-6254. Menus and daily specials can be seen online at http://www.enkaisushi.com.
/