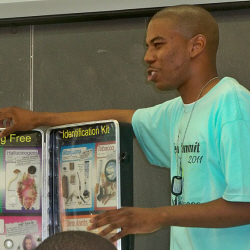 Local youngsters got some straight talk about alcohol and drug abuse, and about making healthy lifestyle choices at a weekend-long Teen Summit that began on St. Croix Friday. The summit, in an interactive educational forum, was held on the Albert A. Sheen Campus of the University of the Virgin Islands.
St. Croix Unity Coalition Inc., an organization dedicated to reducing and eliminating the use of alcohol and other illicit drug use among children, hosted the 11th annual summit. SCUC is a community-based partnership providing educational programs on prevention, intervention and research on drug abuse.
Alexis George, volunteer counselor for SCUC, said alcohol is the primary gateway drug. He said alcohol consumption and drug use is down in the youths he has seen come through the program in the last few years. "The success rate in life choices has been better for those who attended the summit," George said. "If not for the summit they may not have chosen the right path."
Students were separated into four age groups. Each group was able to attend every workshop held Saturday in classrooms in the Melvin Evans Center.
Norma Hassell, VICARE education outreach specialist, spoke candidly about proper condom use and preventing the spread of HIV/AIDS. She told the students about the free HIV testing offered at VICARE.
Sgt. Felicia White, from the Air Force National Guard, presented a workshop on financial literacy. She spoke about prioritizing and the difference between needs and wants. She gave advice about saving and the pitfalls of spending more than one earns. George did a workshop on anger management.
Spec. Sherman Webster of the Army National Guard spoke about the danger of club drugs and how to avoid being duped into drinking something spiked with drugs.
Darlene Springer and Xiomara Sanchez, from the Domestic Violence and Sexual Assault Council, held a discussion on statutory rape and sexual harassment.
The 72 students ages 12 to 18 stay in the dormitories on the tropical campus where the red flamboyant trees are opening up their summer blossoms.
D'niqua Guide, 15, said the summit was a wonderful experience and she received useful information. "It was great socializing in the dorms, playing games and staying up late."
Retired VIPD officer Vivian Raymond brought 10 youths in the Students Against Destructive Decisions program over from St. Thomas for the summit.
"This is some good stuff to help us make positive choices in life," said Angelique Flemming, a student from Central High School. "It helps make it comfortable to talk to our parents, so we aren't embarrassed."
Maj. Glenda Mathurin-Lee of the Air Force National Guard, and vice president of SCUC, said the parents must be involved for the programs to be successful. There is a mandatory orientation and exit surveys must be done.
"We listen to what the kids and parents say and we give targeted information out," said Mathurin-Lee. "We want to know what they think and what their perceptions are of risky behavior."
Partners and sponsors of the summit are Denise Lewis at Grove Place Weed and Seed, V.I. Lottery, Scotia Bank, Law Enforcement Planning Commission, V.I. Office of Highway Safety,V.I. National Guard,VICARE, Domestic Violence Sexual Assault Council, Women's Coalition, Departments of Health and Labor, and UVI.
SCUC is a progressive anti-drug community coalition made up of a variety of people and organizations within the St. Croix community. The coalition mission is to implement prevention education and environmental strategies that focus on reducing at-risk behaviors among youth.