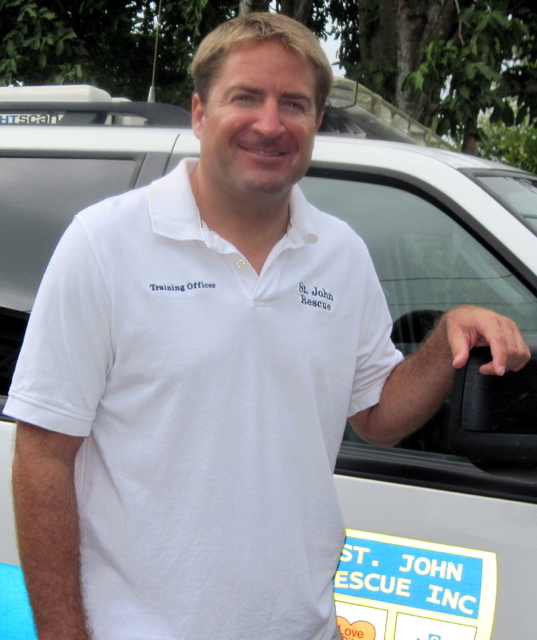 Paramedic Terry Rogaczewski has taken St. John Rescue's capabilities to a whole new level, training officer Bob Malacarne said.
"He sets a higher standard. The level of professionalism is so much better" Malacarne said.
Rogaczewski, 37, spent his entire working career in emergency medical care. A V.I. National Park lifeguard who works at Trunk Bay Beach, he puts his paramedic skills to use on the job, and when the work day is over, he's busy volunteering with St. John Rescue.
"I enjoy helping. I was into helping from the start. When a bird fell out of a tree …" he said.
He has high praise for St. John Rescue's abilities, which he said is surprising given the small size of the island and the fact that it doesn't have a fleet of specialized vehicles on hand.
"There isn't anything we can't do," he said.
He and Malacarne were recently named volunteers of the year by St. John Rescue. Both are in the middle of conducting an emergency medical technical training class.
Rogaczewski holds a slew of emergency response certifications, including a paramedic certification obtained after completing coursework at Valencia Community College in Orlando. He said that when it comes to emergency medical training, it's an ongoing process with recertification required frequently.
His other current certifications include pediatric intensive trauma life support, swift water rescue, advanced cardiac life support, motor boat operation rescue, emergency vehicle operations, SWAT medic training, helicopter operations, rescue diver, all incident command, and personal watercraft rescue. Additionally, he's certified to teach first responder classes, first aid, CPR, life guarding, and others.
Rogaczewski began to learn his medical skills when he was a lifeguard on the beaches of his native Los Angles. After graduating from North Hollywood High School in its zoological and biological magnet program, he spent many years working for commercial ambulance companies. Additionally, he did a lot of work in rescue programs for whales and dolphins.
A hiatus in his early 20s sent him to Japan to work with whales and dolphins.
In 1999, he moved to Orlando, where he worked for commercial ambulance companies and with Disney Corp. as a lifeguard and an emergency medical technician.
While working for the Disney fire department, he had a job on the ambulance cart that is called to emergencies in Disney World.
"We had a little golf cart with a bed in the back. It was like a miniature ambulance," he said.
The cart could respond to all sorts of emergencies including heart attacks, he said.
From Disney, he moved to Fort Lauderdale, where he worked for the Fire Department as a lifeguard.
The lifeguard community is small, and Rogaczewski heard about a job with the St. John park from a lifeguard trainer. He'd never been to St. John before.
"I just got a fly up my backside one day," he said of his decision to apply.
That was two years ago. These days he's busy with his job at Trunk Bay and with St. John Rescue's various activities.
He's not sure what's ahead, but he said he's aiming for a job in law enforcement with the National Park Service.
With no wife or children to sway any career decisions, he's ready for whatever comes next.
"But we're not going to allow him to leave," Malacarne said, laughing.