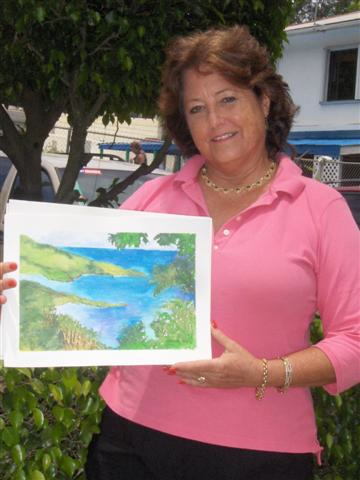 Driving down Solberg Hill one fine morning shortly after returning from Nova Scotia, Brooks Brown had a revelation, of sorts. Or a new perspective on something she had always known.
"I looked at all the shades of blues and greens, shades on the water in the hills. It just makes you want to drink it all up," she says. "It was a clear, crisp day, and the tiny little stars twinkling on the water, the yellows blues – I really saw our true colors."
This was in the mid-1990s. Brown had attended an artists workshop in Halifax.
"The colors were so pale there, by comparison, all grays, dark blues," she says. "And, it was so cold."
Brown knows whereof she speaks. She has lived here most of her life on St. Thomas since her family moved to the island in the early '60s.
Her mother, the late Jean Brown Hendricks, moved to St. Thomas with her four daughters – Derryle, Brooks, Tracey and Courtney – in 1962 to take over the then small Caribbean Travel agency, which grew from two employees to 43 at its peak.
A year later, she included Tropic Tours, a land-based travel services provider, which became Brooks Brown's bailiwick after college. Brown is president of Tropic Tours. Courtney Garbrielson runs Caribbean Travel, and the other two daughters now live in Florida
Growing up in the large home on Solberg Hill, Brown has early memories of "just sitting and drawing."
"I was always doodling, sketching the harbor, ever since I can remember," she says.
She fortuitously came under expert tutelage at Antilles School, where the late local artist Eric Winter taught history and mathematics.
"Antilles was much smaller then, so he taught other subjects, but he took an interest in me and for four years, he mentored me," Brown says. "I was so fortunate. He encouraged me to pursue art. 'Just take as many art classes as you can,' was his advice."
Brown enrolled in the Women's College of Colorado Temple-Burell, where she went two years, leaving to attend the prestigious Academy of Art University in San Francisco, where she graduated with a bachelor's of fine arts in 1974, and moved back to St. Thomas.
So, where does a graduate with a fine arts degree find work on St. Thomas?
Well, the travel business, of course. Tropic Tours in particular. Brown has worn two hats since that time, something she relishes. She points out, she isn't exclusively an artist. She is an entrepreneur and she loves it. She's very good at it, and she has creatively found ways to blend her interests.
"Don't misunderstand," she cautions. "I love the travel business. My mother made me who I am. She taught me about people, how to make tourists want to come back here. It's a large part of who I am."
Back on St. Thomas, Brown soaked up all the available instruction she could get. In the '70s and '80s the island didn't have the lively art community that exists today.
Her face lights up at the early memories.
"Rhoda Tillett was so great. I got to help with the early Arts Alive festivals. Then, I had my first show at L'Escargot restaurant downtown, a two-woman show with the artist Joan Richards. Ed Sternberg owned the restaurant and he helped. It was an exciting time."
Brown is easy to talk to. She is a vibrant personality, big brown eyes, ready smile. Her enthusiasm about her passions is contagious.
In 2006 Brown found an inventive way to wed those two passions. She and a friend in New Jersey conceived a project dubbed the "Painting Gypsies."
"We recruited art students and got artist Jean Lester and other visiting artists as instructors.
The idea was to paint outside, plein art it's called, which really means to paint in the moment of what is actually happening in front of you."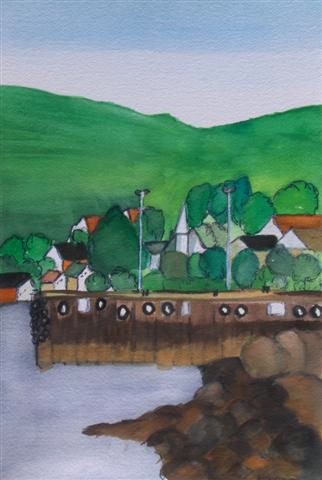 The students received instruction in a tropical setting, gourmet meals and lodging, even painting outside at the governor's mansion, Catherineberg. And it caught on.
"We conducted five classes from 2006 to 2009, about 10 students each. At first, I thought I could take the classes myself, but my hostess training came in play. I had to take care of business," she says.
Brown has stuck with water color as her medium, with water color pencils as her brush She has a natural eye for color, as illustrated in the paintings hanging in her Tropic Tours office.
Today, Brown is painting inside, still with the encouragement of Larsen, along with Denise Kurg.
"They have the Underwater Art Studio, underneath the pool at Bluebeard's Hotel. We meet on Saturdays. If I could, I'd be there every day."