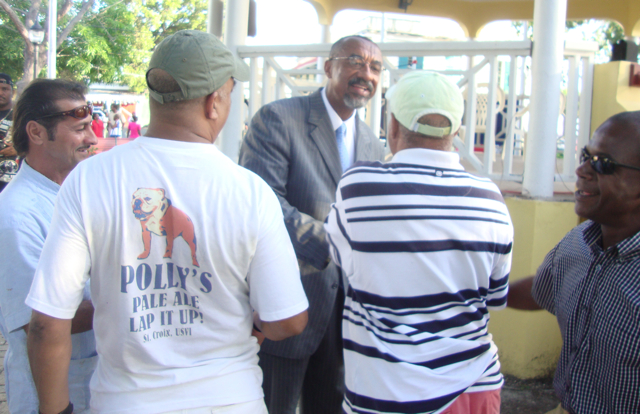 At a Sunday afternoon rally, Gerard Luz James II threw his hat into the ring, declaring himself a candidate for the Democratic nomination for governor and announcing his running mate, Glen J. Smith.
About a hundred people gathered in Buddhoe Park in Frederiksted for the announcement.
James, a former lieutenant governor and currently president of the fifth Consitutional Convention, did not mention his opponent, Gov. John de Jongh Jr., by name. But he and Smith had plenty to say about the current administration, accusing officials of "bullyism" and running a government to benefit a few friends instead of the people.
James and Smith enter a field for the Democratic primary that includes de Jongh and Lt. Gov. Gregory Francis, and Sen Adlah "Foncie" Donastorg and his running mate, Samuel Baptiste. Kenneth Mapp and his running mate, UVI political science professor Malik Sekou, are running as independents. Sen. Terrence "Positive" Nelson, a member of the Independent Citizens Movement political party, is also running for governor but has not yet announced his running mate.
The primary election is scheduled for Sept. 11.
James, who is a funeral director by trade, said he sees firsthand the effects of the growing wave of violent crime that has taken a record number of lives in the last two years. He sees it in the tears of grieving parents and siblings, and called for more federal and local money to stem the influx of guns into the territory.
"The only tears in the James Administration will be tears of joy," he promised.
He said the Virgin Islands Police Department needs to become more recognized by citizens as friends and partners in preventing crime, and that there should be more emphasis on crime prevention and rehabilitation.
James also called for revival of the territory's agriculture industry, and he and Smith promised to "solve" the "LEAC problem," the Levelized Energy Adjustment Clause that adds so much to island energy bills.
"We will begin working on easing the LEAC burden in January 2011," James said, referring to the month the new gubernatorial term begins.
Born in 1953, James received a bachelor's degree from Howard University in 1975, then enlisted in the Army, serving six years and leaving the service with the rank of captain. After studying mortuary science he returned to the Virgin Islands and opened James Memorial Funeral Home, which he still owns and operates. He ran for and was elected to the Senate in 1992, and was elected lieutenant governor as the running mate of Gov. Charles Turnbull in 1998.
After a highly publicized split with Turnbull he ran for governor in 2002, but finished out of the running.
James emphasized to the crowd that he and Smith are running a grassroots movement and they urged those in attendance to sign up to help with the campaign.