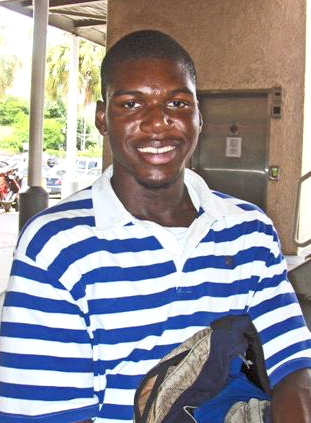 Jonte Samuel is a busy young man. Already a professional musician, he is headed for college and foreign travels. He takes time out from his summer job teaching at Charlotte Amalie High School, where he graduated last month, to give a brief interview.
The lanky teenager seems a bit uncomfortable talking about himself until he hits upon something where he is perfectly at home – music,, specifically, saxophone.
Samuel is one a select few students teaching the 25 students, who range from seven to 14 years old, at the CAHS Encores Camp this summer, an experience he clearly enjoys.
"We teach them theory, technique, rhythm, marching band, master class," he says. Sounding much older than his 18 years, he says with satisfaction, "It amazing to see them grow as musicians."
Samuel grew up on St. John, attending school there until he moved to St. Thomas for high school. His father is noted Virgin Island artist, wood turner Alvino Samuel.
Samue; says he has no particular talent for working with wood, though he has sculpted a few pieces. But, it clearly isn't his passion.
"It's just not like playing music," the young tenor sax man says.
Perhaps the music gene came from his mother Junie Violenes, who says, "I've always had a love of music. I played a lot of earth music when I was pregnant. In fact, "she says, "he would hum tunes, before he could even speak."
Samuel says he got a sort of rocky start.
"I was in the 7th grade, probably 11 or 12, when I took saxophone. At that point, I had a bad memory, and I had a couple of cousins who played, and I was worried with so many notes. I really liked the saxophone – I liked the sound of the name. After about a month, I got to take it home to practice around the house." And that sealed his relationship with his saxophone. He give a shy laugh. "I really enjoyed it. I've been playing ever since."
Samuel credits much of his musical nurturing to the St. John School of the Arts, where he began in the eighth grade under the tutelage of Ruth "Sis" Frank, the former director and founder of the school, and teacher William Johnson.
"Sis Frank was my biggest supporter," he says. "She's retired so she no longer comes to all the events.
The young reed player's talent was noticed by well-known local sax player Joe Ramsey, who furthered Samuel's musical education in 2007when he took him to the prestigious Umbria Jazz Festival in Italy.
"That's the ultimate jazz festival, the big one," Samuel says. "We went to all the concerts every night for a about two weeks. Then to jazz clinics during the day. It was really an experience."
Samuel's taste in musical heroes could seem a bit suprprising for an 18-year-old with professional experience and Umbria under his belt.
"Coltrane," pops out immediately, along with McCoy Tyner, who played piano in the John Coltrane Quartet for years, and Dexter Gordon, all bebop era musicians.
And Samuel has a group of his own.
Sometimes known as the Young Lions, Samuel and three CAHS students play professionally with their own contemporary jazz group called Jazz Lake, which they formed two years ago. It's Malachi Thomas, saxophone; Kai Richardson, trumpet; Samuel, saxophone and Tabari Lake, bass.
"It's all horns without Tabari," Samuel says. "We named the group in his honor. He is going to be a junior this year. We all graduated. We started in the 11th grade."
The quartet plays on St. Thomas and St. John, at the Tavern on the Waterfront on Friday Nights, at the Saturday Full Moon Jazz at Yacht Haven or at the Beach Bar in Cruz Bay, St. John.
Samuel will attend the prestigious Berklee School of Music in Boston, a school with a rich jazz tradition, founded on jazz and popular music rooted in the African cultural diaspora. He has received a number of scholarships, including the 2010 Isaac and Rebecca Paiewonsky Scholarship, awarded through the Community Foundation of the Virgin Islands.
He has a busy summer ahead of him before his formal training begins. He is one of 10 students traveling to Africa with the Rwanda Project USVI, leaving July 28 to spend about three weeks working with Rwandan children.
When it was mentioned that the students can take recorders to play with the Rwandan children, Samuel was quick to say he is bringing his sax. "I cannot imagine being without it for more than two days," he says, as a matter of course. "I've never been without it for more than five days in my life. It's really hard."