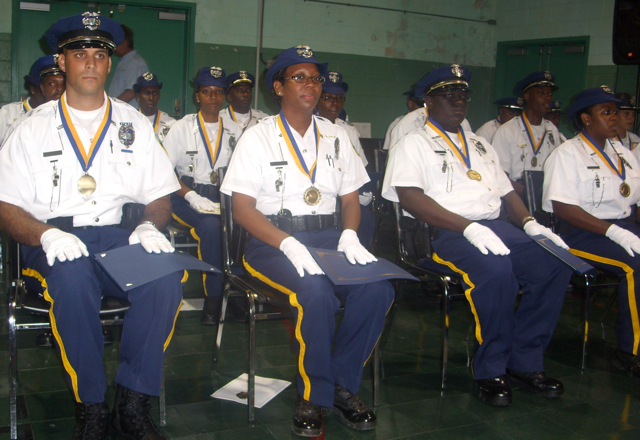 Cheers and applause from family and friends echoed in the halls of the SFC Leonard B. Francis Armory on St. Thomas Friday the Virgin Islands Police department graduated new law enforcement officers in a ceremony.
Judge Michael C. Dunston administered the oath of office to the 21 members of Police Recruit and Police Auxiliary Class 2010-1, which included 14 Virgin Islands police officers, seven police auxiliaries, one enforcement officer for the Department of Planning and Natural Resource and one Superior Court deputy marshall. The academy training lasted 21 weeks.
The class had two mottos — "Out of Many, We are One" and "On the Move, On the Beat, Serving with Pride and Dignity." was the class motto for the police recruit and police auxiliary class respectively.
In his seech to the graduates, Gov. John de Jongh Jr. on recent crimes, telling the class this is the perfect time for the new officers to hit the streets.
"It is a time for this community more than anything else to see the best of the officers to stand up and take the charge. It is the best of times for these individuals to put themselves above others and understand the challenges we have," he said.
Recognizing these challenges, Assistant Police Commissioner Raymond L. Hyndman told the officers "you must realize the problems of this community transcend all boundaries, it affects all people. Each of you must commit yourself to champion the cause for justice and fairness to everyone you come in contact with."
Police Commissioner Novelle E. Francis Jr. was out of the territory on police business and sent his congratulations to the graduates.
St. Thomas/St. John district Police Chief Rodney F. Querrard, Sr. also commented on the overwhelming tests the officers will confront on a regular basis and implored them to utilize their training in handling these situations.
"We are being challenged daily because of the no-care attitudes of a few criminals, thugs and heartless individuals who live among us." Querrard warned the officers, telling them to make sure their feelings do not cloud their judgment when upholding Virgin Islands laws.
Likewise, Police Training Academy Director Vancito Gumbs said the officers must help to take back our streets, and in doing so, serve with professionalism, pride and integrity.
"You must remember that you are not the oppressor, for you are the protector and defender of the people you will swear to serve and protect."
During the graduation the audience gave a standing ovation for training cadre Corporal Omodoso A. Muhammad, who is retiring after serving 20 years in law enforcement.
The new officers are:
Virgin Islands Police Department: Ahmad Abu Soud (highest firearm score – male,) Shawn Browne (former police cadet,) Ann Marie Charles, Bernard Douglas, Jr. (plass president,) Elesa Francis, Kira Hoston-Browne (highest academic average; highest firearm score – female,) Elesa King, Luis Melendez, Jr., Quianah Molyneaux, Hanifah Muhammad (highest physical fitness – female,) Jonathan Rey (highest physical fitness – male,) Kenneth Small, Jr.
Virgin Islands Police Department Police Auxiliary Officers: Sofia Clendinen, Kirma Fleming (employed as a VIPD school crossing guard,) Vernon George (highest firearm score,) Laurel Liburd (highest academic average; highest physical fitness score – female,) Alston Lockhart, Jr.,Elvy Rogers, Jr. (class president; highest physical fitness score – male,) Peter Tavernier.
DPNR Law Enforcement Officer: Andrea Tromben.
Superior Court of the Virgin Islands Deputy Marshall: Tarique Turnbull