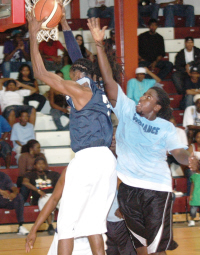 The defending champions Hoyas defeated Guidance 92-80 Friday night in a New Breed Basketball Association battle of unbeatens — but it was not easy. Guidance, playing with just seven players in uniform, gave the champs all they could handle before succumbing to the Hoyas deep in the fourth quarter.
It was one of the games that local basketball fans would have highlighted on their copy of this summer's NBBA league schedule, and the near-capacity crowd in the Ronald Charles Gymnasium was a testament to that. The champs started fast, and led by 14 first-quarter points by Darnell Hendrickson, they outscored Guidance 27-14 in the opening period.
Coach Sammy Lee's decision to start his bench in the second quarter did not go as expected and the talented Guidance squad was able to claw their way back into the game, getting as close as three points of the lead at 38-35. The Hoyas' starters returned as time wound down in the first half, and they closed the second period on a 6-2 run to go into the locker room up by seven at 44-37.
Guidance point guard Joelfry Polanco came out on fire in the third quarter, scoring eight straight points at one point for his team as they went on a 12-6 run to get within one point of the lead at 50-49, but they just could not get over the hump. They were within three at the end of the third period at 62-59, and a game many in the gym thought could be over early after the Hoyas' hot start was gearing up to be a dogfight in the fourth and final quarter.
Guidance continued to fight hard, but a decision by their coach to play man-to-man defense with only seven players for the entire game took its toll and fatigue became an issue. Andy Chelcher dropped in eight points for Guidance but it was not nearly enough as the Hoyas took control midway through the final period. Ramon Castillo netted 10 and Kurt John added eight as the Hoyas outscored Guidance 30-21 in the final stanza for the 92-80 victory.
Hendrickson led four Hoyas in double figures with a game-high 28 points with seven boards, Castillo added 15, Karl John 13, and Kurt had 14 points, seven boards and three blocks. For Guidance, Polanco shared game-high honors with 28 points, Chelcher dropped in 23 while pulling down a game-high 13 rebounds, and Lamar added 14 in a losing cause.
There are now two unbeaten teams left in the league in the Hoyas and Boys Dem, and the latter's coach could be overheard after Friday's game saying "I want them (Hoyas), I want them!"
He will get his shot next week in the most anticipated matchup of the season.