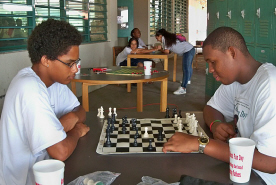 Fun, food and games were the highlight of the day Saturday for a couple of dozen boys at the 3rd annual Men's Fun Day.
"We achieved our purpose of bringing parents, mentors and kids together for a meaningful fun-filled day," said Etherero Akinshegun, chairman of the event. "Spirits were high and the children enjoyed the day immensely."
The children played and competed in games of all sorts from 8 a.m. to 3 p.m. at the St. Croix Career and Technical Education Center.
The boys appeared to be having a ball hitting plastic golf balls with all their might in the golf clinic put on by Carts Unlimited Inc. In the courtyard at CTEC boys got instruction on the proper handling of drivers and how to tee the ball up. The boys put their skills to the test in a closest-to-the-pin competition, a longest-drive competition, and a target shot. Paul Crump Sr. and his son Paul Crump Jr. came in first place taking home a gift certificate for a round of golf at the Reef Golf Course.
"I loved playing golf," said Christopher Brown. "It was my first time but people thought I had played before because I did so well."
A Tug-of-Peace, not war, was held with the women's team winning after a real struggle.
Trophies were given for first place winners in dominoes, chess and checkers.
Conrad Jarvis and his mentor Sarah Joseph were the dominoes champions. Neil Morris was the chess master and Orion Browne took first place in checkers. Dwayne Samson lead in the basketball free throw competition.
"My favorite game was basketball," Mathias Samson said with a big grin. "I had such a good time I would like come here and do this again some day."
Men who serve the community were honored at the close of the day.
Bien Brignoni was honored for mentoring young people in the art of wood-turning. VIPD Officer Charles Nibbs was honored for his work with parents and troubled youth bringing peace, love and harmony to their lives. Chris Finch commissioner of the Department of Human Services was honored for all he does in the community. Cyril Levine,Wallace W. Phaire and Richard Austin were also honored for their contributions to the community.
The children feasted on donated submarine sandwiches from Peter's Rest Subway and huge slices of pizza from Napoleons Pizza.
American Red Cross Youth Volunteers and parents lent a hand helping wherever they were needed before and during the fun day. D.J. Heart provided clean wholesome music throughout the day.
Sponsors of the fun day were CTEC and PINNACLE, a Lutheran Social Services program under the direction of Akinshegun. The founder of the event is Carolyn McKenzie, a soon to retire guidance counselor in the Department of Education. The event was originally scheduled for Father's Day but was postponed because of rain.