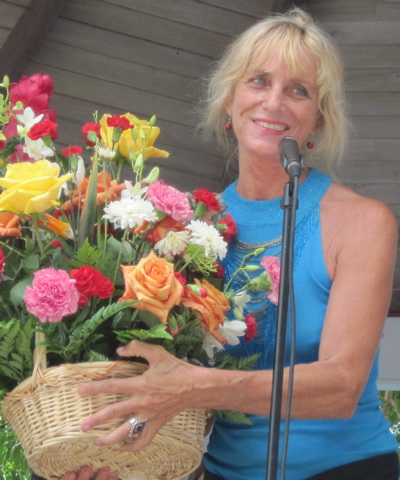 In a short ceremony in Cruz Bay Park, the St. John Festival and Cultural Committee Sunday honored Emily "Lolita" Bratton for years of participation in the island's arts and crafts scene.
"I'm overwhelmed. Carnival is such a great time of the year. I love it," she said as she accepted congratulations and a big bouquet of flowers.
Although the park was a bit steamy, the rain held off. That wasn't the case Friday when the committee tried for the second time last week to hold the Princess show. Instead, it will be held at 5 p.m. Monday at the Winston Wells Ballfield.
The weather cooperated Saturday for the Queen Pageant, and judges picked St. Thomas resident Shante Monsanto-Weeks as Miss St. John.
Leona Smith, who chairs the committee, said both Monsanto-Weeks and the princess will be crowned when the Festival Village opens at 7 p.m. Wednesday.
Food Fair brought out hundreds of people ready to sample the food and shop the arts and crafts tables. However, some of those craft vendors said they were a bit miffed that some of their competitors' wares came from elsewhere.
"I'm trying to keep the culture," St. John resident Yolanda Morton said as she showed off things like handcrafted wooden turtles and other items she and other local artisans made.
Delroy "Ital" Anthony" offerings included tall mocko jumbie dolls he said were part of "ancient African culture." He said that to better showcase items such as his, St. John needs a museum devoted to the subject.
While there were plenty of arts and crafts for sale, lots of folks came for the food. The Hodge sisters were out in full force to sell their whelks, dove pork, barbecue chicken, salmon balls, coconut bread, and other goodies.
"We're St. Johnians so we enjoy being part of this. It's our tradition," Hodge daughter, Dr. Kishann Duncan, said.
Laurel Hewitt-Sewer had main dishes including curried tofu for sale, but her specialty is cakes in a mouth-watering array of flavors.
"Vienna, chocolate, red velvet, sweet potato with whiskey sauce, rum," she said, ticking off her extensive menu.
Even the island's environmentalists were on hand with things to sell. Maho Bay Camps had items such as starfish paperweights made of recycled bottles. The Friends of V.I. National Park were pushing reusable water bottles.
"Bring your own bottle to Carnival and minimize your use of plastic," Friends program manager Audrey Penn said.
Food Fair brought out both residents and visitors.
"I wanted to come and try some of the local flavors," Porterdale, Ga., resident Leah Carlisle, a participant in Maho Bay's four-hour work program, said.
Michael Melish of Baldwin, Mo., heard about Food Fair while staying at Marriott Frenchman's Reef Beach Resort on St. Thomas so he decided to make the trip over to see what it was all about and explore St. John.
Mano Boyd didn't have far to go. The St. John resident and his "significant two-thirds other," as he put it, Anna Thomas, were out enjoying the sites.
"This is St. John in its truest diaspora of cultural expression," he said, reflecting on the people of many hues and origins who call St. John home.