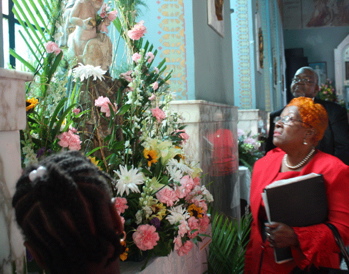 The already beautiful and historic Saints Peter and Paul Cathedral was made more lovely this weekend as local parishioners celebrated their first Festival of Flowers.
Ornate and lush flower arrangements filled the church. They were created by groups from Saints Peter and Paul and by members of several other local Catholic congregations. Groups from St. Anne's Parish Church, Holy Family Parish Church, Mount Carmel Catholic Church in St. John and Spanish Catholic Community all took part in the festival.
Monsignor Jerome Feudjio said flowers provide excellent reminders of God's workmanship.
"Flowers show the beauty of God's creation," he said. "We see each and every member of this congregation as a flower,"
The festival wasn't just a feast for the eyes, there was beautiful music to be heard as well. In addition to music from the church's own choir, attendees also heard from young violinist Isis Collier and the Caribbean Chorale.
Awards were presented to arrangements that were most original, most creative, best decorated and most relevant to the theme. The arrangement created by the Saints Peter and Paul altar servers took the top honor of best overall. That award was presented by first lady Cecile deJongh.
DeJongh said her love of flowers brought her to the event. She said she was struck by the combination of spirituality with nature.
"Just to see all the arrangements was wonderful," she said.