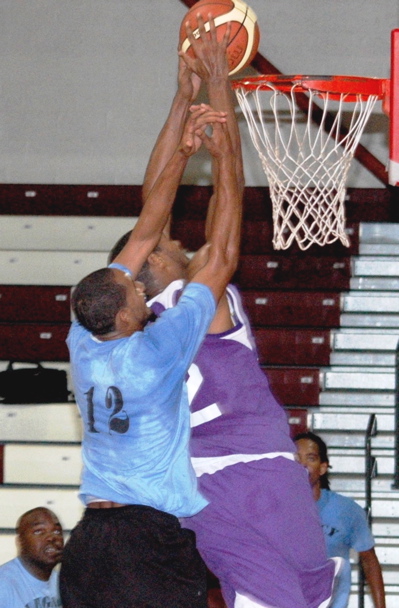 The Lakers exploded for 23 second-quarter points while holding Legacy to just 11 in the period, rolling to a 23-point victory in a New Breed Basketball Association contest Wednesday night.
The score was 19-18 at the end of the first period and it looked as if Legacy was going to give the last year's finals runner-ups a run for their money. They were sharp at both ends of the court and matched the Lakers shot for shot to only trail by one after one quarter.
But the Lakers showed their class in the second stanza.
The Lakers turned up their defense a notch in the second period, forcing a plethora of turnovers that they converted into easy baskets. Led by Robert Pack, with seven points, they went into the locker room ahead by 13, 42-29.
Legacy had a much better third period with Sean Tutein putting his team on his back, scoring eight points. That was not enough, though, as the Lakers with a more balanced attack were still able to outscore their rivals 17-13 to lead 59-42 heading towards to final quarter. Pack's high flying, two-handed put back jam off of a missed shot as time expired, highlighted the Lakers effort in the third.
The overmatched Legacy would continue to play hard in the fourth period, however, climbing to within 12 points. But that was close as they got. The Lakers won going away, 79-56.
The balanced attack was led offensively by Duck, who finished with 21 points. He was ably supported by teammates Malik Hodge, Shane Hodge and Charles Moorehead who all finished with 12 points apiece.
For Legacy, it was Hodge carry the load, scoring a game high 28 points to be the only player in double figures on his squad.