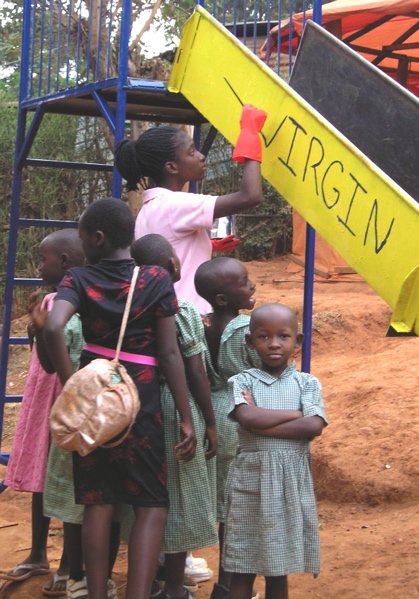 In just a little more than a month, 10 students from the territory will take off on the trip of a lifetime – three weeks in Rwanda – where their plans for adventure will be mixed with hours of hard work and community service.
The first trip for Rwanda Project USVI took place two years ago, with a then informal group of organizers on a mission to make an impact in the lives of a few of the youngsters in the African nation, children orphaned by genocide, HIV/AIDS and other diseases. The group also wanted to expose students from the U.S. Virgin Islands to another way of life.
At that time, the World Religion club at Ivanna Eudora Kean High School had sponsored a 9-year-old orphan in Rwanda, and approached their teacher and advisor Barbara Young about the possibility of going to meet her.
Since then, that group — the trio of Young, Cecile deJongh and Shaun Pennington — has turned into a full-fledged non-profit, and has been working to build the funds for a second trip. That trip will kick off on July 28.
It's a two-day trip to get there, so the group will arrive in Kigali on July 30.
"We've really been planning this since the last trip in 2008," said Young, Rwanda Project president, in an interview Wednesday. "We formed a board of directors, the Rwanda Project board, and we've been meeting on a regular basis every month for two years. We had hoped to make the trip last summer, and though we tried to plan it, it just seemed insurmountable in terms of the economy and fundraising. But everything's really come together in the last couple of months."
"We knew we would be going again, it was just a matter of when," she added.
The goal now is to make the trip every two years, Young said. And this time around, working off past experiences has made the planning a whole lot easier.
"Our mission is the same, and what we want to accomplish is the same, but we feel like we've worked out a lot of the kinks," she said. "We've taken the last trip and expanded it, perfected it. It's going to be great."
Along with working in and around orphan centers across the country, one of the major stops this trip will be in Banda Village on the outskirts of the Nyungwe National Forest. There the group will work side-by-side with another non-profit organization, Kageno, to landscape for a library in the remote village, teach and read English to young children, build toys and other items working with village carpenters. The village has no electricity. Kageno, which built a health center in the village, bringing medical care to the thousands of villagers who had previous had to walk 17 kilometers uphill for medical care, also provided a working water delivery system for the village. Water is something few villagers have easy access to.
"When we asked the students how they felt about staying in a real African village, they were excited," said Pennington, who had visited Banda Village on a previous solo trip to Rwanda. "Not one of them balked at the idea of living for five days as real villagers do."
"I feel like this is an opportunity to work outside my comfort zone, with no electricity and things like that," said 17-year-old Ki'yanna Petrus, an upcoming senior at Antilles. "But if we're going to experience what we've been told we're going to experience, then it's really going to be amazing. I feel that there's so much I can give to those kids, and I can't wait to get started. I think it's going to be a humbling experience."
Cheri Ward, one of the group's chaperones, agrees. When she was around the age of 20, Ward went on a similar humanitarian aid trip to Nicaragua and Belize, where her group helped build homes for orphans. Ward believes the trip was a life-changing experience.
"So I look at the Rwanda Project as a way of me giving back," Ward, now 28, said Wednesday. "I was lucky enough to be a student going on trips like these where a lot of the fundraising was done for me, and this is my opportunity to help give these students the same thing. I'm really excited for them to have this experience, because it can really be world altering."
Pennington hopes the group will be able to bring water to an orphan center in another village.
"The plans are in place, and the great thing is, Rotary St. Thomas Sunrise has committed to helping us with the supplies for the water system."
But it's not all work. All the students are set to see the famous, nearly-extinct mountain gorillas of Rwanda, take a boat trip on Lake Kivu, and tour parts of the Nyungwe, which offers hundreds of species of birds, as well as a plethora of primates, including chimpanzees.
Pennington said she expects the group will also complete a water project in a village near Musanze in the country's northern mountains. Rotary St. Thomas Sunrise Club is expected to offer support for that undertaking, she said.
In the meantime, the group is planning another fundraiser for Friday at Mango Tango Art Gallery. Young said about 20 prints of photos she took from the last trip will be on sale, along with beads and baskets woven by women from the Rwandan villages.
Gallery owner Jane Coombes said her support for the Rwanda Project springs from her own personal experiences as a teacher in the territory and her upbringing in a military family that often traveled abroad.
"I'm an army brat, so I got to travel around the world, and I find that it's really important for people to connect with other cultures like that," she said. "And when I taught school here, I often was saddened by the fact that some of my students' whole world was just in the Virgin Islands. I think things like this can be such an eye-opener for them and also, I think they in turn can be wonderful ambassadors to the people of Rwanda by representing us here in the Virgin Islands."
Major sponsors of the project are: V.I. Lottery, J. Epstein Foundation, Financial Trust Co. Inc, Prior Family Foundation, FirstBank Virgin Islands, Ricardo and Josephina Charaf, Fintrac, Patricia LaCort – Oceana Restaurant and anonymous donors of $5,000, along with hundreds of others who have donated from $10 to $1,000 to make this project a reality for Virgin Islands youngsters.