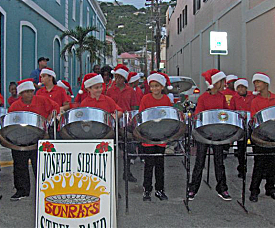 A few minor miracles – little, ordinary glimpses of love – took place Friday evening as folks flocked downtown to celebrate the 17th annual downtown Miracle on Main Street, which has by now become a beloved holiday tradition.
The celebration began early with the opening of the Arts and Crafts Fair at Emancipation Garden, and continued into the night. The street was alive Friday night with the vibrant sounds of steel drums, with jazz in the alleyways.
Patrice Johnson, of the University of the Virgin Islands public relations office, stood transfixed before the Sibilly School Sun Rays steel band early in the evening, her eyes glued to one youngster in the second row.
She bore what could only be described as a classic mother's smile. "This is Cameron's first time playing in public," she said, as her daughter banged away along with the other Sun Rays dressed in bright red Santa hats, in a rousing rendition of "Hark the Herald Angels Sing."
Cameron only had eyes for her double tenor pan. She looked very serious.
"She just took to it naturally," Johnson said. "Next year she says she wants to play with the Rising Stars."
Tiny Jurney Savinon looked in wonder at all the bright lights and sounds around her, producing at first a hesitant, and then a widening grin. Happily wrapped in her mom's arms, the six-month-old was likely the youngest party-goer of the evening; mothers and daughters on a beautiful evening among friends, surrounded by the joyful sounds filling the air.
"She looks like she loves everything," said mom, Stephanie Savinon. "It's her first time in this big a crowd."
Judith and Leslie Richardson wound down the street, smiling at the festivities, especially the children playing their little hearts out, the Sibilly Sun Rays and the Ulla Muller Steel Orchestra in front of the Post Office.
"Oh, Lord," said Judith Richardson. "I have no idea how many times I've come, it must be every single year. It's so good to see the kids playing, stuff like that. I love it."
Sweets abounded. Members of Graffiti Street had a booth set in Post Office Square filled with cookies and cupcakes and candy, while a few feet down you could get everything from a chocolate fudge cake to angel food and carrot cake.
Stores, open until 9 p.m., were filled with more lasting goodies – jewelry, art, clothing and more – many at discount prices for the evening. It wasn't immediately apparent if the crowds were buying, but they looked to be having a great time looking.
Joe Aubain, chamber executive director, looked pleased at the turnout. The original date had been pushed back a week, because of a multitude of events scheduled for Dec. 11. "I think we have even more now than we'd anticipated," he said, as he presided over the Humane Society booth filled with animals, pink, blue, yellow, and stuffed.
In front of Palm Passage, where the parking lot became a bandstand, Polly Watts, dressed in Santa red, was smiling though lining up members of the Antilles Steel Band.
Emancipation Garden, always the jewel at Christmas, seemed even brighter this year. It looked like a fairyland, with the trees laden with ornaments made by schoolchildren, the gazebo decorated in anticipation of the Sweeta' Band.
And the food – lined up on what would normally be a street clogged with taxis, there was an aromatic buffet of pates, guava tarts, fish and fungi, a simple saltfish fritter, Latin roast pig.
"I think I'd like to see that pineapple tart," said a soft-spoken older gentleman. "Of course," said the cheerful woman behind the counter. She placed it before him, awaiting his judgment. "Oh my, so lovely," he said. "May I have two." A generous smile: "Of course."
The Parade of Lighted Boats set sail from Crown Bay Marina to Charlotte Amalie harbor a bit late, but lacking nothing in spirit as the eight brightly decorated vessels paraded in front of the happy waterfront crowd, gaily decorated in their holiday best. The parade is coordinated and produced by the Virgin Islands Charter Yacht League.
A mini-parade featuring majorettes, bands, dancers and Santa's Living Room float brought a cheerful end to the evening's festivities.
Miracle on Main Street is produced by the Destination Downtown Committee of the St. Thomas-St. John Chamber of Commerce. The event is funded in part through contributions from: Guardian Insurance, A.H. Riise Stores, Puncha Kuba, West Indian Company, MSI Building Supplies, Bellows International, Virgin Islands Telephone Company, TOPA Properties, Golden Eagle Financial, Royal Dane Mall, Tropical Shipping, Virgin Islands Council on the Arts and the National Endowment for the Arts, and the Virgin Islands Department of Tourism.
Contributions from participating stores provide security and assist with entertainment for the event.