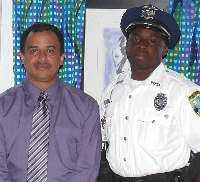 The St. Croix Hotel and Tourism Association honored Detective Cpl. Jose Silva and Officer Gregory Bennerson Jr. Tuesday as the Police Department's May and June officers of the month, for their dedication and professionalism, in a ceremony at Divi Carina Bay Resort.
Citing the Police Department's reasons for selecting these two, association director Lisa Hamilton said in May Silva made three felony arrests and helped with many other investigations in the Criminal Investigations Bureau. The three felony arrests, all based on search warrants, resulted in charges of kidnap for robbery, attempted murder, reckless endangerment in the first degree, illegal firearm possession and first degree assault. One suspect fled the Virgin Islands, and Silva coordinated with the Puerto Rico Police Department to apprehend the suspect.
"Silva exemplifies an officer who continuously goes above and beyond the call of duty. He is well deserving of this acknowledgment from the Police Department and the community for his outstanding performance," Hamilton said.
In June, Bennerson made three arrests. Two were calls of a disturbance in progress and the third was for driving under the influence. Bennerson also handled 49 written cases, including a homicide, and issued a number of citations.
"Bennerson's activities … have been nothing less than stellar," Hamilton said. "He brings a dynamic blend of energy and enthusiasm to his duties and has established an excellent rapport with his peers. … He has won the respect and admiration of his superiors."
Bennerson, son of the late Police Lt. Gregory Bennerson, is a fourth-generation officer who recently returned to St. Croix through the department's Experienced Law Enforcement Officer program after a long police career in the states.
Silva and Bennerson both were present and punctual for every shift during the month for which they are honored.
The association is reviving the tradition of honoring officers of the month after a hiatus of some years, said association president Earl Powell.
To select the officer of the month, commanders submit names of officers under their command and, based on their performance during the month, all the commanders vote. One officer from each island whose performance and accomplishments exemplify professionalism and dedication above and beyond the call of duty is selected each month.