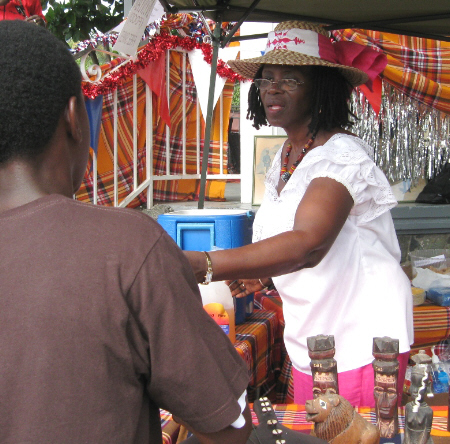 Attendance was sparse but the enthusiasm was strong as a small group of St. John residents put on the annual Cultural Day program in Cruz Bay Park.
"With the ringing of the bells and blowing of the conch shells, their numbers grew," Oswin Sewer said Friday as he told the story of the July 3, 1848 Emancipation.
While the event happened at Fort Frederik in Frederiksted, St. Croix, it emancipated slaves throughout what was then the Danish West Indies.
Sewer pointed out that while it's important to celebrate the nation's independence on July 4, which St. John will do Saturday with its annual July 4th Celebration parade, it was equally important to remember Emancipation Day.
"Don't ask me to forsake my emancipation from bondage," he said.
He asked the St. John Festival and Cultural Organization to change the name of Friday's observance from Cultural Day to Emancipation Day, the name used on the other Virgin Islands.
Mano Boyd, who blew the conch shell during the program, said it's blown in a high staccato as a herald to battle. When it's blown by fishermen in a low tone, it's a signal that they've come in with a catch.
Laurel Hewitt-Sewer had a table filled with traditional food for Cultural Day goers to sample.
"The royal coconut drops are made with flour, spices, shortening, coconut — like a cookie," she explained.
She also had a bowls of cassava bread, coconut and almond sugar cakes, and saltfish and rice. A gallon of tamarind drink rounded out the selection.
According to Sewer, these are foods seldom seen these days.
"Before chicken legs and johnny cake, we had this," she said.
The park was filled with folks selling arts, crafts and other items, much of it made in the Virgin Islands.
"This is a body butter — an ancient healing formula," M'Zeeba Rabstatt of St. Thomas said, showing off her table full of items like massage oils, jewelry and herbal healing packs.
Another St. Thomas resident, Alton Evans, had handcrafted jewelry made from coconut shells, seeds and leather for sale at his table.
"Business is slow but steady," he said.
Others said they hadn't had much in the way of sales all week.
Indeed, it appeared that people were looking, not buying, and enjoying the chance to socialize with friends.
"I always wanted to come to Carnival on St. John," St. Croix resident Corin Kaough said, chatting with a friend.