Local news — St. Croix
Free Computer Job Training Opens In Frederiksted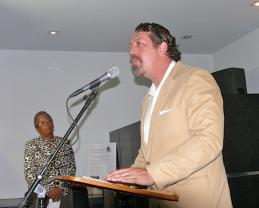 On Frederiksted's Strand Street, upstairs from the courtyard by Pier 69 Restaurant, there is a quiet office where St. Croix's residents can now get step-by-step training and a chance to seek telecommuting jobs from tech support to translation, then get connected with an online job.
Dignitaries, from Delegate to Congress Donna Christensen to Gov. John deJongh Jr. joined with V.I. Next Generation Network executives and the directors of the new ConnectSpace.vi training and work center Monday for a ribbon cutting on the federally-funded facility.
Inside the 2,200-square-foot office are a dozen cubicles where telecommuters can arrange to setup and work, a glass-walled conference room with a wall-sized projection screen for video teleconferencing and space for classes.
"Forty to 60 percent of the workforce will be telecommuting by 2020," said Jim Kenefick, co-founded of ConnectSpace, at Monday's ceremony. And when the viNGN fiber-optic network comes online, it will put the territory in a competitive position to attract more than its share of telecommuting jobs, he said.
"The network is going to be one of the top 20 networks in the entire world," Kenefick said.
He said the network's expected high-speed and reliability, combined with the potential for V.I. Economic Development Authority and V.I. Research and Technology Park tax benefits, would tend to attract locally-based online businesses as well as giving telecommuting workers in the territory an edge.
Many of the available online jobs, such as translation, are not high tech, according to Kenefick, anyone who can do the work can learn to do it online and start making a paycheck in short order.
"Online translation is a growing industry and translators are in demand," he said. Getting that sort of work starts with being bilingual, and after that it's just a matter of learning the details of what clients need and the specifics of how to get and send the work online. At that point, it can be done at home. Call center operators, accounting and many other traditional, non-high tech jobs are done online now too, he said, and ConnectSpace can guide clients right to the employer, he said.
There are more technical jobs too, from engineering and design work to online technical support, he added.
"This is not about the 9-5 jobs; you can work for any company you want, doing what you want with the hours you want," Kenefick said.
Matt Bauer, the other co-founder of ConnectSpace, said it can help get clients set up with online employers, like Odesk.com, which he said had posted "more than 440,000 jobs last quarter alone."
Even before opening its office, the company has seen about 300 people, of whom roughly 100 have submitted resumes, he said. Half of those – about 50 in all – have already taken training courses and 10 to 15 are now employed online, Bauer said, adding the company.plans to open a center on St. Thomas in the near future. Their benchmark goal is to see roughly 200 patrons and get jobs for at least 10 to 15 people per month in each office, he said.
The company has three tracks or divisions. One is ConnectSpace, offering patrons an online workspace – a cubicle, internet access, teleconferencing access and so forth – for a fee.
Another is ConnectForce, which connects individuals with remote jobs in six specific areas:
• Call Center Representative;
• Virtual Assistant;
• Medical Transcription;
• Language Translation;
• Tech Support and Data Entry/Data Scrubbing.
Last, but not least, is ConnectTrain, a set of training programs aimed at boosting an individual's ability to work online. They have partnered with training companies that offer certifications in several different software platforms and applications. Much of the training is in-house, offering certifications for free that would normally cost thousands of dollars, Bauer said.
"If they just show up here, we will connect them with the right program," he said.
Contact information, applications and information on the programs are all available at their website (http://www.connectspacevi.net).