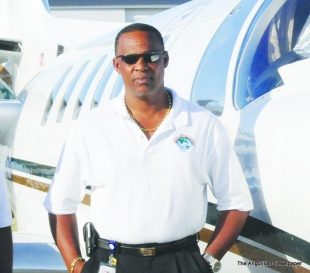 Enforcement officers from the Planning and Natural Resources Department on Monday began looking for the body of missing Piper Aztec pilot Kirby Hodge, searching the shorelines of various cays southwest and west of St. Thomas, Government House said in a press release.
This was the start of a series of periodic inspections to determine whether Hodge's body was taken out to sea following the Oct. 13 crash of the plane he was piloting as it neared St. Thomas on a routine newspaper delivery run from St. Croix.
"This is a proactive move by our lead response agency in the event that the pilot's body may have been taken out from the crash site and made it to the shoreline of any of the number of cays that lie southwest and west of the site where the plane crashed into the ocean," Planning Commissioner Alicia Barnes said.
Barnes said there were no reports that the body had been sighted.
The decision to launch more periodic inspections of the various shorelines in and around St. Thomas is consistent with the overall objective of the recovery mission – to locate the passengers and pilot of the ill-fated flight, the press release indicated.
National Transportation Safety Board spokesman Peter Knudsen, reached at his Washington, D.C. office, had no specific information on the agency's investigation into the accident, but said a preliminary report that covers the facts of the investigation will be posted on its website within 10 days after its staff returns to the office from St. Thomas.
However, Knudsen said the report will not include the cause of the accident.
"A fatal aircraft investigation averages about 12 months," he said.
The bodies of passengers believed to be Rachel Hamilton and Darwin Carr were discovered Sunday inside the fuselage of the plane.
The lone survivor, Valerie Jackson Thompson, was pulled from the water about nine hours after the plane disappeared.
The plane was discovered Saturday lying upside down in 100 feet of water with one wing detached. Searchers initially thought it contained just one body, but further inspection early Sunday after the plane was raised from the waters near Cyril E. King Airport on St. Thomas showed there were two.
The plane, which crashed a little more than five miles short of the airport, was located using radar coordinates supplied Oct. 18 by the U.S. Air Force Rescue Coordination Team in Florida. With the coordinates searchers were able to close in on the area after they spotted an oil sheen on the water. The sheen was a little over one mile northeast of where the plane fell off the radar a week ago.