Here's what's on tap at the V.I. Legislature this week.
The Supervisor of Elections Caroline F. Fawkes reminds candidates that nomination petition papers for the special election are due Feb.24.
NOAA Fisheries reminds fishermen and the public of the upcoming seasonal closure on fishing for any fish species in federal waters of the mutton snapper spawning aggregation area in St. Croix.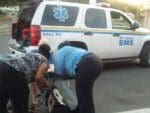 As Health Commissioner Davis and other staff were exiting the Charles Harwood at day's end, they were approached by a woman who asked if she had reached the hospital. She said her husband was downstairs experiencing a cardiac arrhythmia that could cause severe cardiac complications.
The executive management and staff of the Gov. Juan F. Luis Hospital and Medical Center (JFL) congratulates the pharmacy department for being recognized nationally for its recent Med-to-Bed initiative, which was launched last year.
The Virgin Islands Casino Control Commission (VICCC) has announced that a Special Commission Meeting has been scheduled for 11 a.m., Wednesday, Feb. 22.
The Division of Fish and Wildlife deployed a new fish aggregating device (FAD) in the territory on Tuesday, Feb. 14.
The V.I. Waste Management Authority advises the community that the St. Croix Transfer Station has resumed acceptance of green waste.
Any registered voter who meets the requirements for the Office of the Legislature can participate in the Special Election, which is scheduled for April 8.
The Virgin Islands Board of Education Governing Board will convene in a regular board meeting from 3:30-7 p.m. Feb. 17, in the VIBE office...