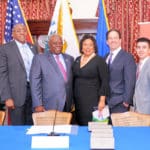 The V.I. Government and Airbnb have signed an agreement in the Caribbean that will allow the platform to collect the 12.5 percent Hotel Room Occupancy Tax on behalf of hosts and remit the funds to the BIR.
Senators Neville James and Tregenza Roach will join Small Business Week Closing Ceremonies on St. Croix and St. Thomas as keynote speakers.
The U. S. Small Business Administration has kicked-off the first Emerging Leaders Training Series in the V.I., and it has announced the companies selected to participate in the Class of 2017.
V.I. Economic Development Commission will hold a public hearing on an application from Auven Therapeutics Management LLLP, as well as other matters.
The 13D Competition is designed to eliminate the obstacle of financing for UVI student entrepreneurs who have developed potentially profitable businesses but have no access to start-up capital.
Customer Experience Centers on St. Thomas, St. Croix, and St. John will be closed for two days in observance of the Children's Parade and the Adults' Parade.
Beginning May 1, Morris Caribbean Publications will host and manage the USVIHTA consumer and member Web sites as well as its social media presence and targeted digital marketing.
Viya's service center, called a "customer experience center," in Estate Diamond, was closed Wednesday, the company announced. Customers can take their issues to the Sunshine Mall center, the company said.
The U.S. Small Business Administration (SBA) approved $4.9 million in loans to Virgin Islands small businesses during the first six months of fiscal year 2017.
Innovative and Choice Wireless, the largest telecommunications provider in the U.S. Virgin Islands, is entering a new era with a new brand: Viya.