The V.I. Economic Development Commission a subsidiary of USVIEDA, will hold a decision meeting on Thursday, April 6.
International Capital & Management Company (ICMC) in partnership with the University of the Virgin Islands School of Business will once again host the annual Entrepreneur Business Institute (EBI).
The U.S. Virgin Islands Economic Development Authority and V.I. Department of Planning and Natural Resources are partnering in an effort to assist local, small manufacturers in securing locations for their business.
The Sunday, March 26th edition of the popular HGTV series "Beachfront Bargain Hunt" will feature an all-native St. Thomas cast including the buyers and the realtor.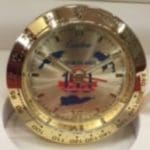 The Virgin Islands Transfer Centennial Commission and Cardow Jewelers have announced the arrival of the limited-edition VI Centennial 2017 timepieces.
The Virgin Islands Workforce Development System Partners will present the second in its series of forums. This one is entitled "Raising the Bar: A Dialogue to Promote Excellence in Customer Service."
The Caribbean Hotel and Tourism Association Education Foundation (CHTAEF) has announced that its application deadline for its scholarship program is Thursday, March 30.
The decision meeting that was held by the Virgin Islands Economic Development Commission (VIEDC) on Thursday, March 9, will be continued at 9 a.m., Tuesday, March 14.
Over the last three months, Choice-Wireless LTE customers were advised of the company's efforts to convert all customers to Innovative's advanced network. Within two weeks, the migration will be completed
V.I. Next Generation Network Inc. (viNGN) encourages everyone to #LearnSomethingNew every day and has published a free e-book and guide to getting a business online.