On Sunday, the members of the St. Croix Orchid Society held a traditional West African Libation Ceremony to honor the ancestors who lived, worked and died on Estate St. George.
In addition, it served as the dedication of the Sugar Factory 1,000 Orchid Memorial Garden that is located at the St. George Village Botanical Garden on St. Croix. The event was held on the 145th observation of the St. Croix Fireburn.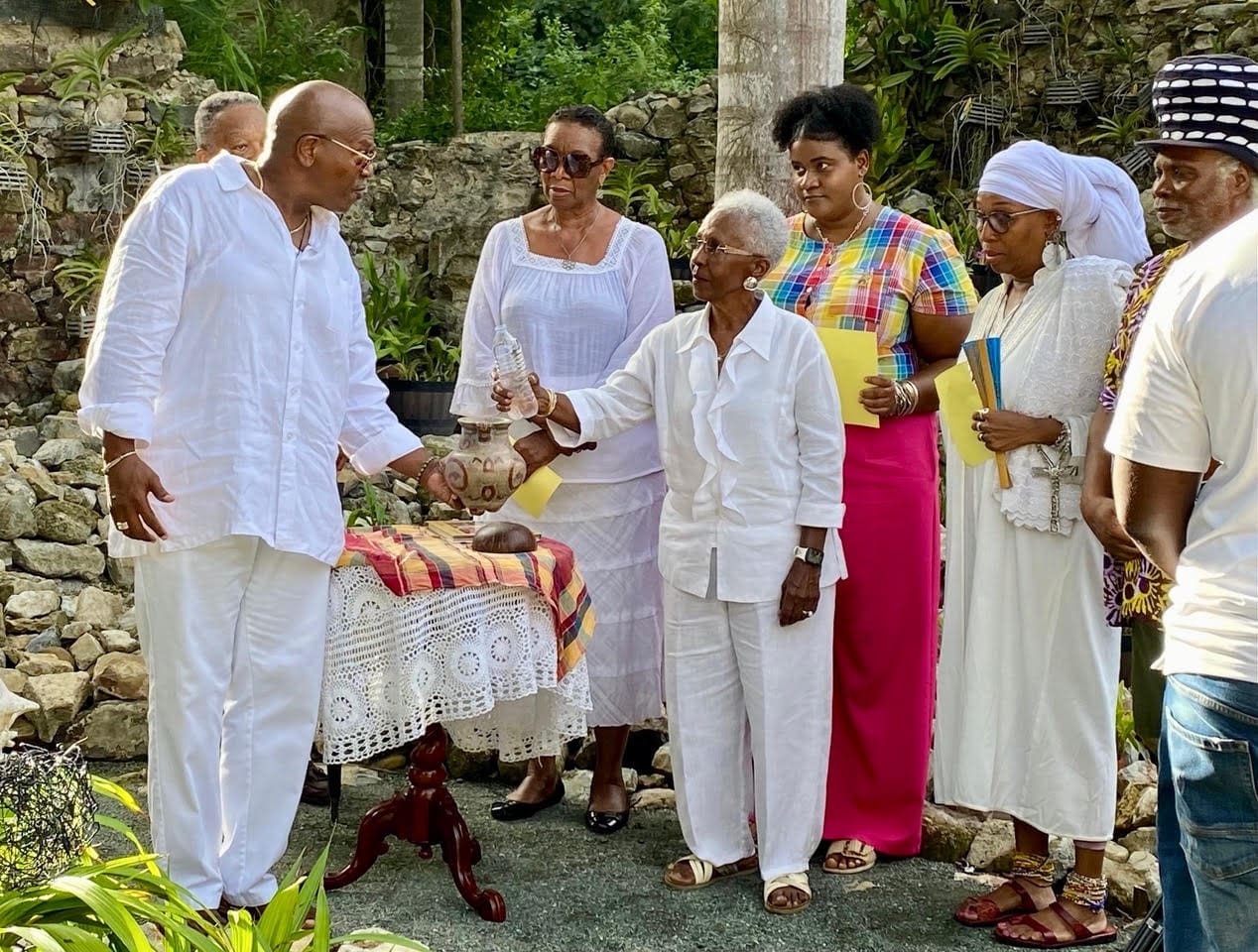 Libation ceremonies have been held throughout the world for thousands of years. Various liquids are used, such as milk, wine, sake and water, depending on the location and culture. These ceremonies carry important meaning to those participating as they give prayers for the ancestors.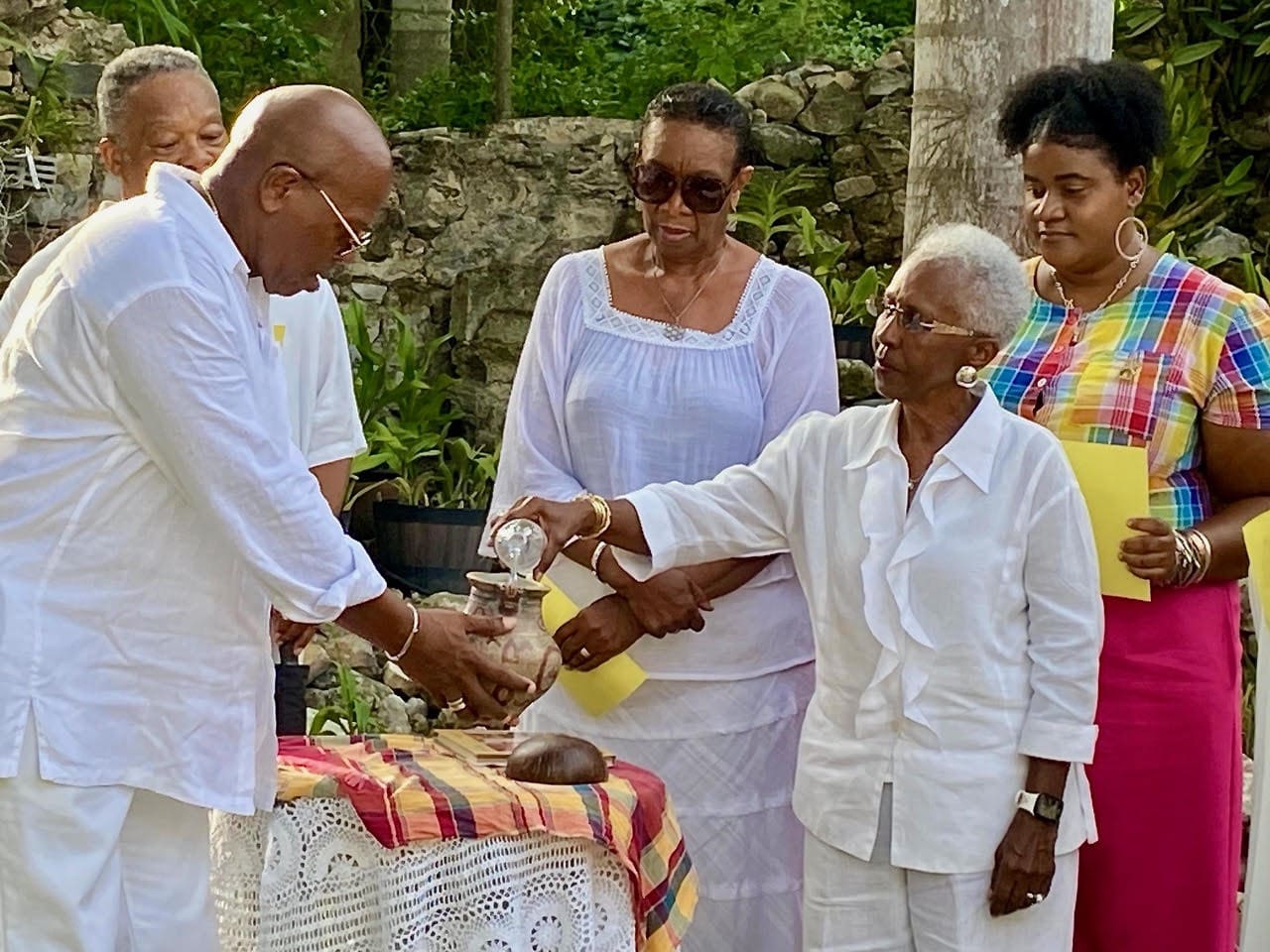 To begin the ceremony, the libation is poured into a decanter held by the celebrant. It is then transferred to a smaller bowl to allow the libation to be sprinkled as prayers are said.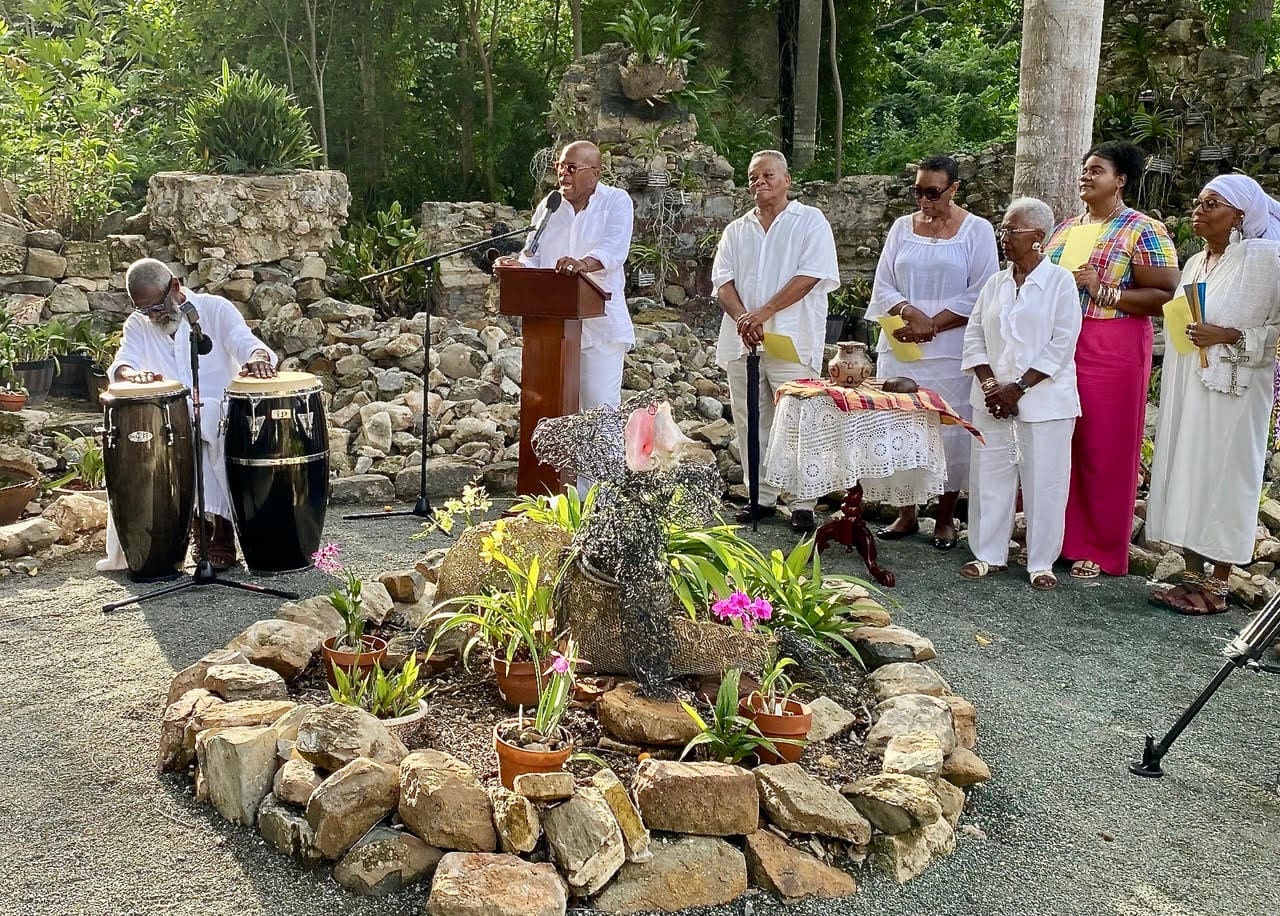 As the libation was sprinkled by former Sen. Myron Jackson, ceremony participant Chalana Brown called the names of some of the ancestors who have passed, including the queens and others involved in the Fireburn. Attendees were asked to call out names of family members who have passed. Soft drumming by Ray Iles was in the background throughout, an important cultural part of the ceremony.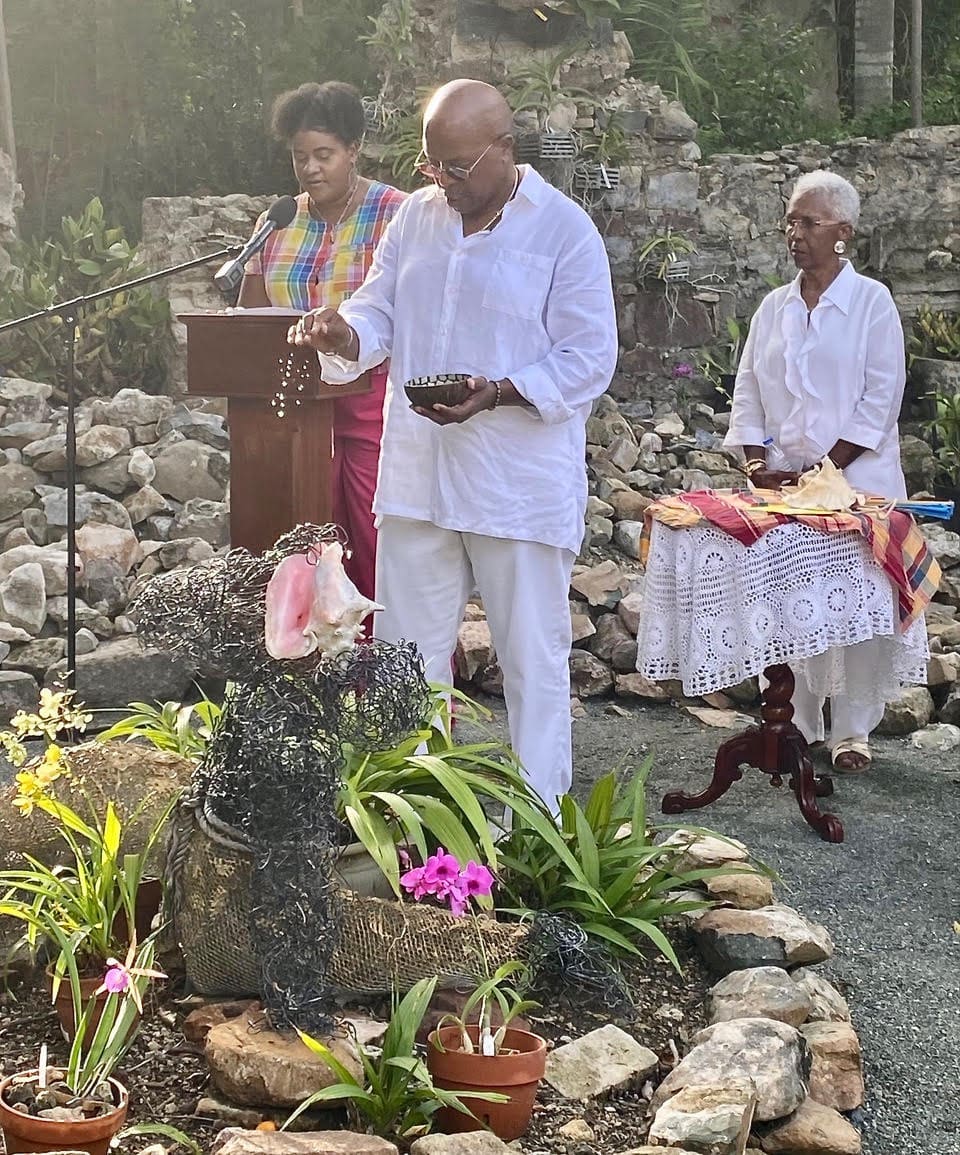 Magda Finch, SCOS board member, spoke in a phone interview about the importance of the ceremony.
"It's just been a closeness to the ancestors and a feeling that they are pleased with what we are doing at the site. They are looking out for us and everything falls into place. We have written several grants which have all come through. The biggest thing for me was the weather, but the sun came out from the drizzle and stayed out during the whole event. There is a feeling of being in a sacred place. It is peaceful and tranquil. People come away with a sense of calmness," said Finch.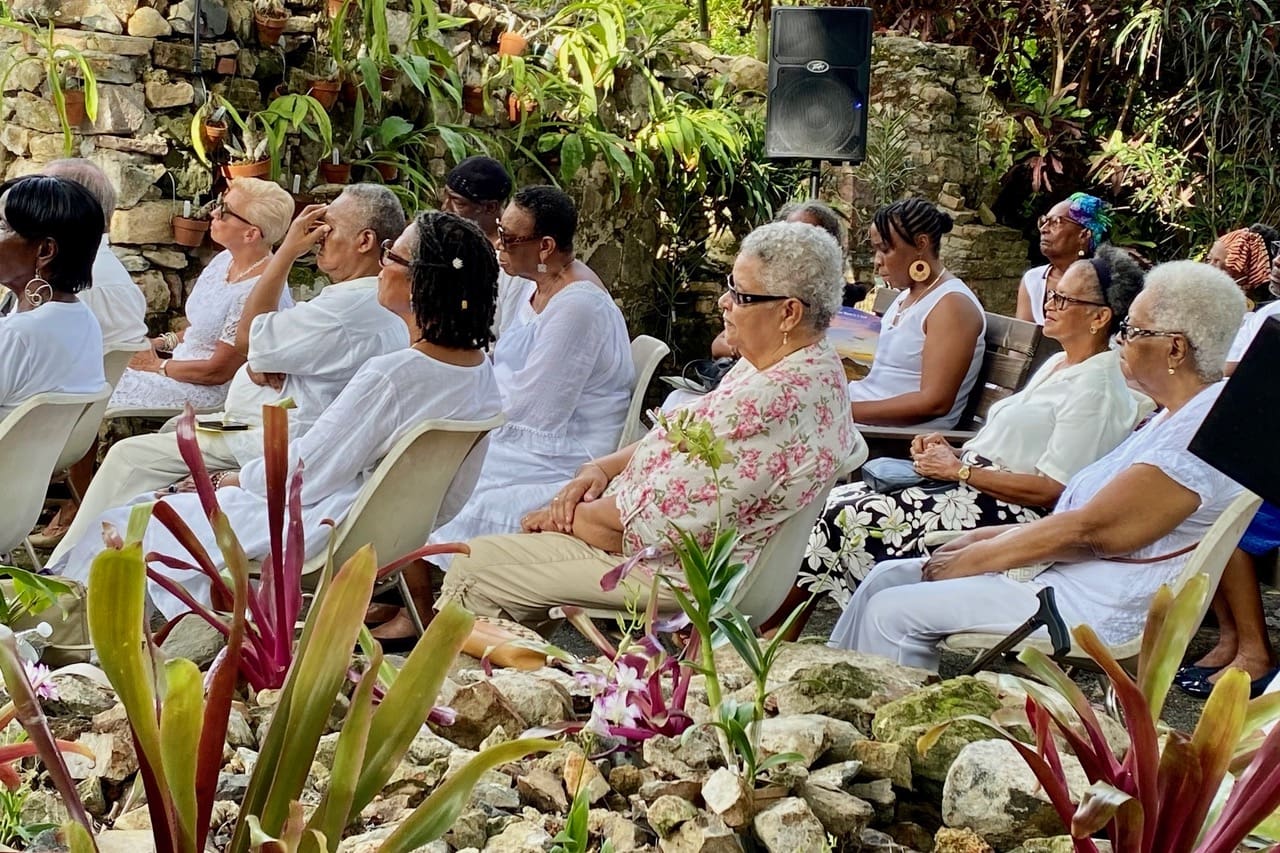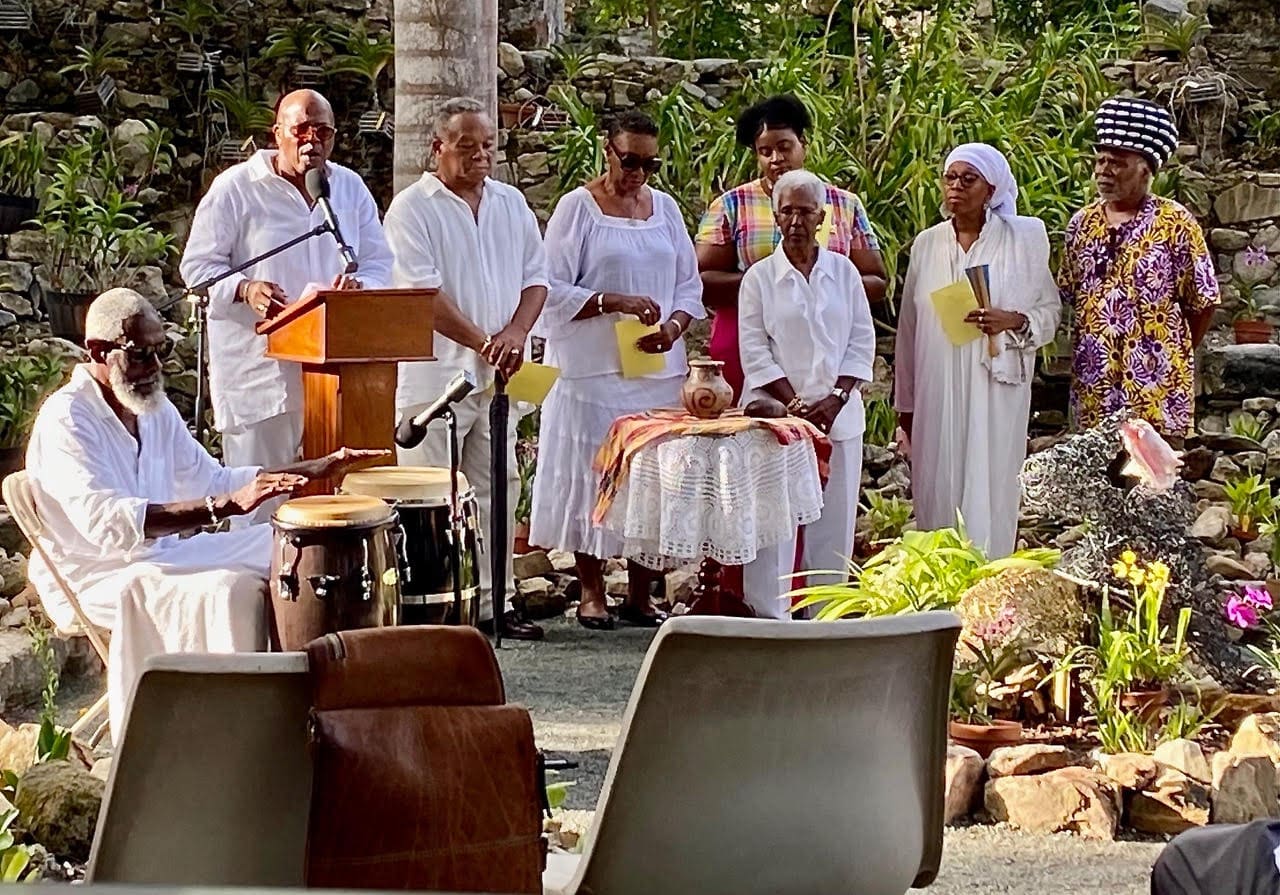 A poem inspired by the ceremony was written and forwarded to the SCOC.
We gathered today on sacred ground, in a most beautiful garden to honor beloved ancestors, to recognize their presence here, before and now, in body and spirit, and to commemorate each and every one of their lives on this land.  
A Tribute to The Ancestors
This garden sanctuary is you.
Bright sun…your light
Dark clouds…your shadows
Jagged stone…your resilience
Gentle rain…your tears.
Branching trees…your limbs
Sweet bird song…your heart song
Inspired design…your artistry
Solid ground…your endurance.
Vast sky….your dreams
Hawk's screech…your pain
Dragonfly wings… freedom flights
Queen Matilda…your courage.
Exquisite orchids…your beauty…body and soul
This garden sanctuary is you.
– Anonymously penned by a humble witness of the consecration of the ground in the 1,000 Orchid Memorial Garden at the Libation Ceremony Oct. 1.