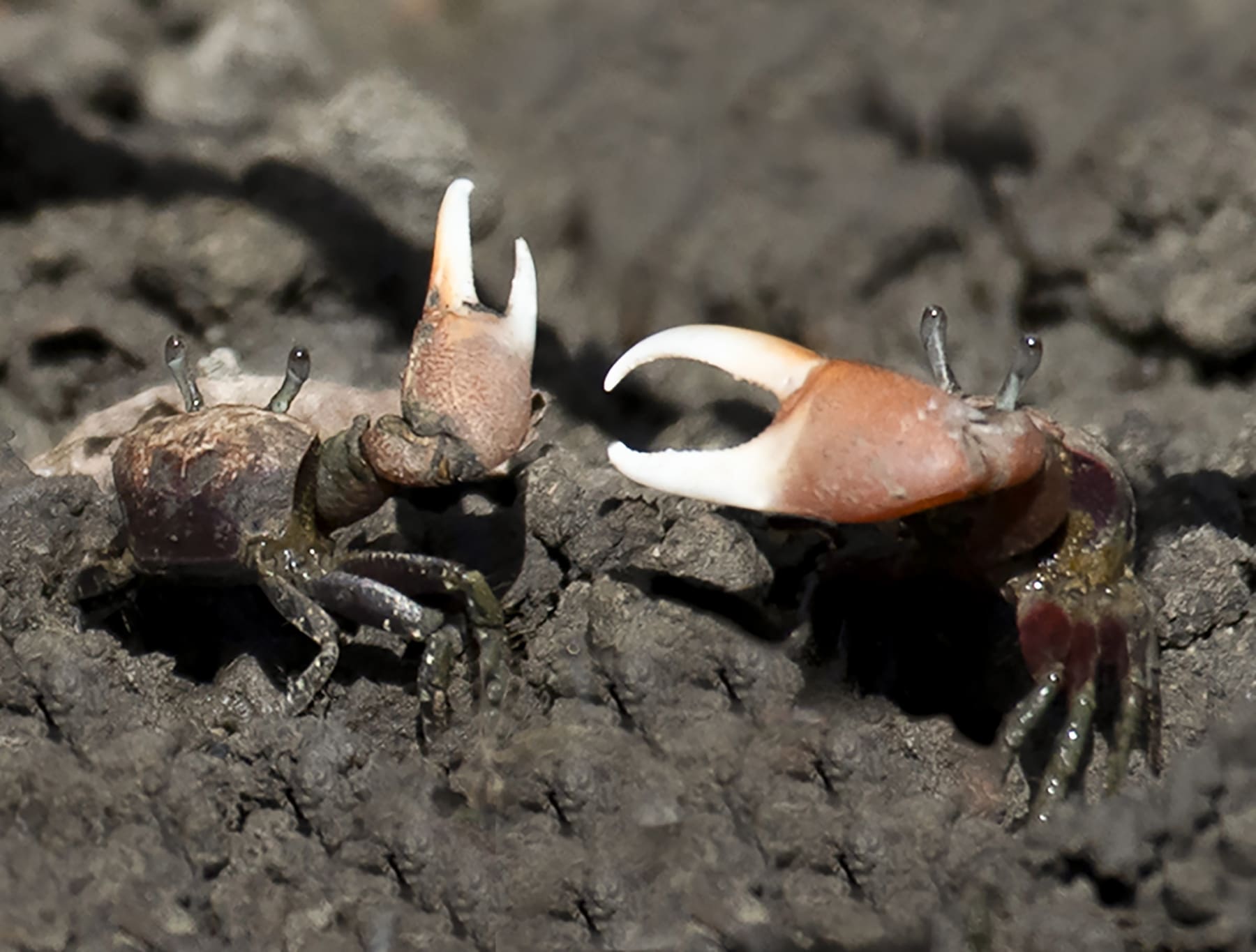 I mostly see these tiny crustaceans along the edges of the salt ponds. There might be hundreds of them in a small area, and some of them are enthusiastically waving their claws in the air.
They are so cute that I want to get close enough to check them out.  But when I approach, suddenly they are all gone. Even when I move very slowly and quietly. Fortunately, when I am out on bird walks at Francis Bay, I can sometimes catch pictures of them with my telephoto lens before they disappear into tiny holes in the mud.
The crabs each have a hole in the mud close to the edge of the water where they can drop down and hide. Predators like herons, egrets and clapper rails feed along the edge of the pond and will snap up these little crabs like popcorn if they don't hide quickly enough. So most of the time the fiddler crabs stay close to their burrows.
The burrows are up to about a foot deep and besides providing the crabs with shelter, they also help the mangroves trees around the pond by watering and aerating their roots.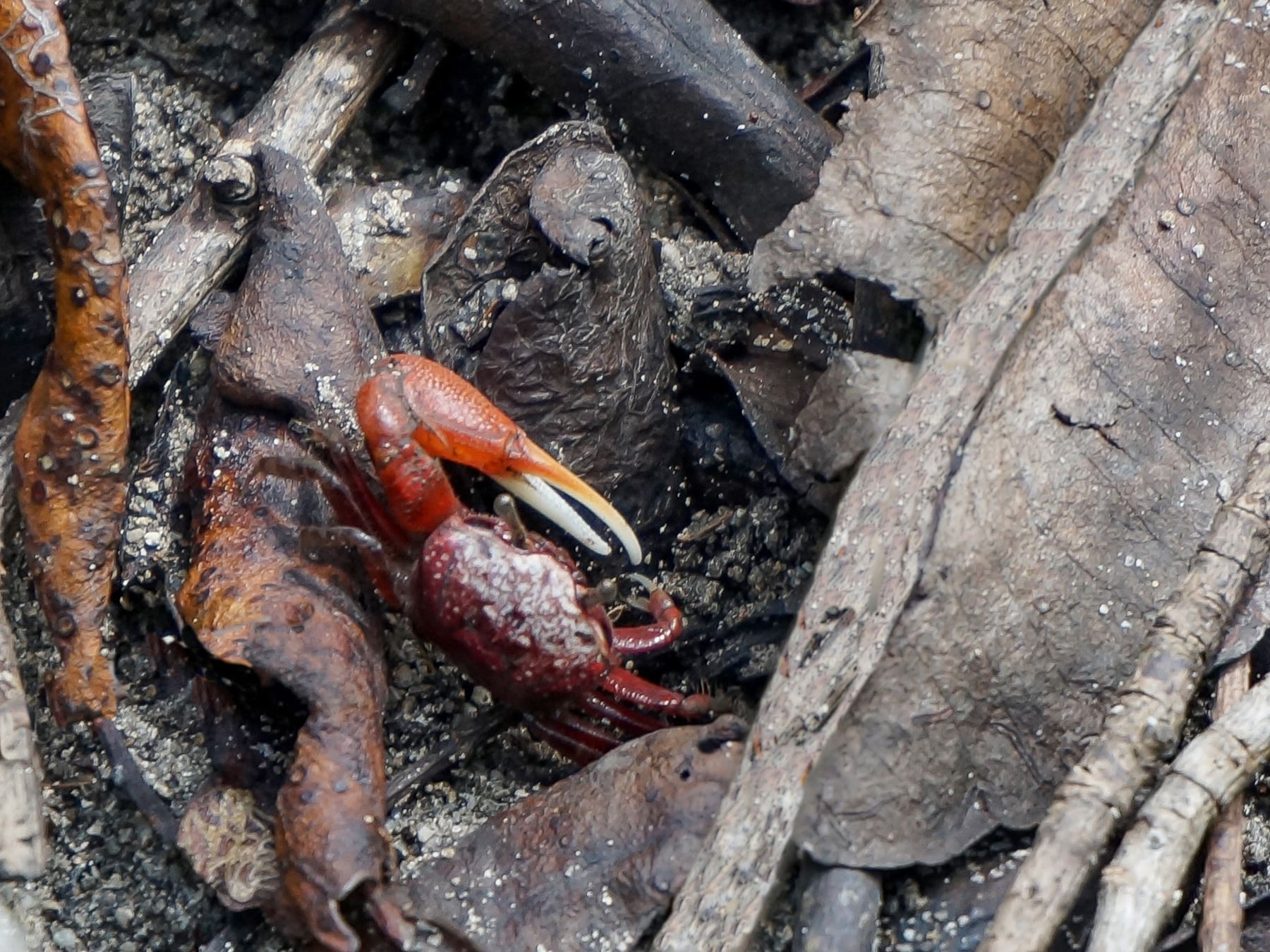 One time I saw a group of fiddler crabs out in the deeper water hanging onto a branch. I was happy to have them out of their burrows and sitting in plain view for a change, but it didn't seem very safe. Maybe they were forced out of their burrows by a heavy rain and were clustered together on the branch for protection.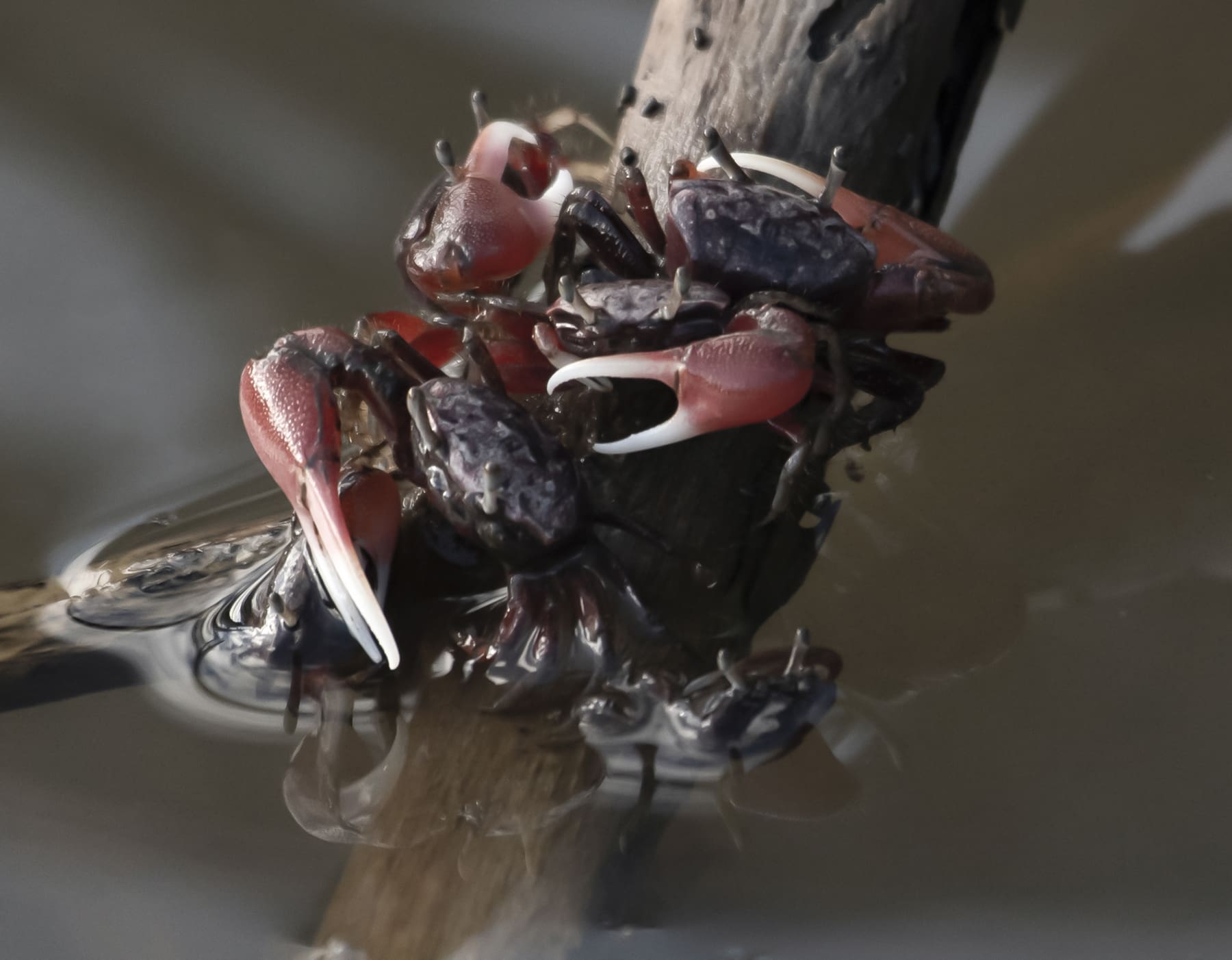 It is only a male fiddler crab that has the one oversized claw, and when he is waving back and forth it is usually in hopes that a female crab will come into his burrow. Sometimes the males will also use their claws to keep rivals away from their territory, or even fight each other.
The females have two small claws, but when I was looking through my photos, I couldn't find a clear image of a female fiddler crab, only a few blurry ones. Maybe the females are more reclusive, lounging down in their burrows.
When a female is ready to mate, though, she comes out of her burrow and walks around the neighborhood. At that point she is very vulnerable to predators. As she quickly scuttles around, she is looking for a male with a good-sized claw. When she finds an acceptable one, she will follow him into his burrow to mate.
Interestingly, some male fiddler crabs are born with their large claw on the right, and others have the big one on the left. I have seen both kinds. It's not clear whether the females have a preference.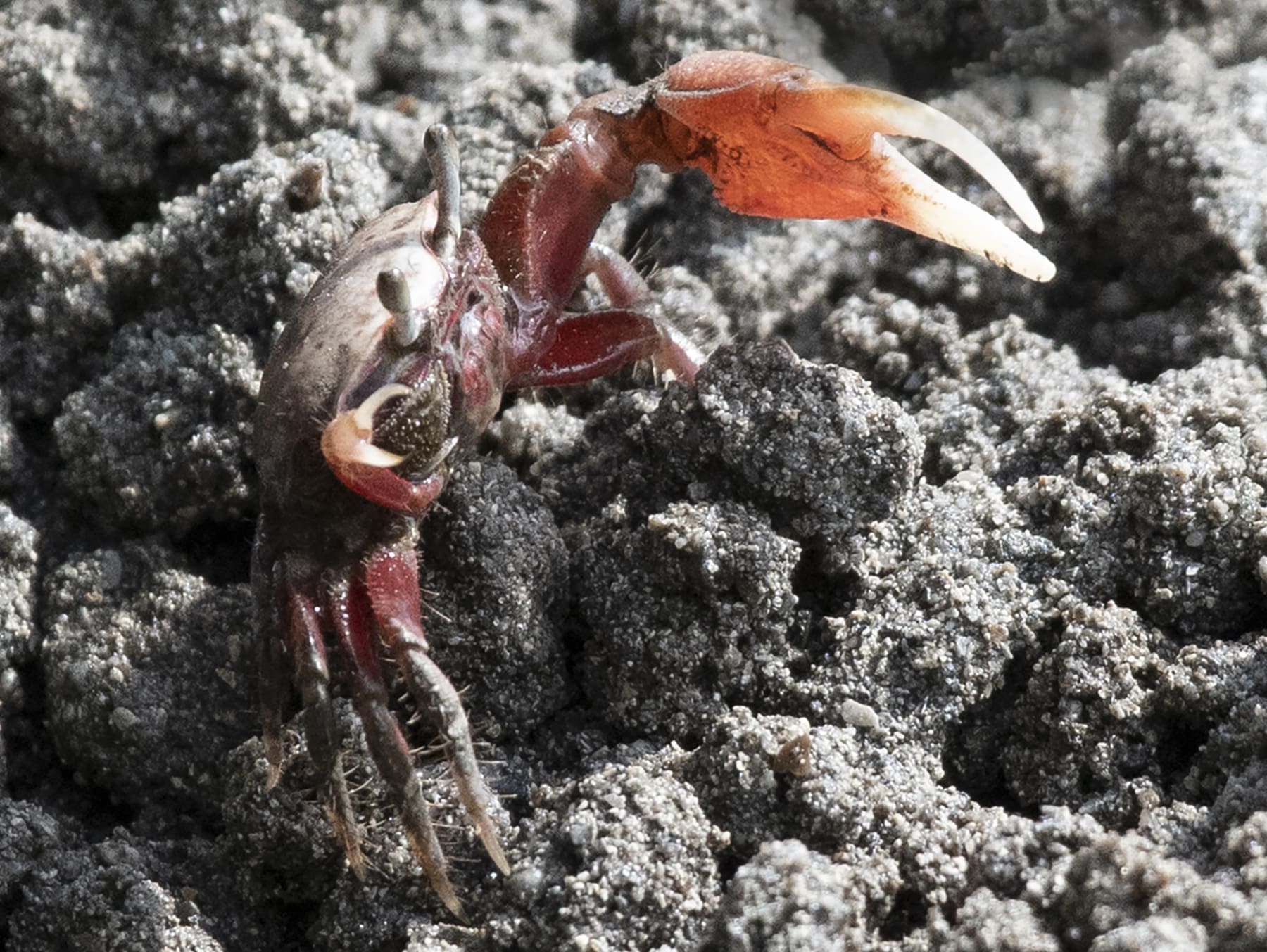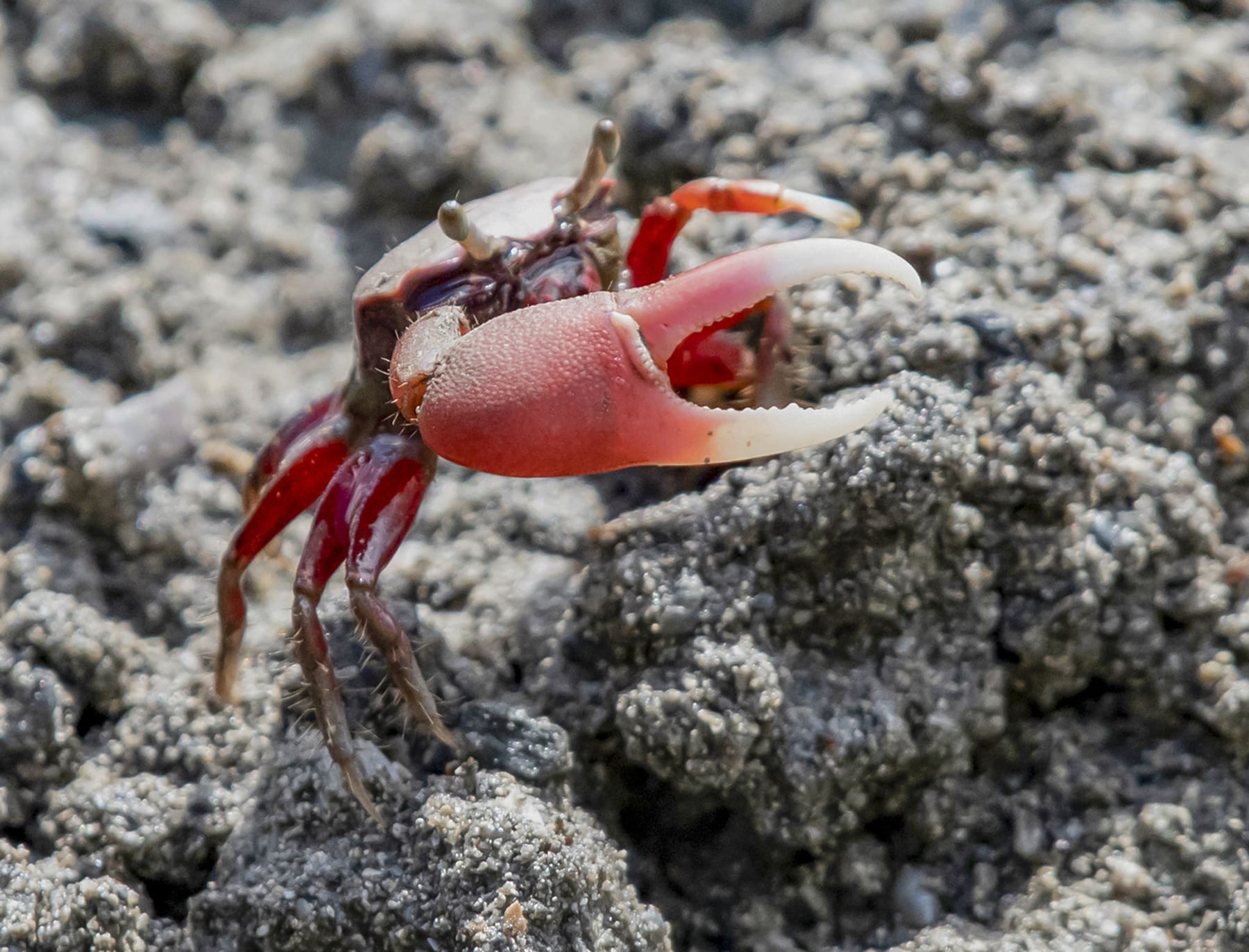 A few males might lose their big claws somehow. Maybe from fighting, or escaping a predator, and in that case the smaller claw (on the other side) can grow larger to take its place.
The other prominent feature of these crabs is their eyes. Many crabs have their eyes on stalks that stick up on top of their heads. But these fiddler crabs are very small, and their bodies are often obscured by the big claws, so mostly all you see is eyes and claws.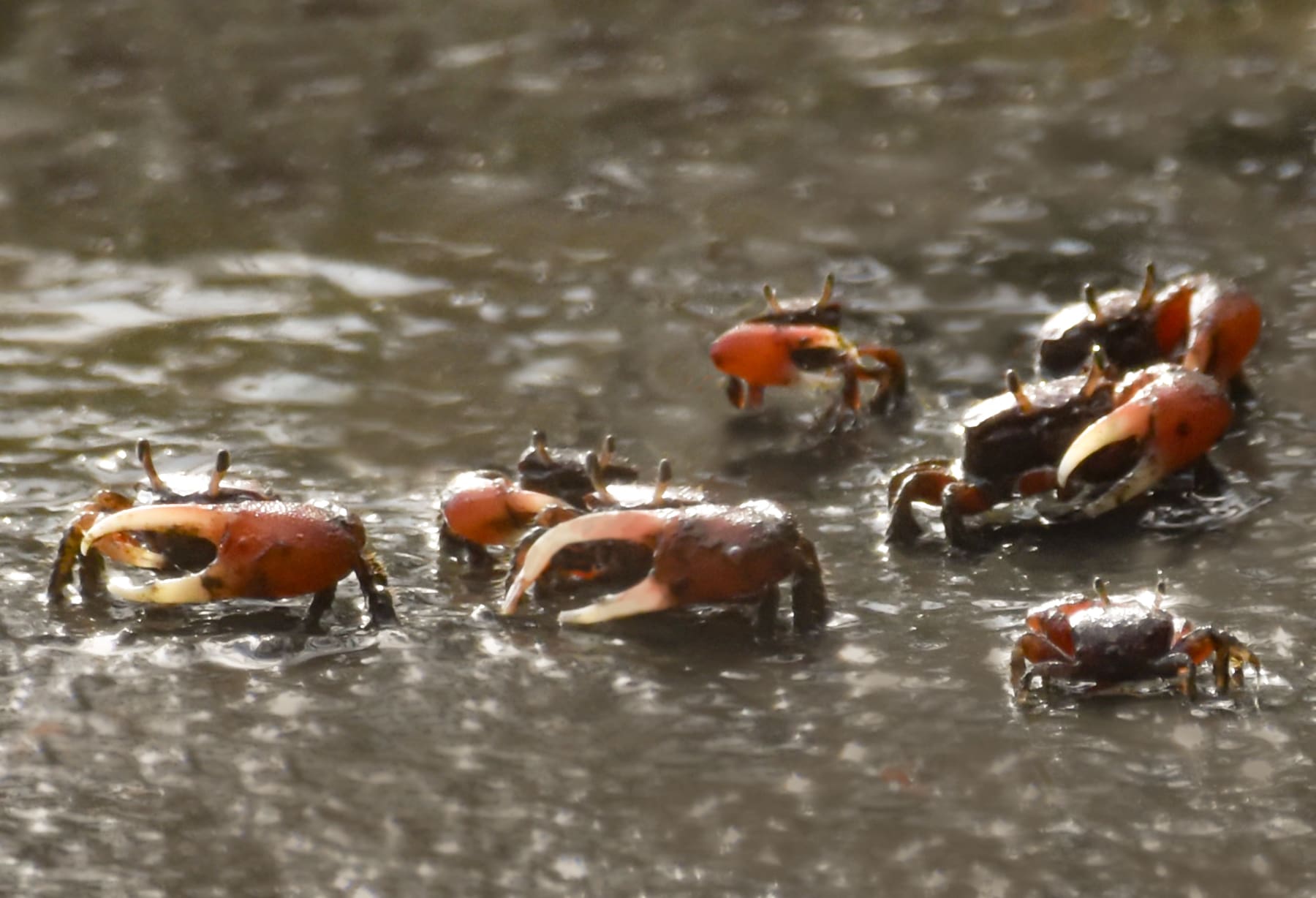 Those high stalks allow them to get a long-distance perspective. That's why they know to hide when I am approaching but not yet close. They don't have great visual focus at a distance, though, so they probably can't actually tell the difference between me and an egret.
Their compound eye structures also give them a panoramic view, so they can see what's behind them without moving their eyes or turning their heads, and can see what's around them both on land and under the water. Scientists have become interested in studying the structure of fiddler crab eyes as they design complex artificial vision devices and robotic applications.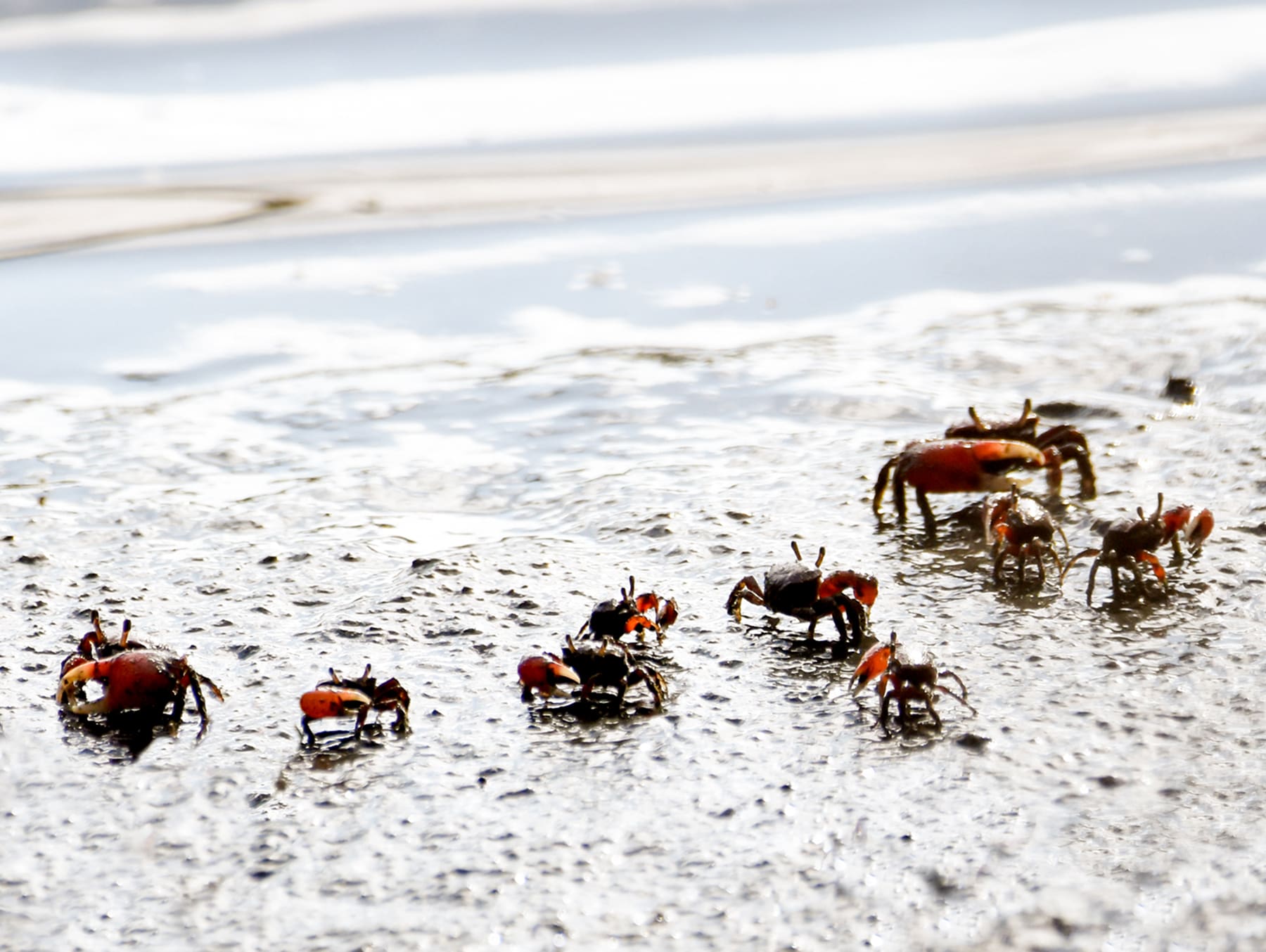 When I tried to figure out what species of fiddler crabs I was seeing at Francis Bay, I found some pictures on the Internet that made me think their scientific name might be Minuca burgersi, which is one of the common types in the Virgin Islands. I was mostly focusing on their reddish color.
For confirmation, I asked some local nature experts, including Caroline Rogers, a former research biologist with the USGS Wetland and Aquatic Research Center. She contacted Paul Jobsis at UVI, who forwarded my photos to several others, including a UVI professor, Guilherme Corte, who in turn connected me with Helio Checon, an ecologist in Brazil. Checon informed me that the claws (and the teeth on them) are key to identifying different fiddler crabs – more so than coloring. Though most of the crabs in my photos do seem to be Minuca burgersi, the claws on the ones in the first photo look heavier, and Checon suggested those are a different species.
Despite their big claws and sophisticated eyes, quite a few fiddler crabs get picked off by birds foraging along the edges of the ponds. Fortunately, however, there are still many of them around. Be sure to give them a wave from a distance when you see them.
               ____________________________________________
Gail Karlsson is an environmental lawyer, writer and photographer. She is the author of two books about the Virgin Islands – The Wild Life in an Island House, and the guide book Learning About Trees and Plants – A Project of the Unitarian Universalist Fellowship of St. John. She has also recently published A Birds' Guide to The Battery and New York Harbor. Follow her on Instagram @gailkarlsson and gvkarlsson.blogspot.com.