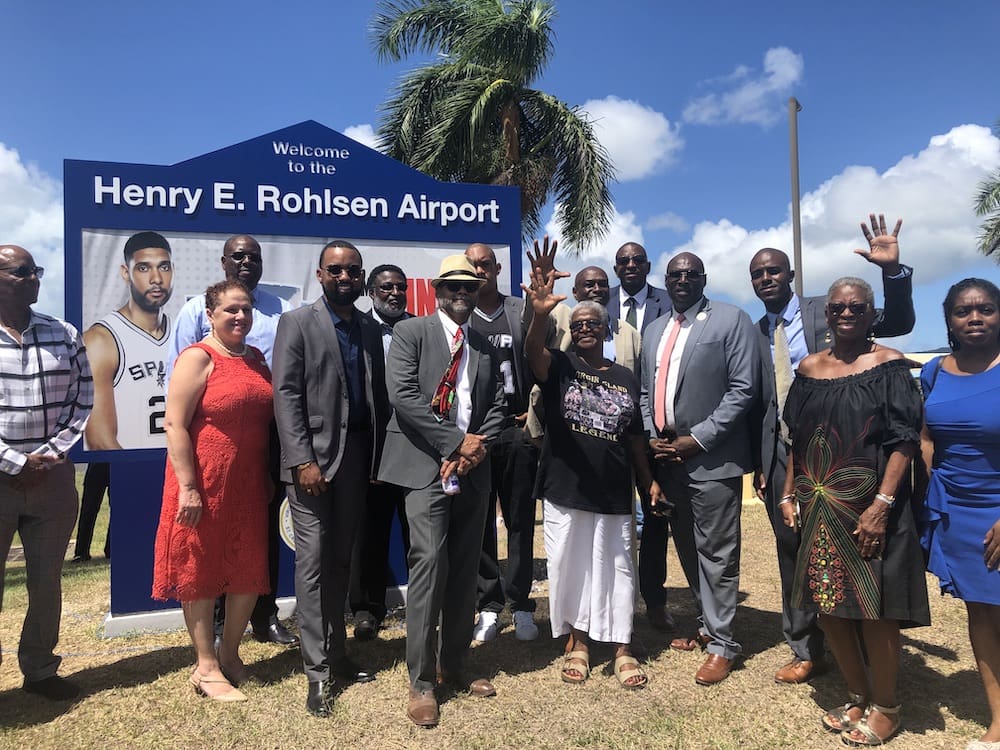 Government officials, along with friends and fans of Tim Duncan, gathered at the Henry
E. Rohlsen Airport Thursday to unveil the new life-size tribute to St. Croix's favorite son and NBA three-time most valuable player. The previous sign was destroyed by the 2017
hurricanes.
Duncan was born and raised on St. Croix. He attended St. Dunstan's School and was training to be a competitive swimmer when Hurricane Hugo took out the only Olympic-sized pool on the island. He turned to basketball and by the time he finished college, he was a national star.
He attended Wake Forest University and, in his senior year, received the John R. Wooden Award as the outstanding collegiate player in the country.
In 1997, Duncan was the San Antonio Spurs first draft pick.
While he was a Spur, Duncan helped the U.S. men's basketball team win a bronze medal in the Olympics in 2004. At the age of 37, in 2013, he was named first-team All-NBA for the 10th time in his career and appeared for the 15th time in the All-Star Game at the age of 38.
In 2015, in a matter of days, Duncan passed Alex English with 30 points scored in a game. Then he passed Nate Thurmond by scoring six rebounds. Three days later, he recorded three blocks to surpass Patrick Ewing for sixth place in overall career blocking. A couple of weeks later, he played his 1,330 career game, surpassing Moses Malone for 11th place. During the last half of 2015, he continued to break records, even David Robinson's career total of blocking with 2,955 moves.
When he was 40, the Spurs set a record, winning 67 games and then Duncan retired in 2016. By then, he was in the top 15 NBA players of all time with 26,496 career points and 15,091 rebounds and 3,020 blocks. He was elected into the Naismith Memorial Basketball Hall of Fame in 2020.
When he retired, the Spurs retired Duncan's No. 21 jersey. He was only the eighth Spur to achieve that milestone.
Those who spoke about him during the unveiling ceremony said, among other things, that he was the "greatest power forward of all time" and one of the greatest players in NBA history. Some of the speakers talked about his childhood and others about his charitable giving.
Senate President Novelle Francis pointed out that Duncan is the "greatest power forward of all time," adding, "he was philanthropic without expecting recognition." He donated generators after hurricanes and treated police officers to weekends at his home for rest and relaxation after storms.
"I know the Tim Duncan that we do not see," Calvert White, commissioner of Sports, Parks and Recreation, said.
White recalled Duncan flying one of the only private planes allowed to land after Hurricane Maria. He arrived with computers, food and other items for survivors. Over the years, he donated thousands of dollars to the department for lighting ball fields at night. After Hurricane Maria slammed St. Croix, Duncan flew White's son back to the mainland to return to school. Additionally, White said Duncan mentors other Virgin Islands athletes, such as Aliyah Boston and Raheem Christmas — some in his own home.
Carlton Dowe, executive director of the V.I. Port Authority, remembered several times that Duncan provided tickets for him and friends when he was visiting the states.
"Tim Duncan is one of those kind of people that unifies the territory," Dowe said.
Rashidi Clenance, childhood friend and representative of the Tim Duncan Foundation, talked about their childhood and his time since he left St. Croix.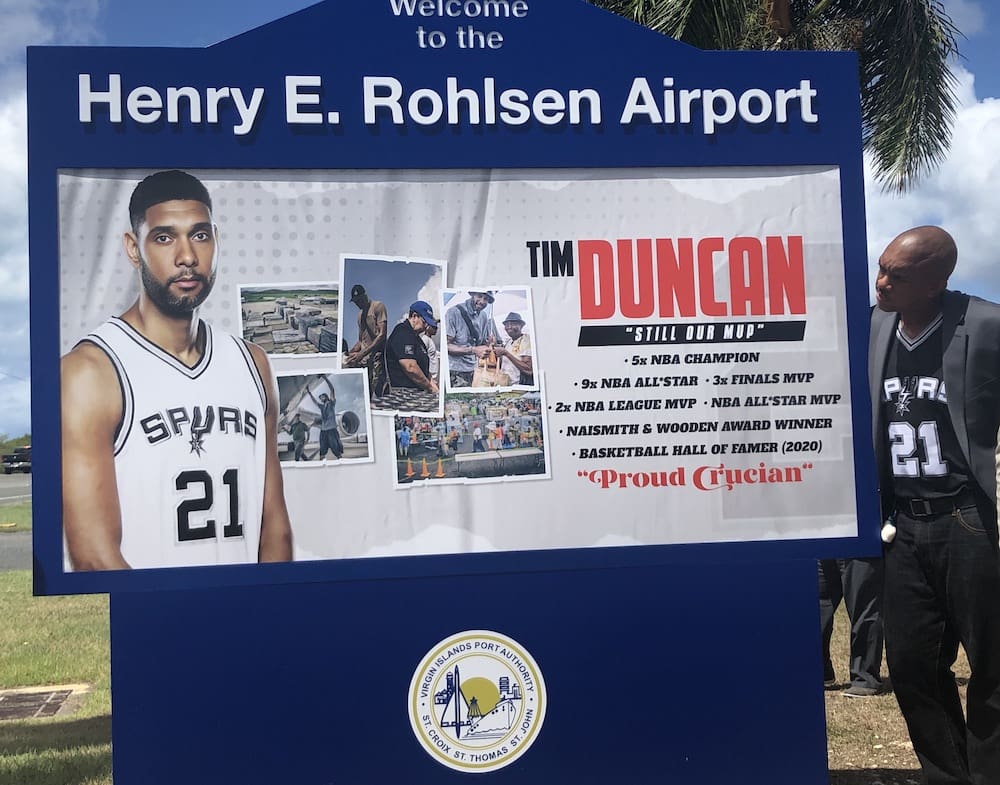 "I'd say he's the greatest basketball player of all time. The numbers speak for themselves," Clenance said. "Tim Duncan might be the greatest living Virgin Islander."
Sarah Harvey, owner of Harvey's Restaurant until it closed in 2020, lived next door to the Duncan family. She said the three children spent a lot of time at her house — Tim grew up with her cooking. He's called "fish and fungi man" due to the time he spent at her restaurant, several in the audience said. At least eight times during his career for special games, Harvey sent fish and fungi to him in San Antonio.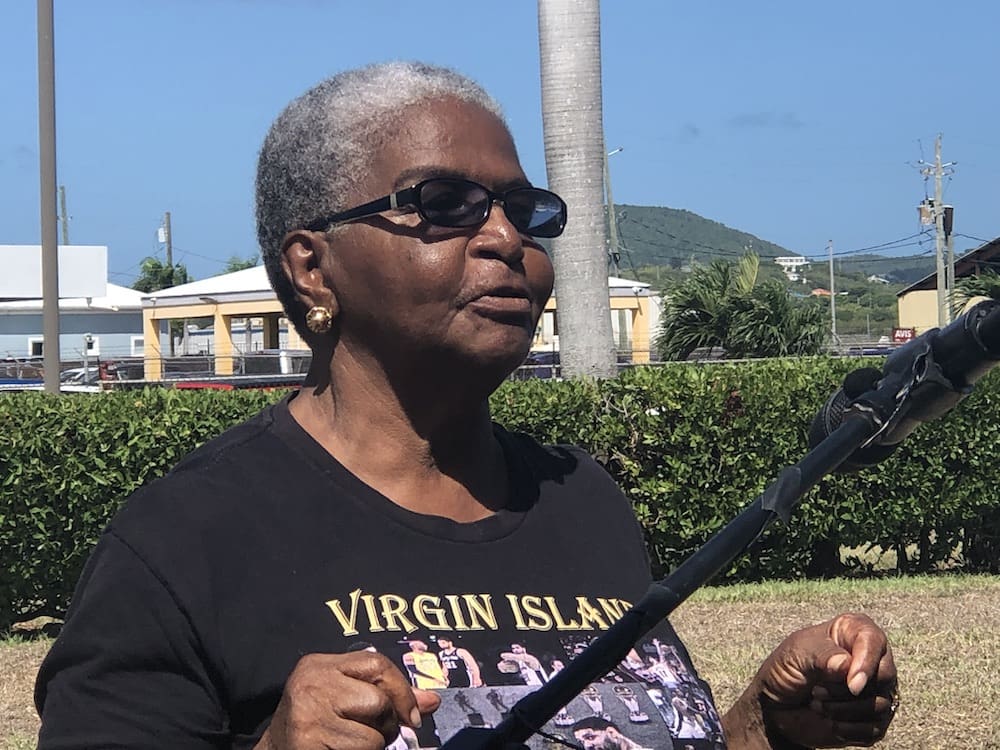 Others who lauded Duncan before the sign was uncovered included Willard John, chair of the VIPA board, Bill Rawlins, VIPA assistant executive director, and Island Administrator Sammuel Sanes, standing in for Gov. Albert Bryan Jr.
Monifa Marrero-Brathwaite, VIPA public information officer, was the moderator for the event. Near the end, she invited members of the audience to speak to Duncan, who reportedly was watching the streaming event. More than a half dozen people stood to congratulate, thank Duncan and share memories.