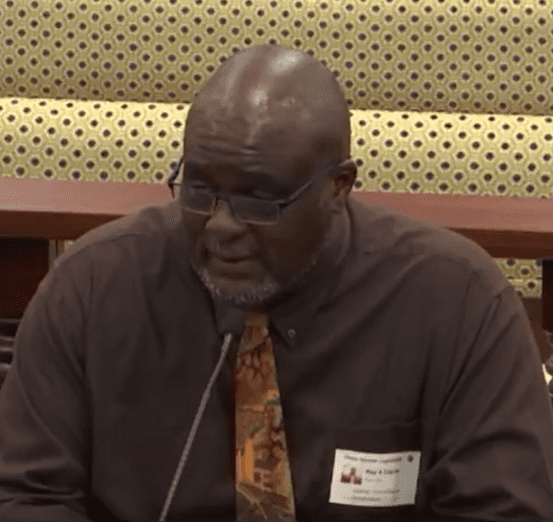 The Committee on Government Operations, Veterans Affairs, and Consumer Protection Tuesday forwarded a bill to Rules and Judiciary to honor a doctor and another to honor a police officer.
Dr. Ralph A. deChabert, 93, is being proposed to be honored for outstanding contributions in the medical field and the general community. The bill honoring him also calls for the maternity services unit at the Juan F. Luis Hospital and Medical Center North to be named in his honor. Several medical professionals testified in support of the bill.
Dr. Cora Christian testified, "We must congratulate Sen. Kenneth Gittens and Sen. Marise James for this resolution that details the wonderful journey of Dr. Ralph de Chabert."
Ivy Ashwood, a registered nurse, said, "I have seen his dedication and selfless giving of his time. He was the only trained obstetrician working in the hospital at the time which means he was on call 24/7."
Dr. Angelo K. Galiber said about deChabert, "He typically did what he said he was going to do. He mentored many people."
Another registered nurse, Vivian Ebbesen-Fludd, said, "I can safely state …… Dr. Ralph A. deChabert, a humble stalwart in our healthcare arena specifically and our community in general, not forgetting his love for people, horse racing and farming, is most deserving of this honor."
Sen. Novelle Francis said, "Fifteen thousand babies were delivered under Dr. deChabert's care."
Sen. Gittens, who sponsored the bill to honor the late Police Lt. Melbourne Clarke posthumously for his dedication, service, and contributions to the community in law enforcement, said he learned a lot from Clarke when he joined the police department. The bill calls for the naming of Route 669 on the island of St. Croix as Lt. Melbourne Clarke Memorial Drive.
Dep. Police Chief Uston Cornelius testified, "I am proud to say I was fortunate to be his sidekick as he showed me how experienced people do it." He added that Clarke retired in 1999 after he served 25 years in the police department.
His son Ray Clarke testified, "Daddy served with distinction and left a legacy that has lived on through the passage of time. Friends and people from all walks of life constantly remind me of Daddy's exploits as an officer and of course, the plethora of traffic tickets he issued. Truth be told, our mother, the late Janet Joyce Amaro-Clarke, was the victim of Daddy's "no-nonsense work ethic. One morning on her way to work. Yes, she was speeding, heard the siren, and pulled over. Low and behold, it was none other than her husband Melbourne Clarke. Daddy, in a very professional manner, exited the patrol car, requested the necessary items, and served Mommy with a speeding ticket!"
Sen. Francis said the reason the territory has speed bumps on certain roads was because of Clarke.
In the comment session of the Facebook livestream of the hearing, a half dozen commentators asked why senators were focused on these bills when the territory had such big problems concerning the schools and the Water and Power Authority.
Sens. Carla Joseph, Ray Fonseca, Marvin Blyden, Alma Francis Heyliger, Novelle Francis Jr., Milton Potter, and Samuel Carrión were in attendance at Tuesday's meeting.