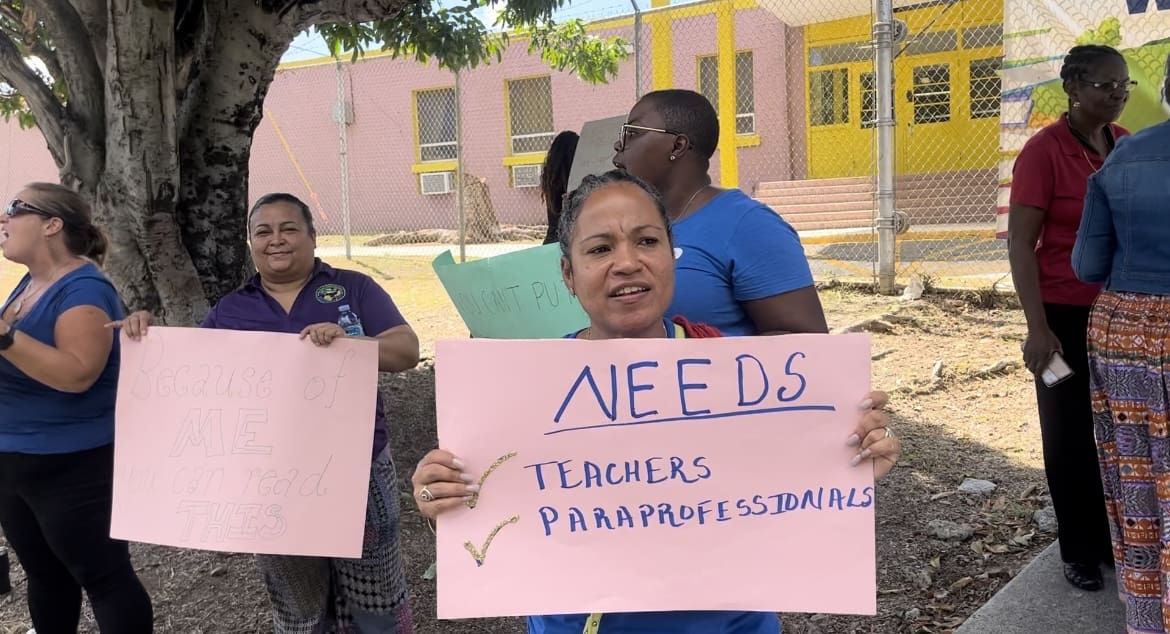 Updated Thursday at 5:15 p.m.
Gov. Albert Bryan Jr. weighed in as teacher walkouts closed schools on St. Croix for a second day Thursday, saying in a statement that climate change is to blame for some of the issues that educators are protesting, while acknowledging it's "frustrating to work in less-than-ideal conditions."
Bryan, who is out of the territory attending policy meetings in Washington, D.C., this week and then is due to speak at a cannabis industry conference in Chicago, issued the statement Thursday afternoon.
"While many of us, including some of our teachers and the parents of our students, have attended these same facilities without air conditioning, what has changed now is the climate," the governor said. "Just as other jurisdictions across the nation, we are grappling with climate change and its impacts," he added.
"It is frustrating to work in less-than-ideal conditions. As we work together to address these issues, we need to do so with consideration to the most important matter at hand, and that is the instruction of our students who are losing critical instruction days as a result of these job actions," Bryan said.
Claude O. Markoe Elementary School and the Eulalie Rivera K-8 School on St. Croix closed again on Thursday as a job action by teachers protesting working conditions that began Wednesday continued for a second day.
"The closure is due to a lack of sufficient personnel for instruction. Bus transportation will be provided. Parents are asked to pick up students as soon as possible," the V.I. Education Department said in a press release issued at 8:14 a.m. Thursday.
The John H. Woodson Junior High School, which was closed Wednesday, remained in session on an abbreviated schedule and was dismissed at 1:15 p.m., the department said. In addition to Woodson, Wednesday's protest also affected all PreK-6 and PreK–8 schools.
"The VIDE will keep the public informed regarding any additional school closures due to the continued job action" by the American Federation of Teachers, the release stated.
The AFT Local 1826 protest began Wednesday with teachers calling in sick and then picketing to detail their grievances.
These include excessive heat in classrooms, electrical upgrades, water issues, lack of supplies, lack of internet connectivity, employee shortages, lack of school nurses, large class sizes without paraprofessional support, lack of copy machines, lack of a special education director, proper maintenance of buildings, deplorable working conditions, insufficient school buses, rodents and termites, school security, installation of kitchen equipment, the repair of broken freezers and coolers, and air quality testing.
The St. Croix Federation of Teachers' contract expired on Aug. 31. In a press release issued Wednesday night, the Education Department said it had met with union officials to address the concerns.
While Bertha C. Boschulte School on St. Thomas has reverted to virtual learning this week due to the Bovoni landfill fire, Education officials said the same is not possible on St. Croix for schools affected by soaring temperatures.
"During the meeting, the VIDE addressed the impact of the recent heatwave on school operations," the release stated. However, due to "extensive damage and loss of devices, which has resulted in over $3 million worth of assets, schools territory-wide are unable to revert to virtual learning as a means of addressing the heat in classrooms," it said.  
"The VIDE seeks the full cooperation of parents and students in promptly returning laptops and MiFi devices to the respective school of the student or the main office headquarters. As previously announced, the most affected schools will begin adjusted schedules on Monday, Sept. 25," according to the release.
On Tuesday, the department announced abbreviated schedules for some St. Croix schools as the island endured the year's highest daily temperatures 12 days in a row.
St. Croix Central High, the Educational Complex/Career and Technical Education, John H. Woodson Junior High, Juanita Guardine and Eulalie Rivera Elementary schools will see shorter school days.
Classes at the two St. Croix high schools will begin at 7:40 a.m. and dismiss at 1:05 p.m.; Woodson classes start at 8 a.m. and end at 1:30 p.m.; the two elementary schools —Guardine and Rivera — will start classes at 7:30 a.m. and dismiss at 1:15 p.m.
"The Virgin Islands Department of Education acknowledges the concerns raised by our valued teachers and remains committed to addressing them in a spirit of collaboration and understanding," Thursday's released stated. "We recognize that educators play a vital role in shaping the future of our children and our community, and their voices are of utmost importance."