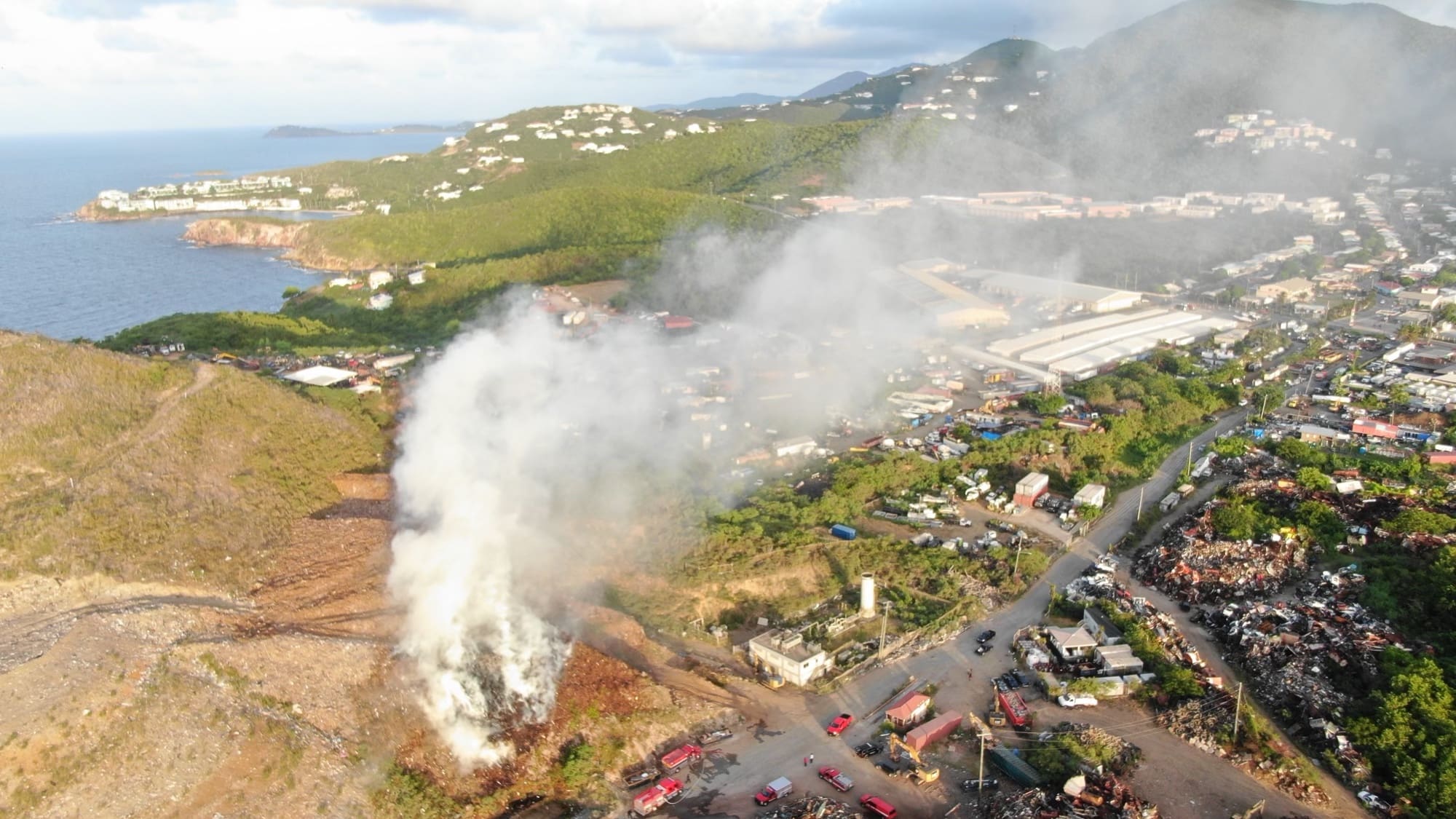 Updated Thursday at 8:50 p.m.
The Virgin Islands Fire and Emergency Medical Services has ended its suppression operations at the Bovoni Landfill. A firefighting crew will continue to monitor the site to address any potential smoldering areas, according to a press release Thursday evening.
All advisories related to the surrounding communities have been lifted. Residents and businesses can resume their normal activities without concern. We thank the community for their understanding and cooperation during this operation, the press release stated.
Fortunately, there have been no reported injuries resulting from this incident. The cause of the fire has been identified as spontaneous combustion within vegetation debris. Fifty-one on and off-duty personnel, including additional response provided by A9 Trucking, Sleepy Trucking & Water Delivery, and St. Thomas Rescue, played pivotal roles in the coordinated response, the release stated.
St. Thomas-St. John Fire Chief Clarence Stephenson stated, "Our Suppression and EMS crews have been working diligently in shifts since dispatched at 5:30 a.m. to manage the situation. We employed a combined use of pumpers, tankers, and excavation machinery to eliminate hot spots and coordinate flanking methods to bring the fire under control."
"We are humbled by the collaborative spirit of our firefighters during each challenging incident. The operation is now fully contained, and while we express confidence in our teams and their capabilities, we do so with a deep sense of gratitude and appreciation for their persistence," he said.
Updated Thursday at 9:20 a.m.
Heavy smoke from what V.I. Fire and Emergency Medical Services is calling a "significant fire" at the Bovoni landfill on St. Thomas has prompted an urgent advisory for nearby residents to take precautions.
The fire has caused the closure of Bertha C. Boschulte Middle School.
"In light of these circumstances, the VIDE will maintain close communication with the Virgin Islands Fire and Emergency Medical Services to monitor the situation, specifically regarding the resumption of school," the V.I. Education Department said in a press release early Thursday morning.
"The well-being and safety of students remain our utmost priority, and we are committed to taking all necessary precautions," said Commissioner Dionne Wells-Hedrington. Parents are asked to stay tuned for additional updates and information, she said.
According to the Fire Service, the fire broke out early Thursday morning and all crews and off-duty personnel have swiftly mobilized and are actively addressing the situation to ensure public safety and the environment.
The V.I. Waste Management Authority said the fire is in the green waste area near the entrance to the landfill.
The landfill is closed until further notice, and a smoke advisory has been issued to ensure the safety and well-being of nearby residents and businesses, according to the Fire Service.
Residents are asked to avoid the landfill area and its immediate surroundings and to stay clear of the affected zone to reduce exposure to smoke and potential hazards.
If you live or work near the landfill, it is recommended to stay indoors, close all windows and doors, and minimize outdoor activities to reduce exposure to smoke, the Fire Service said.
Those with respiratory conditions, children, senior citizens, and individuals with pre-existing health concerns should take extra precautions and consider relocating temporarily, it said.
If you must drive in the area, keep your car windows up and vents closed to minimize smoke exposure. Follow all traffic instructions provided by the authorities near the site.
Residents are also urged to check on their neighbors, particularly those who may have difficulty evacuating or require assistance during this time. "Community support is invaluable in emergencies," the Fire Service said.
The landfill last caught fire in July, at the scrap metal receiving area at the entrance, creating hazardous smoke and airborne particles that prompted a warning for area residents to stay inside. The blaze took three days of around-the-clock efforts to extinguish, with Director Daryl George issuing a call for all off-duty firefighters to respond.
The 34-acre landfill has been under a federal consent decree since 2012 over Clean Air Act and other violations. It was ordered to close by April 2019, but that has been delayed by difficulties finding funding sources and approvals, according to the latest court filings.