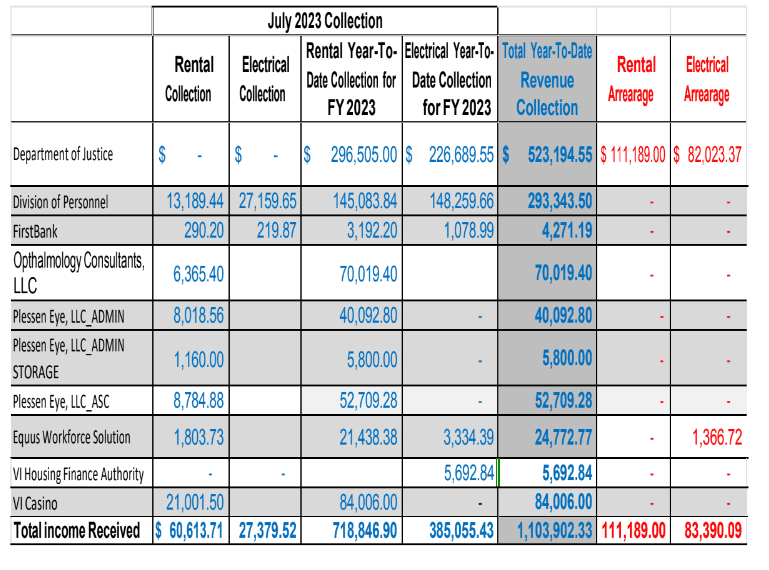 Angel Dawson Jr., hired in July as the Government Employees' Retirement System administrator, listed for the Board of Trustees Thursday over a dozen meetings he had attended since coming on board. The meetings included those with general staff, union heads, Havensight Mall tenants, principals of the Haven Development Hotel Project, and government agency heads.
He said he was "especially excited" about the meeting with Havensight tenants as plans for the new hotel and more green space on the property were discussed. Models of several large bronze statues to be placed in the green space were presented. He said they were of the "coal women" and would introduce visitors to a bit of St. Thomas' culture.
The proposed five-story, 126-room hotel to be built adjacent to the West Indian Company dock in Havensight is being developed by private developers. GERS is leasing the developer the property.
Dawson's report adhered mostly to the structure of reports given by his predecessor, Austin Nibbs.
He reported that 8,784 retirees received annuities this month, with four being added at the beginning of the month and 19 more to be added at the end of the month. Since Oct. 1 of last year, 290 retirees have been deleted from the rolls, while 323 have been added. Last week, the gross retiree payroll was $11,138,650.23.
Something new Dawson added to the administrator's report is a breakdown of where the checks go.
Seventy-four of the checks go to Puerto Rico; 1,168 go to the U.S. mainland and six go to various countries. The rest stay in the territory.
Dawson said GERS is negotiating the leasing of unused space in its St. Thomas building to the V.I. Police Department. Trustee Andre Dorsey pointed out that currently, the Department of Justice is $111,189 in rent arrearages to GERS and also owes $82,000 on its electric bill. He suggested that any lease agreement stipulates payments to GERS as a priority.
Dorsey also questioned whether there was a way to bring down the $7 million figure that Dawson's report showed for reimbursing employees leaving before they were invested in the system.
Dawson said that many employees who once saw GERS in a precarious financial situation were inclined to pull out of the system but might now be more willing to stay in the system after the rum rollover bailout.
Dawson had met with the board in a special meeting, but this was his first regular monthly meeting. Dawson served as commissioner of finance from 2009 to 2014. In this position, he was also executive director of the Public Finance Authority and a member of the GERS Pension Reform Taskforce Advisory Committee.
Austin Nibbs had been at GERS' helm since 2007.
Attending Thursday's meeting were Dwane Callwood, Nellon Bowry, Leona Smith, and Dorsey. Trustees Vincent Liger and Ronald Russell were absent.