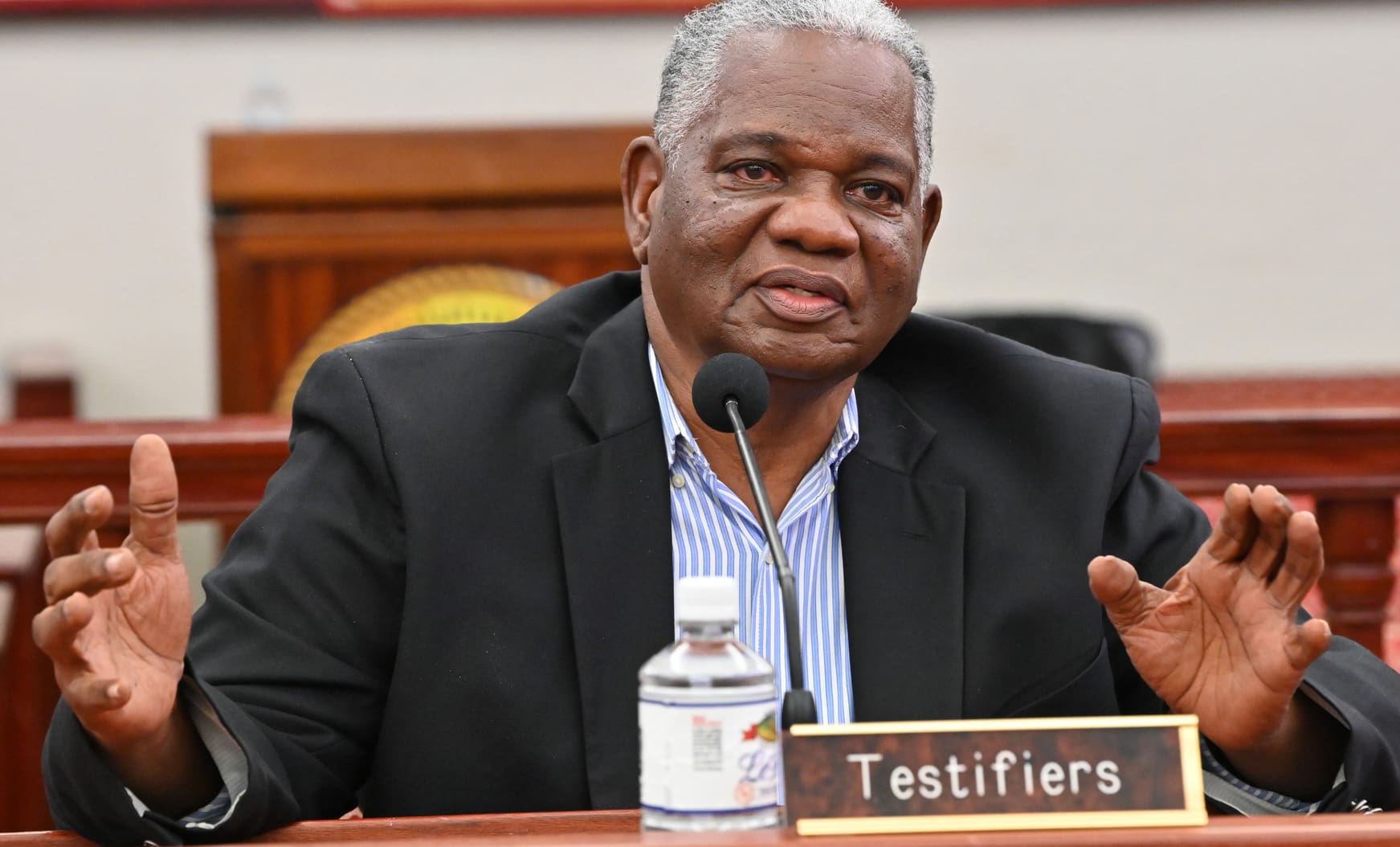 The "Bridge to Nowhere" on St. Thomas became infamous for connecting to nothing for two decades. It finally got connected two years ago and soon might get an official name to erase its infamous past. A bill moved through the Committee on Government Operations, Veterans Affairs, and Consumer Protection Wednesday to honor Wayne "Facts Man" Adams by naming the bridge at the Nadir intersection the Wayne "Facts Man" Adams Bridge.
Adams was praised by committee members for using radio programs to bring stories of local history alive.
Adams died two years ago from COVID. However, the other Virgin Islander the committee wanted to bestow honor upon, former Sen. Almando "Rocky" Liburd, is alive and was able to attend the meeting.
The bill honoring Liburd, like the bill for Adams, was forwarded favorably to the Rules and Judiciary Committee. The Liburd bill calls for renaming the North Shore Road on St. John the Almando "Rocky" Liburd Highway.
Liburd taught in public schools for 17 years and served 16 years as the at-large senator from St. John.
A former student of his, Margaret Sprauve Martin, testified. "Sen. Liburd's legislative record can be described as outstanding through its demonstration of insightfulness, foresight, and resourcefulness. Sen. Liburd is deserving of the honor being bestowed," she said.
The bill lists more than three dozen legislative acts that he actively played a part in passing. They range from gun control laws to getting property for sporting events.
Sen. Milton Potter said to Liburd, "You weren't here just taking up space. You were passing legislation."
Reginald "Ras Reg" Martin, on his radio show Reggae Runnings, gave Adams the moniker "Facts Man" for always calling into the radio show and bringing along his historical facts.
Adams hosted his own radio talk show called Awareness on station WVWI 1000 and he owned a publishing company based on St. Thomas where he published and co-authored 14 historical posters and narrated and recorded two historical tapes and discs.
In 1984, Adams ran for a seat in the Legislature of the Virgin Islands, becoming the youngest person in the history of the Virgin Islands to do so.  At the time of his death, Adams was on the ballot for a Senate seat in the November General Election.
All these things were the works of a lifetime for a man who freely spoke about his diagnosis of bipolar disorder and manic depression at the age of 15. Despite that, Adams completed his education at Charlotte Amalie High School and attended the College of the Virgin Islands and later Jacksonville University in Florida.
His ailment was at first hard to accept, he said in a 2005 interview, but with support from his parents and relying on his faith, Adams said he followed a treatment regimen and got on with his life.
Sen. Kenneth Gittens said, "I miss some voices on the radio. I miss his the most."
Sen. Marise James said, "He was continually educating himself and other people."
Someone took the situation into their own hands soon after the "Bridge to Nowhere" was connected and put up an unofficial sign naming it the Wayne "Facts Man" Adams Bridge two years ago.