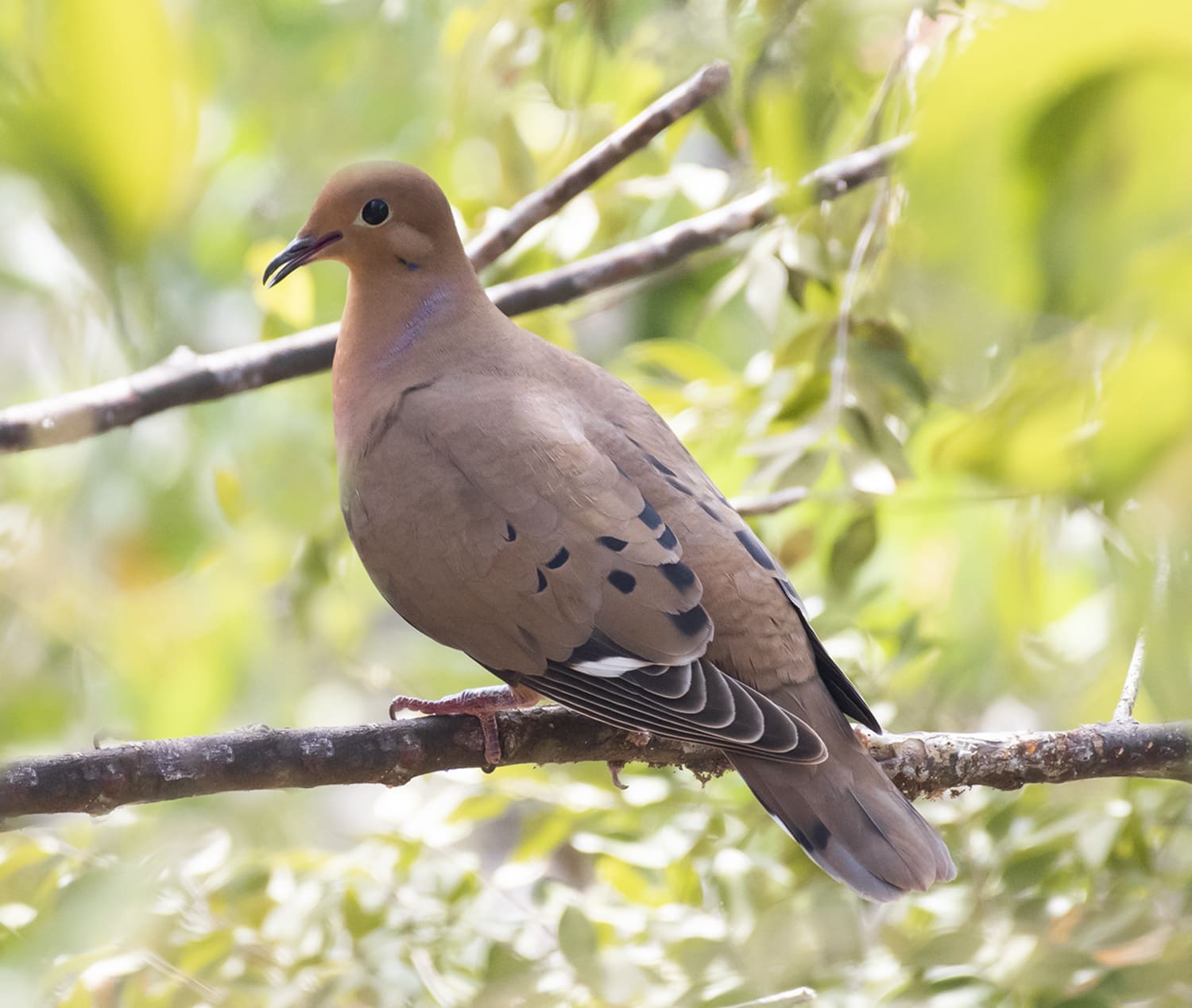 There are two closely related types of doves that look very similar. But Zenaida Doves (Zenaida aurita) are only found in the Caribbean area. I first noticed them hanging around on our dirt road and then flying up just as I came by in my jeep, making a whistling sound with their wings and then sometimes flying alongside the car for a few seconds. They seem to like foraging in the road.
Mourning Doves (Zenaida macroura) are closely related but are more widespread. They are residents across much of North America, and I recently learned that they also live in the Greater Antilles, as far east as Puerto Rico. In addition, some of them are northern breeders that migrate down into the Caribbean in the fall. So I suppose it is not impossible that a Mourning Dove could show up in the Virgin Islands at some point, though I haven't seen one here yet.
How do you tell them apart?
The most obvious difference is that a Zenaida Dove has white tips on its wing feathers that show up as a white patch or 'check' when the bird is standing.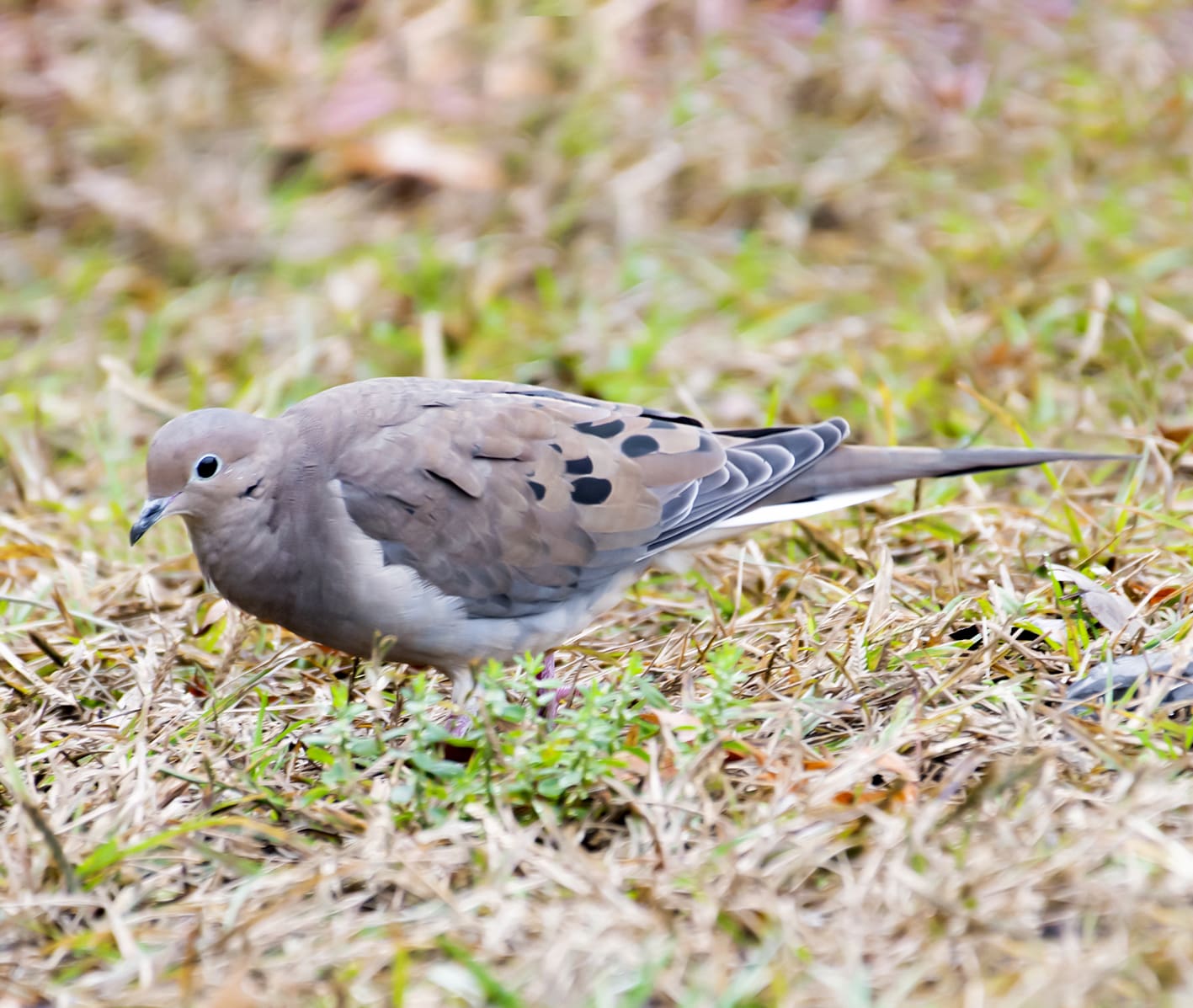 It is fairly easy to see the white wing patch (or lack of it) from a distance. It would be harder to notice that the Mourning Doves are also a bit larger, and browner, with lighter bellies and longer, pointy tails. The rings around their eyes also seem bluer.
Both types of doves have similar five-note cooing calls, which can sound sad, though some people confuse their 'hoo-Hoo hoo-hoo-hoo' with owl calls, which are not considered particularly melancholy.
For both types of doves, the males have iridescent purple feathers on their necks, which are most visible when they are cooing loudly, puffing out their necks and trying to impress the females. (In the Virgin Islands, the breeding season for Zenaida Doves is from May to August.)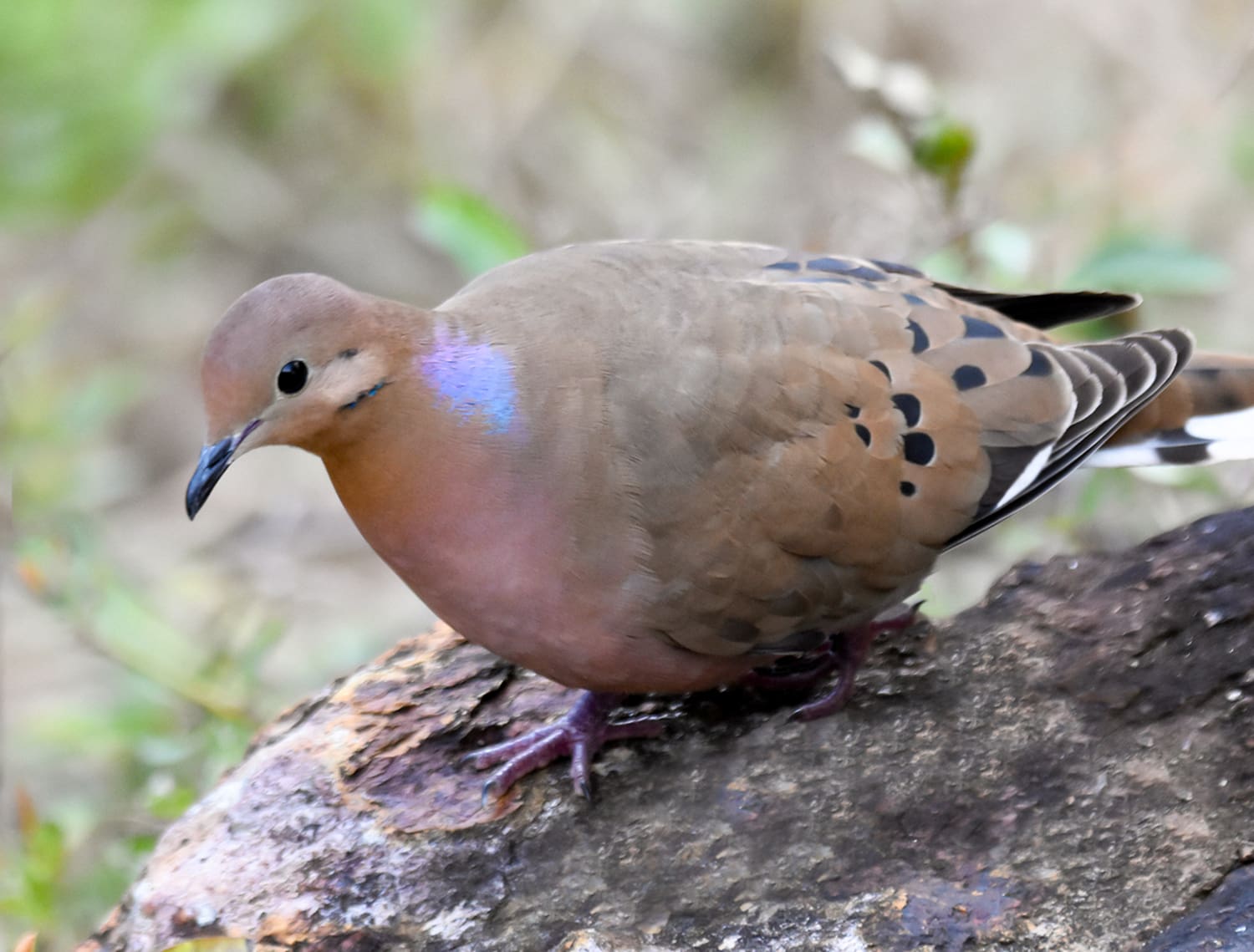 I also recently learned that doves are not really so peaceful – the males will sometimes fight during breeding season. Last April, a reader on St. John, Susan Crane, sent me a video from a driveway camera showing two blurry smallish, brownish birds chasing around, edging up to each other and then whacking each other ferociously with their wings. By their size and coloring she thought they might be kestrels, which are raptors and therefore more likely to act aggressively. But after studying the video, I thought I caught a glimpse of a white wing patch. When I looked online, I was surprised to find several Zenaida Dove male combat videos. Who knew?
The name 'Zenaida' actually has a slight link to a very combative historical figure – Emperor Napoleon. His nephew, Charles Lucien Bonaparte, was a naturalist and ornithologist who married his first cousin, Zenaida Bonaparte, and named these doves for her. The name is used not only to identify this particular Caribbean dove species but also for a broader genus that includes White-winged Doves and Mourning Doves. In Greek, Zenaida means (roughly) 'related to Zeus', the supreme god in ancient Greece, and it seems to be a popular girl's name in a number of cultures.
After all the fighting and breeding is over, the dove couples are said to mate for life. They are also reported to be monogamous, though I'm not sure how closely they are monitored. You do often see them together, mostly walking around on the ground looking for seeds and insects.
You might also find them perched right next to each other. Other times you might hear them calling back and forth from different trees.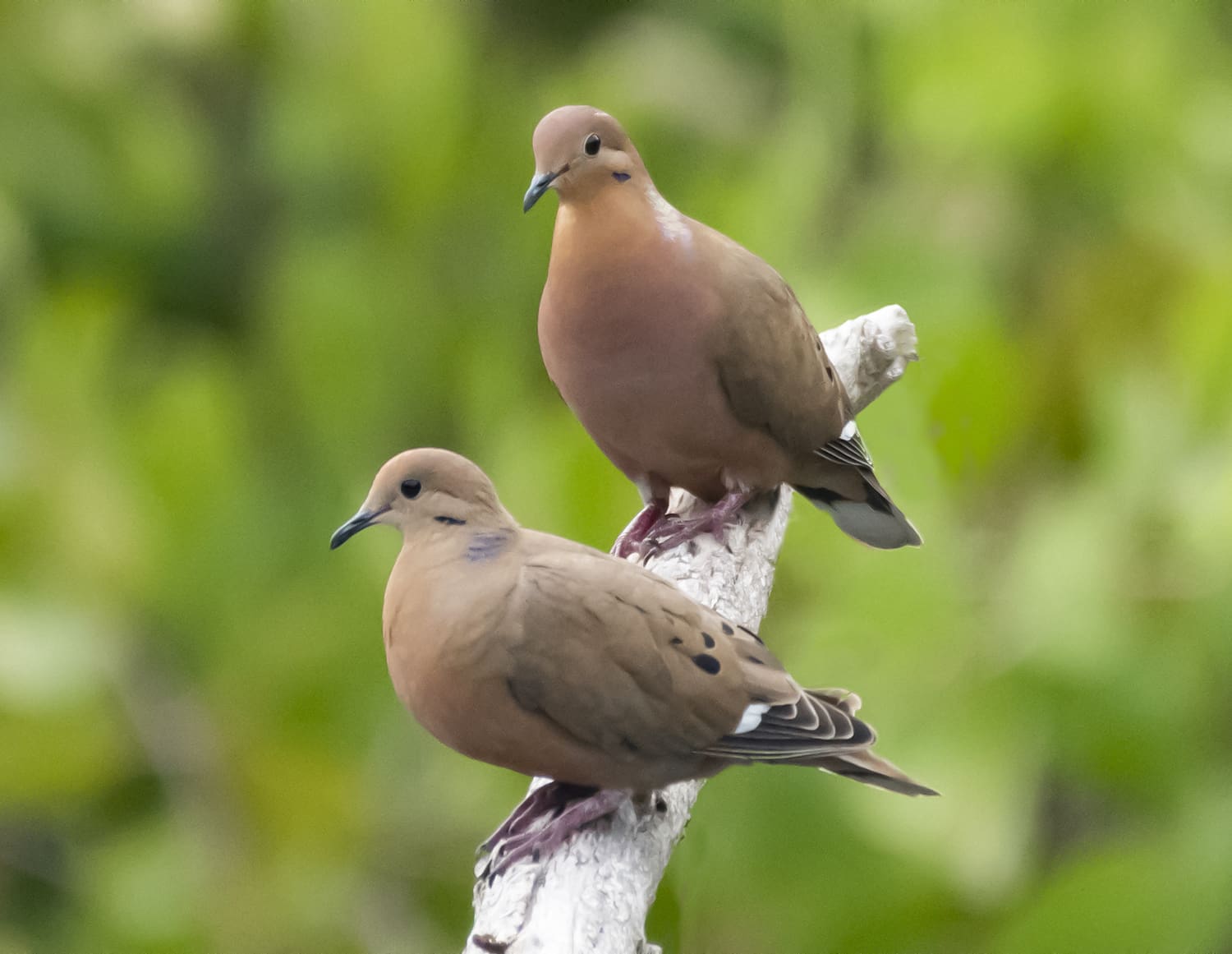 In our yard, the Zenaida Doves can sometimes be seen foraging with other similar, but much smaller, doves. These are not babies but Common Ground Doves, which are members of a subspecies only found in Puerto Rico and the Virgin Islands (Columbina passerina portoricensis).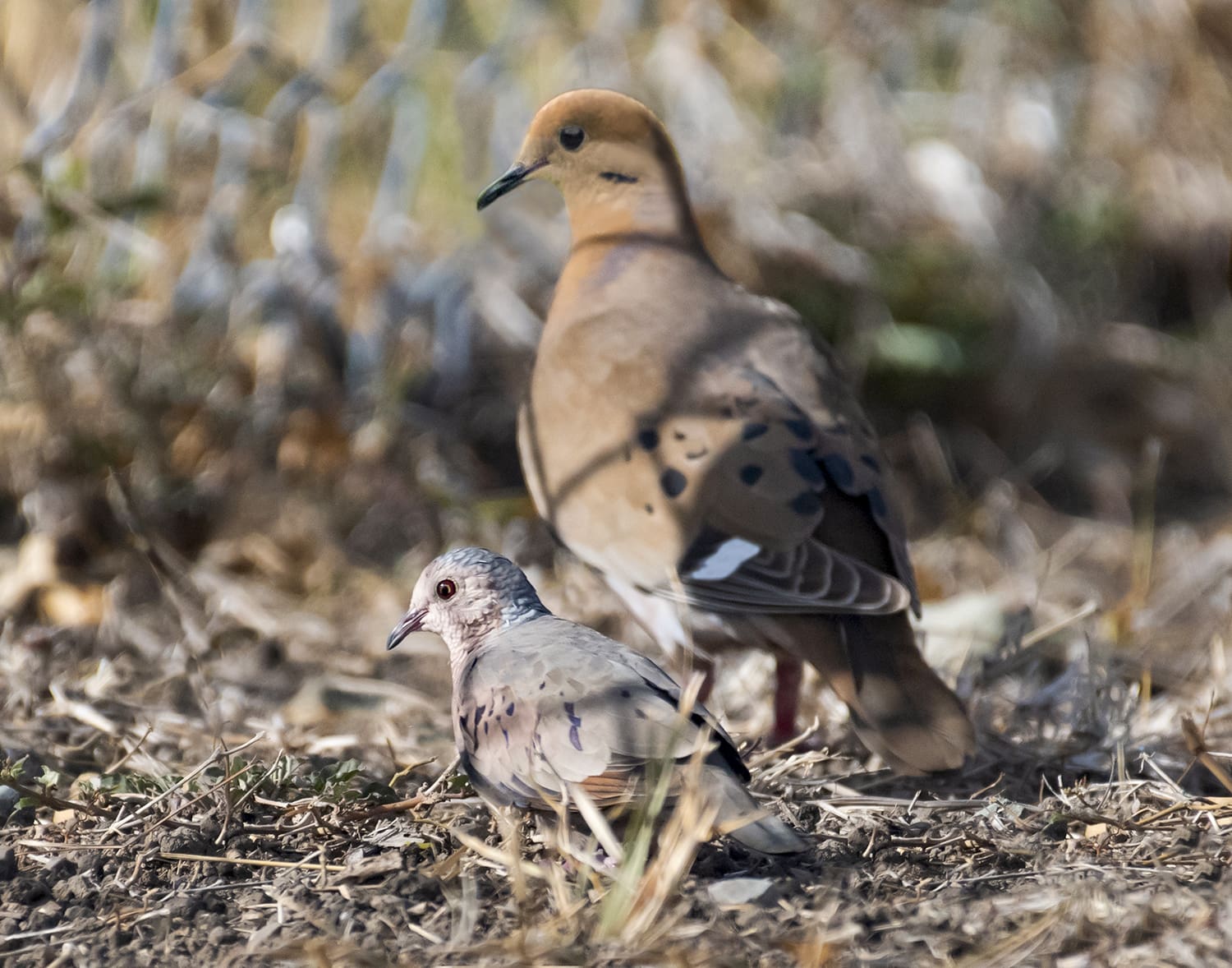 When they do have babies, the Zenaida Doves make their nests in trees to provide some safety from potential predators on the ground (like rats, mongooses and outdoor cats). Local bird expert Laurel Brannick told me that she sometimes finds Zenaida Dove hatchlings that have fallen out of their nests (more often than other birds) and will try to put them back in the nests to protect them.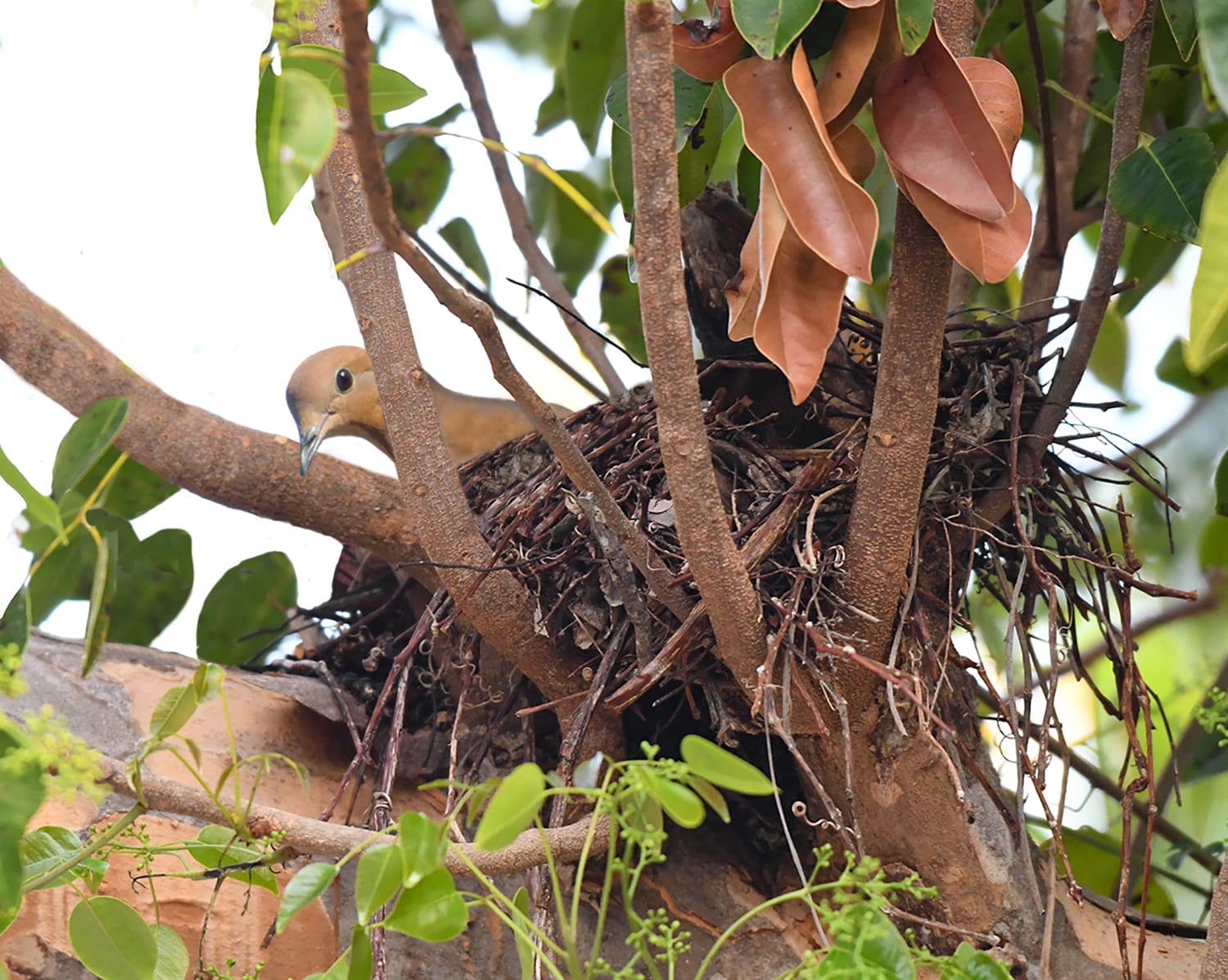 In addition to predation, many birds are also challenged by human-related habitat loss and climate change. Zenaida Doves, like other seed and insect eaters, can easily become food-insecure during hurricanes, droughts and other calamities. In general, planting native trees and shrubs will support local birds and wildlife and, in times of crisis, providing bird seed for the doves can be helpful.
But in many places people pose direct threats to doves. Mourning Doves are widely hunted in the northern hemisphere during the fall, mostly for sport now, though sometimes for food. Zenaida Doves can also be hunted legally in certain Caribbean islands, including Puerto Rico. So it would not be surprising if these doves do, in fact, sing rather mournful songs.
               ———————————————————————
*Gail Karlsson is an environmental lawyer, writer and photographer. She is the author of two books about the Virgin Islands: The Wild Life in an Island House and the guidebook Learning About Trees and Plants – A Project of the Unitarian Universalist Fellowship of St. John. She has also recently published A Birds' Guide to The Battery and New York Harbor. Follow her on Instagram @gailkarlsson and gvkarlsson.blogspot.com.