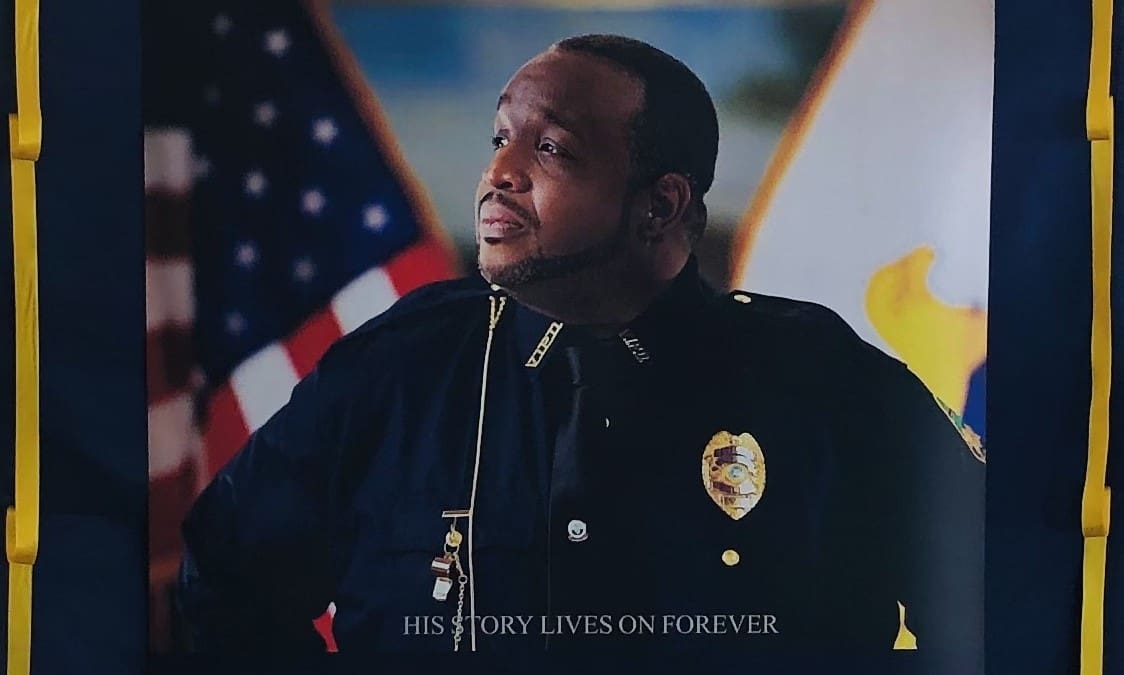 The community is invited to join a candlelight vigil for slain V.I. Police Detective Delberth Phipps Jr. on Friday from 5 to 7 p.m. at the Alexander A. Farrelly Justice Complex courtyard on St. Thomas.
Phipps, 42, a seven-year veteran of the department, was killed while responding to a 911 call of a man carrying a firearm and wearing a bulletproof vest in the vicinity of Hospital Ground near "Jah Yard" just before 8 a.m. on July 4 on St. Thomas.
Phipps, who graduated from officer training in 2016, was a second-generation member of the police department, following in his father's footsteps, the VIPD said. He was among the USVI's first graduating class of the Federal Law Enforcement Training Center Use of Force certification program in September, along with 13 of his fellow officers.
Richardson Dangleben Jr., the man accused of killing Phipps, is scheduled to appear at a hearing in federal court on Monday. He made his initial appearance in District Court on Friday.
He is charged with first-degree murder and with having a firearm with an obliterated serial number at the time that he, Phipps, and another police officer exchanged gunfire during a confrontation in Jah Yard.
Phipps and Dangleben, 51, were both wounded; the suspect survived but Phipps did not.
Dangleben is currently being held at the Federal Detention Center in Guaynabo, Puerto Rico, pending further action by the court.
At the time of the fatal shooting he was out on bail after he was released to the custody of his parents for the Feb. 24 first-degree murder of Keith A. Jennings, 68, in Hospital Ground, according to court records.
According to police reports, during the July 4 shootout he was wearing a bulletproof vest and armed with an assault rifle, a handgun, and several hundred rounds of ammunition.
Phipps' death — the first of an officer in the line of duty since 2012 — was the 11th homicide of the year on St. Thomas, and the territory's 21st, according to the Source Homicide List.*
His vigil will be streamed live on the VIPD Facebook page and the Government House Facebook page.
A Community Rise Up Against Gun Violence Walk and Candlelight Vigil is planned for Saturday, July 22 from 5 to 8 p.m., organized by the Police Benevolent Association, the St. Thomas Stroke Support Group, Love City Riders and the Democratic Vision Club.
The walk will begin at the Lucinda Millin Home on Veterans Drive and proceed to Emancipation Garden, with prayers by local pastors, singing performances, DJ music and complimentary drinks and hors' d'oeuvres.
Phipps also will lie in state at Government House on Friday, July 28, from 11 a.m. until 3 p.m. The second viewing will be held on Saturday, July 29 at the University of Virgin Islands Elridge W. Blake Sport and Fitness Center from 9 a.m. until 10 a.m. The funeral service will begin promptly at 10 a.m. Interment will follow at Western Cemetery #3.
*The Source Homicide List is a chronological log of the homicides recorded in 2023 in the U.S. Virgin Islands, as reported by the VIPD. Cases are broken down by island. While this listing is based on VIPD reports, the Source does not include suicides or vehicular homicides in its listing, which the police and some other media do. This can lead to a discrepancy in the number of incidents reported.