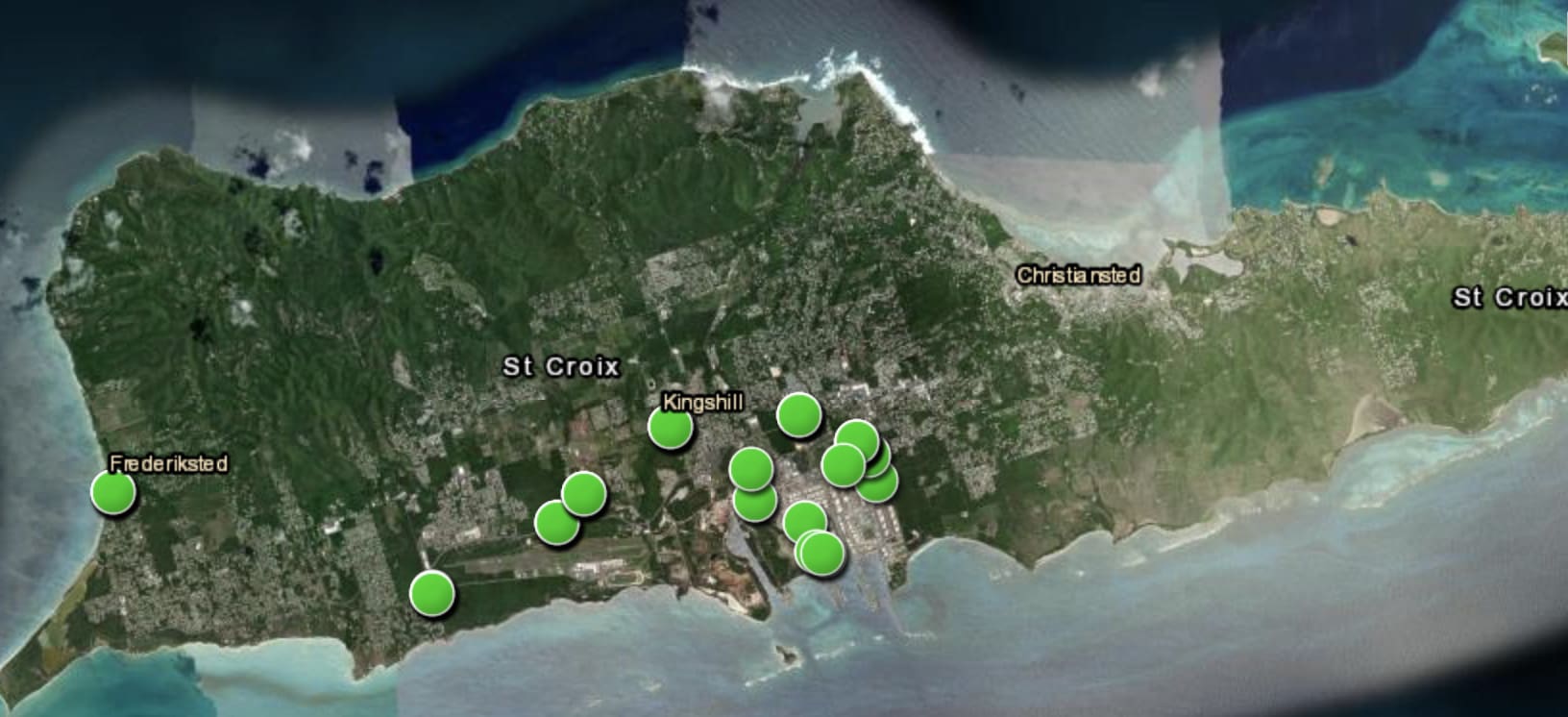 Concerned St. Croix residents can breathe a little easier. Two shipping containers containing 8,400 gallons of industrial-grade liquid ammonia pulled from the island's rusted oil refinery are now off island, officials from the Environmental Protection Agency said Friday.
The containers sailed away Thursday, leaving only rinse water used to flush away low levels of contaminant left behind after the bulk of the ammonia was removed, EPA officials said. This rinse water will remain in St. Croix until EPA officials decide the best way to dispose of it.
The EPA will shut down equipment monitoring ammonia levels in the air by June 29, Agency officials said in a written statement, but other equipment monitoring for hydrogen sulfide, sulfur dioxide, and nitrogen dioxide will remain in place as other dangerous chemicals are removed.
The air monitoring results can be found in real-time at https://phrt-epa.hub.arcgis.com.
Ammonia of this sort, in this quantity, posed a public health threat, the EPA said in numerous briefings to inform St. Croix residents.
"Anhydrous ammonia is a dangerous industrial chemical. Symptoms related to the exposure of ammonia, in both liquid and gaseous states, include eye redness, throat and lung irritation, coughing, and a choking sensation," the EPA said.
It differs from regular household ammonia.
"Ammonia is a colorless gas with a very distinct odor. The odor of ammonia is familiar to many people because it is used in smelling salts, many household cleaners, and window-cleaning products. Anhydrous or industrial-grade ammonia contains very little water and is much stronger than the ammonia used in household products. It was used at the refinery as an additive in a system that produced gasoline," the EPA said.
Left to be removed are remnants of contaminated amines and liquified petroleum gas.
Under EPA oversight, specialized contractors removed approximately 321,836 gallons of rich amine liquid from the refinery on St. Croix's south shore by Tuesday, and the remaining 10,000 gallons were transferred to shipping containers on Thursday.
"Amine vapors are being treated on-site, and cleaning solution is being collected in specialized containers for disposal," the EPA said.
Specialized chemical waste contractors are still waiting on additional shipping containers to remove the remaining liquified petroleum gas. The extra containers are expected sometime in mid-July. Two shipping containers of the dangerous chemical have already been shipping off island after it was removed June 10.
"Once that work resumes, it is estimated that it will take approximately two weeks to be completed," the EPA said. "While transferring the liquid LPG, vapors are routed to special equipment called a thermal oxidizer, which burns or destroys the vapors."
Air monitoring is still underway for these chemicals and their byproducts, the EPA said.
"Amines typically have a fishy odor. Symptoms related to amine exposure include eye irritation and visual disturbances such as blurry vision. The amine solution at the facility contains hydrogen sulfide, a colorless gas with a very strong rotten egg odor. Low-level exposure to concentrations of hydrogen sulfide can cause irritation to the eyes and respiratory system, dizziness, headaches, irritability, and nausea. Exposure to higher concentrations can result in tremors and convulsions."
"LPG is a highly flammable gas that poses a fire hazard when improperly stored. Symptoms of exposure to LPG include headaches, drowsiness, and dizziness. Since LPG is heavier than the air, it will accumulate close to the ground.
"Sulfur dioxide and nitrogen dioxide may be produced when using a thermal oxidizer to burn the LPG vapors. Sulfur dioxide is a nonflammable, colorless gas with a strong odor like burning rubber. Symptoms of exposure to sulfur dioxide may include difficulty breathing, changes in the ability to breathe deeply, and burning of the nose and throat. Nitrogen dioxide is nonflammable and colorless to brown-colored gas that has a strong, harsh odor. Low levels of nitrogen dioxide can irritate the eyes, nose, throat, and lungs, possibly causing coughing, shortness of breath, tiredness, and nausea."