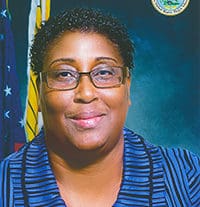 Supervisor of Elections Caroline F. Fawkes is providing public notice regarding the voters' registration of the following persons who reside and/or resided in the St. Croix District but who were made inactive by the Supervisor of Elections for failure to vote in two consecutive general elections. This public notice is in accordance with the provisions of Title 18, Section 110, Virgin Islands Code as of May 25, 2023.
The list can be found on the Elections System of the Virgin Islands website:
https://vivote.gov/voters/inactive-voters/ or the St. Croix Elections Office at Sunny Isles Shopping Center Unit 26. Voters can utilize the ESVI Voter lookup to find out their registration status at https://vivote.gov/voters/lookup/. The listing will be posted at various government agencies across the island for review.
If there are any questions or additional information is needed, contact the Elections System offices at 773-1021 (St. Croix Elections Office) or 774-3107 (St. Thomas Elections Office).