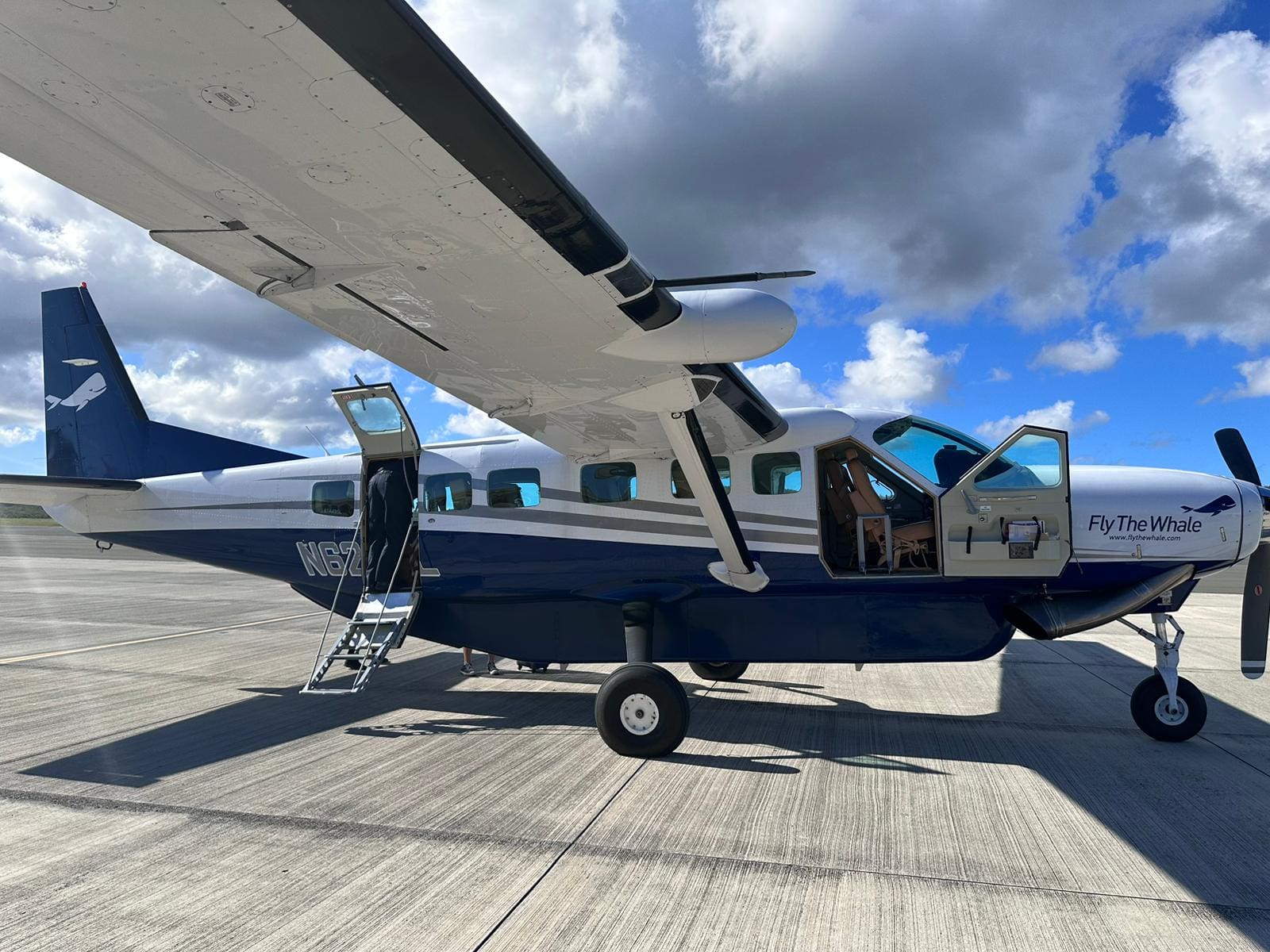 A welcoming ceremony was held Monday at the Bohlke International hanger with dignitaries praising the opening of the new company that will fly eight or nine flights daily from St. Croix to St. Thomas. On April, 27, there will be four flights in time for St. Thomas Carnival.
The company has two aircraft and has hired 20 employees locally, according to Omer Erselcuk, president of Fly the Whale.
"The one thing the Virgin Islands is missing now is a carrier based here and we are starting by hiring 20 people here in the Virgin Islands," Erselcuk said.
Government officials lauded the arrival of the airline and the V.I. Port Authority's quick response to getting the company licensed and ready to fly. VIPA and Fly the Whale started discussions before the pandemic.
Negotiations resumed when Erselcuk visited St. Croix in March and spoke to Carlton Dowe, executive director of the Port Authority. He said they would like to open the business in June and Dowe countered with, "how about April."
The VIPA board approved a three year lease for Fly the Whale with ticket counter and offices at both V.I. terminals.
Angelia Hanne, of Fly the Whale, told the Source the company flies to Northeast cities such as Nantucket, Martha's Vineyard, and New York City in the summer and during the winter months, Florida and the Bahamas are on the schedule.
During remarks, Dowe thanked by name the people and agencies that helped speed through the certificates and licenses needed to open an airline.
Other speakers thanked the airline for opening the service in the territory. Jerome Sheridan, territorial airport manager, thanked everyone involved with the airline and V.I. government.
"People of the Virgin Islands, we heard your concerns over the lack of air service in this territory. We now ask you to support this inter-island air service," Sheridan said.
Joseph Boshulte, Tourism Commissioner, echoed the same belief.
"We still have to support our private sector partners when they invest in the territory. So we have to book the flights," he said.
Senate President Novelle Francis and Willard John, chair of the VIPA board, said the new airline brings residents and the cultures of St. Thomas, St. Croix and St. John closer together.
"We are one Virgin Islands and this brings us closer together," John said.
Francis also thanked Bohlke for "filling the gap" when government officials were not able to travel back and forth due to fully-booked and cancelled flights. He said when the airline is successful, he hopes they expand service to other Caribbean destinations, where service is limited.
Gov. Albert Bryan Jr. also recommended residents support the airline. He said the restoration and transformation of the territory with recovery funds will help improve the V.I. economy.
"We have to understand that we are building a product that we want to be proud of," Bryan said.